In the coming weeks, at least two plants are expected to have planned outages, while another plant is seen to contribute again to the Luzon grid
Thin power reserves are still threatening the Luzon grid, as yellow and red alerts may be raised until the first week of August.
In the second Senate hearing on rotational blackouts on Thursday, June 17, Energy Director Mario Marasigan presented the power outlook for the coming months based on demand projections of system operator National Grid Corporation of the Philippines (NGCP).
According to the forecast, the gross reserves for the week of June 25 to July 1 are seen to drop to 573 megawatts (MW), a little above the threshold of regulating reserves.
When power reserves fall below the required regulating reserves, a red alert may be raised. When there are red alerts, rotational blackouts happen.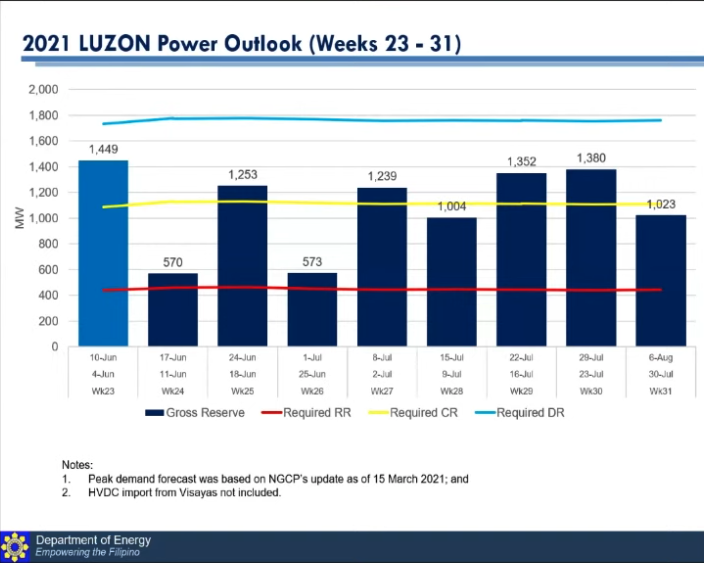 For the week of July 9 to 15 and July 30 to August 6, a yellow alert may be raised. The gross reserves for those weeks are projected to be 1,004 MW and 1,023 MW.
The Ilijan Block A and Pagbilao Unit 2 plants, rated 600 MW and 382 MW, respectively, are expected to have planned outages, but the Department of Energy (DOE) has asked the generation companies to postpone their maintenance schedules.
So far, a representative from Kepco Ilijan Corporation has said the company is willing to postpone the plant's maintenance until July 30.
The GNPower Dinginin coal-fired plant, with a dependable capacity of 600 MW, is seen to partially contribute again to the grid by the first week of July. It will be fully operational by the last week of August.
On Thursday, Energy Secretary Alfonso Cusi reiterated the need to contract additional firm power reserves called ancillary services (AS) to ensure the reliability of the grid.
Cusi said 8 power plants built specifically to serve AS requirements have yet to be tapped by the NGCP.
"Again, a prayer that NGCP is to comply with the requirements of the reserves and that is part of the concession that they have. With that, we can move forward and address all the other issues," said Cusi.
The NGCP on Thursday committed to following the DOE's directive but maintained that reserves are not the answer to the country's power situation, rather more supply.
Cusi, however, appeared not to believe the NGCP's commitment, calling it "paper compliance."
At least two-thirds of the Philippines' power plants are 15 years old and above. The DOE has yet to release information on which plants are set to be retired, as well as which and when major committed projects are set to be operational. – Rappler.com