'As the economy reopens, this could result in a lower desire for risk-taking and additional investments,' says the World Bank
A World Bank survey showed a high degree of uncertainty for the future among Philippine businesses, even as quarantine measures are already being relaxed.
To measure the impacts of the coronavirus pandemic on Philippine businesses, the World Bank surveyed 74,031 firms nationwide from July 7 to 14. The July survey is a follow-up to the one conducted in April.
The survey showed that more businesses have partially opened since restrictions were eased, while several businesses have permanently closed their doors.
Businesses that partially resumed operations almost doubled from 21% in April to 40% in July. The number of businesses operating at full capacity, meanwhile, inched to 5% from 2%.
However, the number of businesses that have permanently shut down jumped to 15% in July from none in April, while those that have temporarily closed declined from 77% to 40%.
Arts and entertainment topped the sector with the most closures – at least 61% of those surveyed in the sector temporarily closed, while 21% permanently shut down. It is closely followed by tourism businesses at 60% and 20%, respectively.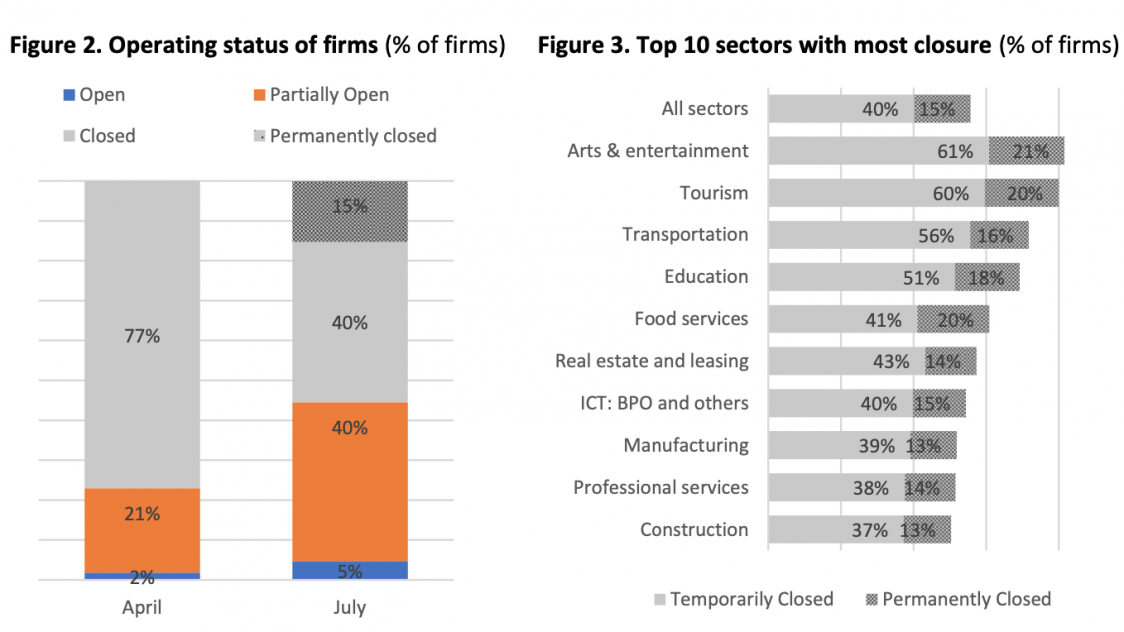 "Even though community quarantine measures were relaxed to some extent during the time of the survey, firms still reported a high degree of uncertainty," the World Bank said.
The survey showed that nearly half or 45% of closed firms "don't know" when they will reopen given the current circumstance.
Over a third or 36% of firms that were open in July expect to remain in business only within the next 3 months.
"Uncertainty is an important additional channel affecting firms during the pandemic, and as the economy reopens, this could result in a lower desire for risk-taking and additional investments," the multilateral lender said.
Fewer employees, sales
Employee numbers were expected to remain the same until September for at least a third of the businesses. But 24% of businesses expected their manpower to shrink, while another 33% were uncertain of what to do.
According to the survey, one in two businesses reduced payments to employees.
Sales, meanwhile, were also expected to decrease in September for 32% of the firms. Only 23% were hopeful for better sales.
The World Bank said firms prefer government support that would improve liquidity. This includes cash transfers (46%), subsidized interest rates (36%), and tax exemptions (22%).
Among those mentioned, almost half of the firms or 47% have received cash transfers indirectly, as the government had given the aid directly to employees.
The World Bank suggested that the Philippines concentrate its efforts on the following:
Reestablishing demand, supply, and financial channels that were adversely affected during the pandemic.
Helping firms adjust to the "new normal" by improving their capabilities to boost productivity.
"Future government support should also note that the new normal is characterized by high uncertainty, which can make access to finance programs less effective as firms are less willing to borrow, and banks are hesitant to lend," said World Bank.
"Clear communications and consistent messaging about community quarantine measures on business operations in a timely manner will be crucial to reduce firms' uncertainties about the future," it added.
The World Bank surveyed micro (59.3%), small (19.2%), medium (12.8%), and large (8.7%) businesses. Around a quarter or 22.7% of them came from Metro Manila, and then Calabarzon (17.7%) and Central Luzon (11.8%).
Days before the survey period, limited public transportation resumed in Metro Manila. For the rest of the country, mass transportation was allowed mid-May when other provinces eased restrictions and shifted to general community quarantine (GCQ).
The government allowed restaurants to accept customers for dine-in in GCQ areas starting June 15. A day later, the world-famous island of Boracay opened up its shores to Western Visayas tourists first, then to the rest of the country on October 1.
Back in April, the Department of Labor and Employment stopped accepting applications for workers' cash aid, and asked small businesses to apply instead for the Small Business Wage Subsidy program under the Department of Finance. – Rappler.com