(1st UPDATE) The Philippines' unemployment rate remains at 7.7%. Economic managers say the figures 'show the limits of job creation' amid quarantine restrictions.
The number of jobless Filipinos slightly rose to 3.76 million in June compared to 3.73 million in May, as the Philippines continued to report thousands of COVID-19 cases daily.
The Philippine Statistics Authority said in a briefing on Tuesday, August 3, that the unemployment rate remained at 7.7%.
The underemployment rate or the percentage of the working population looking for more hours of work stood at 14.2% in June, equivalent to 6.41 million people. This is higher than the 12.3% or 5.49 million people in May.
A total of 45.08 million Filipinos had jobs in June, for a steady employment rate of 92.3%. This is the same as the May rate, which was equivalent to 44.72 million Filipinos.
The labor force participation rate in June stood at 65%, translating to 48.84 million who are either employed or unemployed. This is higher than the LFPR of 64.6%, equivalent to 48.45 million Filipinos, in May.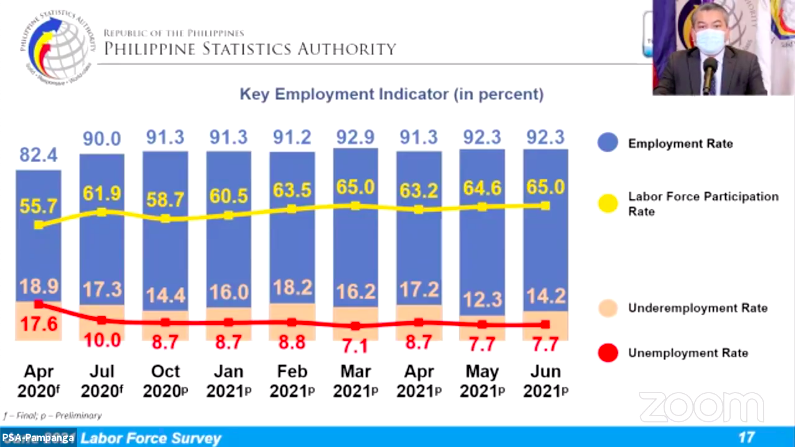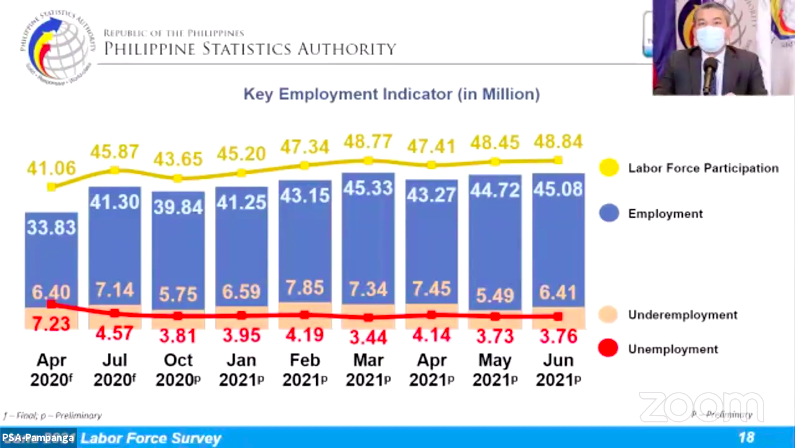 In a joint statement on Tuesday, Socioeconomic Planning Secretary Karl Chua, Finance Secretary Carlos Dominguez III, and Budget and Management Officer-in-Charge Tina Canda said the June figures "show the limits of job creation without major relaxations in quarantine restrictions, especially in the National Capital Region."
"With the emergence of the COVID-19 Delta variant, the government has prioritized arresting the spread of this more contagious virus through more proactive quarantines in high-risk areas and an accelerated vaccination program. These actions are crucial in ensuring that economic gains in recent months will resume once we have addressed this current threat," the Duterte administration's economic managers said.
Industries
National Statistician Dennis Mapa said in Tuesday's briefing that the services sector still accounted for the largest share of employed persons in June, at 57.6%.
The agriculture and the industry sectors contributed 24.3% and 18.1%, respectively.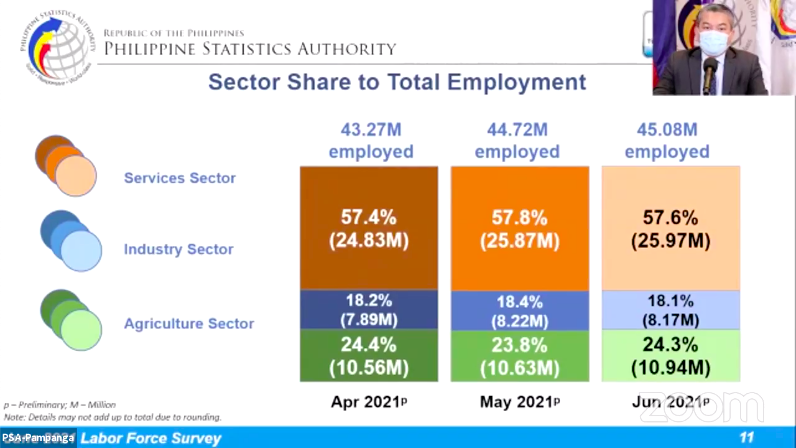 The top five subsectors with the highest increase in employment from May to June are:
Administrative and support service activities (282,000)
Wholesale and retail trade; repair of motor vehicles and motorcycles (259,000)
Fishing and aquaculture (194,000)
Education (132,000)
Agriculture and forestry (118,000)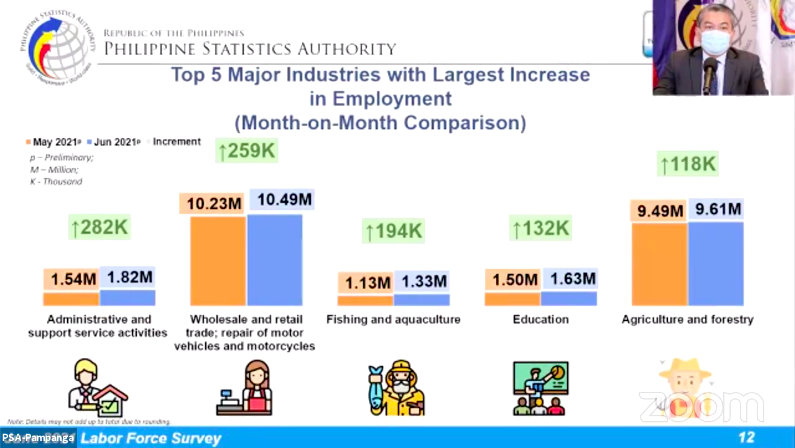 Meanwhile, here are the top five subsectors with the largest drop in employment from May to June:
Other service activities (-241,000)
Accommodation and food service activities (-143,000)
Public administration and defense, compulsory social security (-98,000)
Transportation and storage (-76,000)
Financial and insurance activities (-71,000)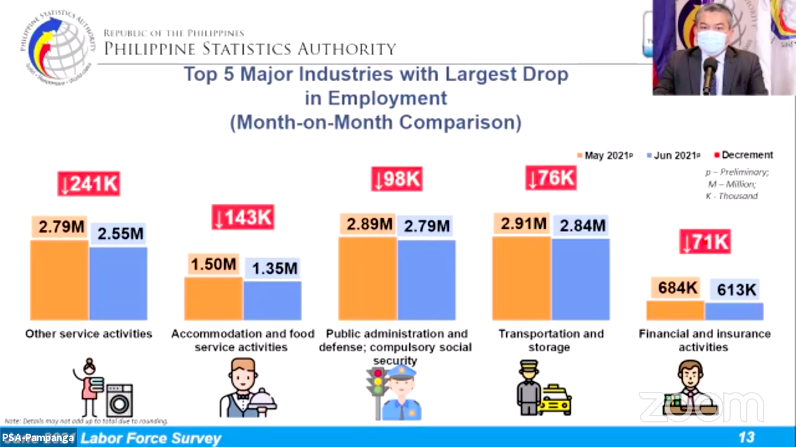 ECQ to be 'maximized'
The National Economic and Development Authority earlier projected that the enhanced community quarantine (ECQ) to be reimposed in Metro Manila and other high-risk areas from August 6 to 20 would lead to 444,000 more jobless Filipinos.
"Although the ECQ imposition may temporarily impact employment outcomes in August 2021, the government is determined to maximize this period to accelerate vaccination in high-risk areas in order to safely resume economic activities and restore jobs," the economic managers said on Tuesday.
They added that as of Sunday, August 1, a total of 20.9 million doses have been administered, with 11.7 million for the first dose and 9.1 million for the second dose.
The government aims to vaccinate 70 million Filipinos or the entire adult population by the end of 2021.
"We are one with the Filipino workers in striving to regain our economic foothold. We urge everyone to sign up with their local government units to secure their vaccination slots. The safety of all Filipinos and the full reopening of the economy strongly depend on everyone's cooperation," the economic managers said. – Rappler.com