All the highlights from the top 6 kids' first live performance round on 'The Voice Kids PH 2'!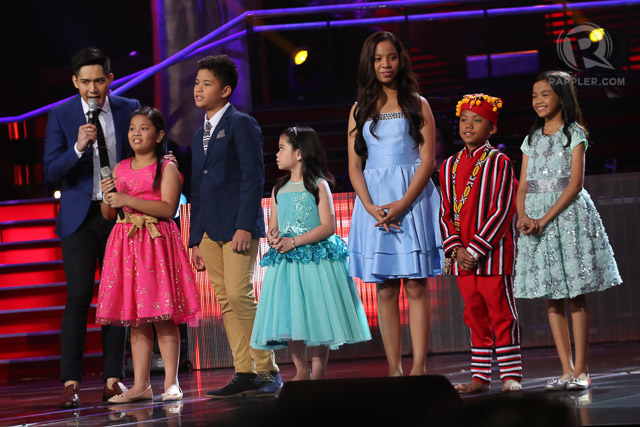 MANILA, Philippines – The final 6 contestants on The Voice Kids Philippines 2 have now concluded their performances in the semifinal round, and now it's time to decide who will perform in the grand finale. Two kids were cut from the competition, with the final 4 moving on to the finals. 
The semifinal round also serves as the season's first live show, with the kids performing at Resorts World Manila. Viewers selected their top 4 via votes. 
These are the top 4 finalists in no particular order: 
Reynan Dal-Anay 
Esang de Torres
Sassa Dagdag 
Elha Nympha 
Day 2: Sunday, August 23 
Part two of the show's two-part semifinal round opened with a performance from season 1 winner Lyca Gairanod. 
In the group performances round, the kids were proudly introduced by their respective coaches. Up first: Reynan Dal-Anay, Kyle Echarri, and Sassa Dagdag performed "Saranggola ni Pepe/Ang Pipit," accompanied by the other The Voice Kids contestants from the season.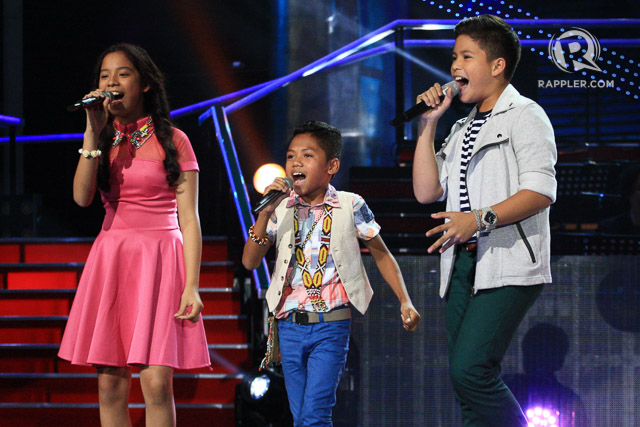 Next up: Elha Nympha, Esang de Torres, and Zephanie Dimaranan performed "Fame/What a Feeling."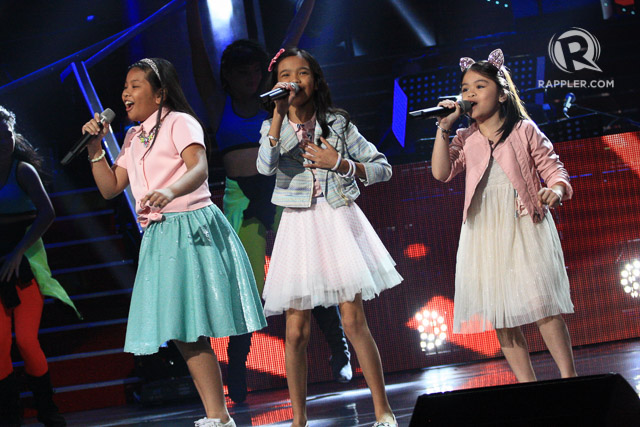 Coaches put in one final bid to the audience, asking them to vote for their artists. And they stood by their artists onstage as the top 4 were announced. 
Percentage of votes was revealed, too, with hosts saying that this would be reset in time for the grand finale:
Kyle Echarri: 6.43

Zephanie Dimaranan: 9.4

Esang de Torres: 19.24

Reynan Dal-Anay: 32.98

Sassa Dagdag: 13.71 

Elha Nympha: 18.23 
Day 1: Saturday, August 22 
The show opened with a performance by the 3 coaches and the Top 6. On Lea's team are Esang de Torres and Reynan Dal-Anay, on Bamboo's team are Sassa Dagdag and Elha Nympha, and on Sarah's team are Zephanie Dimaranan and Kyle Echarri.
Only Yeng Constantino and Robi Domingo hosted the semi-finals on Saturday, as co-host Luis Manzano was out sick.
Solo performances were held on Saturday, while the group performances will be held on Sunday.
Zephanie Dimaranan singing 'Flashlight' by Jessie J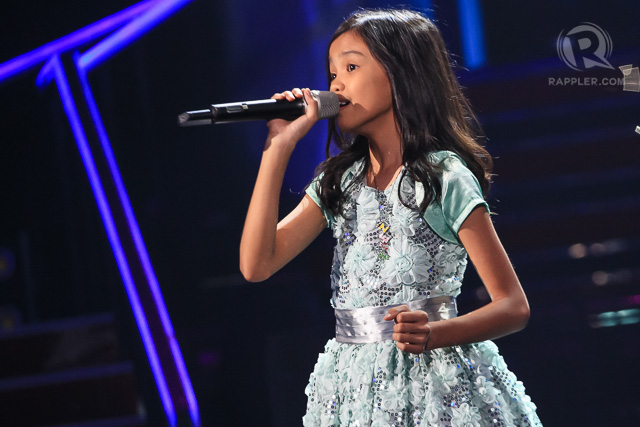 Zephanie started off her cover of 'Flashlight" with her signature sweet manner and even notes, then quickly built it up, sliding cleanly into the difficult high notes.
Zephanie's coach, Sarah, said that she's proud of how far Zephanie has come. "Sobra akong proud na proud para sa 'yo… nagbigay ka ng liwanag na inspirasyon sa lahat ng nangangarap."
(I'm so proud of you… you gave light and inspiration to everyone who with hopes and dreams.)
Lea told Zephanie that she had a sweet voice but also showed that she could go and deliver those big notes. 
Reynan Dal-Anay singing Asin's 'Itanong Mo Sa Mga Bata'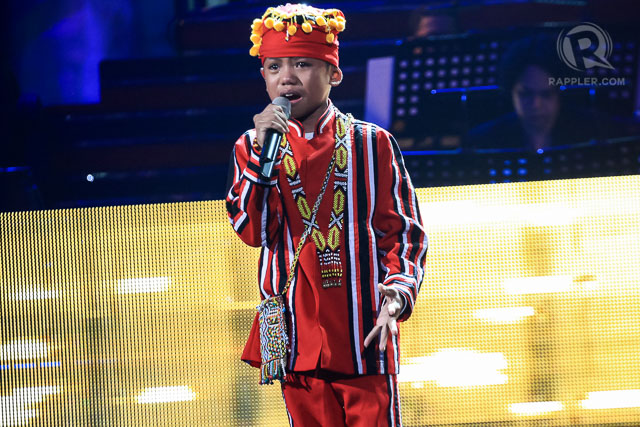 A visibly emotional Reynan delivered a stirring cover of "Itanong Mo Sa Mga Bata" by Asin, with tears streaming down his face by the end of the song.
Despite being emotional, he did not fail to perform to his usual high standards, promting Bamboo to say, "Saludo ako sa performance mo, yung emotional [connection], nakita naman natin lahat, naririnig natin lahat." He also said that when Reynan sings, he tells a story. 
(I salute your performance, the emotional [connection], we can all see it, we can all hear it.)
Reynan's own coach, Lea, said, "Wala akong masabi, kinikilabutan ako… ang ganda, ganda lang talaga." Lea echoed Bamboo in saying that Reynan's strength was in being able to communicate a song's depth through his own connection to music. 
(I have nothing to say, you gave me goosebumps… it was really just so beautiful.)
Sassa Dagdag singing 'If I Were a Boy' by Beyonce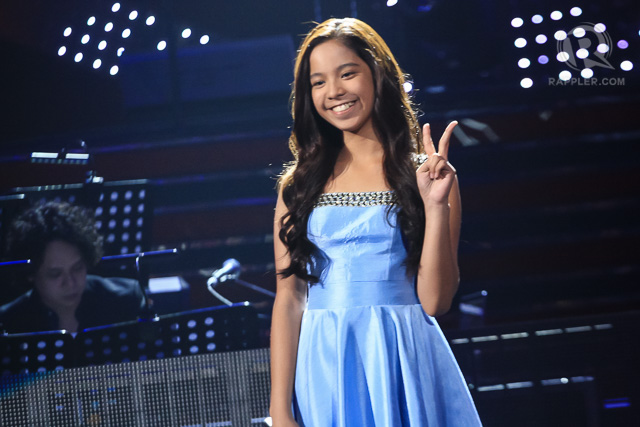 An earlier segment of the show told audiences that "The Prayer" was another option for Sassa to sing at the semifinals, though they ulimately went with "If I Were a Boy."
"Grabe Sassa, grabe lang talaga yung vocal abitlity mo… effortlessly mo nagagawa, ang galing galing mo," said Sarah to Sassa after her performance.
(Sassa, your vocal ability is just amazing… you did that effortlessly, you are such a great singer.)
Sassa's coach, Bamboo, said, "Sassa I'm so proud of you… all the nerves nararamdaman ko, (I can feel them) but you nailed it tonight… I'm so proud of you. Ang laki ng kanta na ito, (this song was so big) and you took it down." 
Esang de Torres singing 'Salamat Salamat Musika' by Nanette Inventor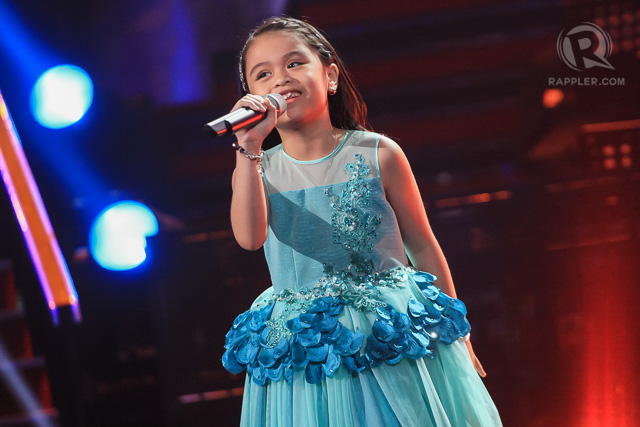 Esang didn't disappoint with her semi-final performance, as she showed off her strong vocals with "Salamat Salamat Musika" by Nanette Inventor. 
"Napakagaling mo," said coach Sarah to Esang after her performance. (You are excellent.)
"Paglabas nang paglabas mo sa entablado na 'yan kitang kita you are a star, you are just a star," said Esang's coach, Lea. "Salamat sa Diyos na ako yung pinili mong coach." (The moment you stepped onto the stage, it can be seen that you are a star, you are just a star. Thank God you chose me as your coach.) Lea also thanked God for Esang's talent. 
Kyle Echarri singing 'Got to Believe in Magic' by David Pomeranz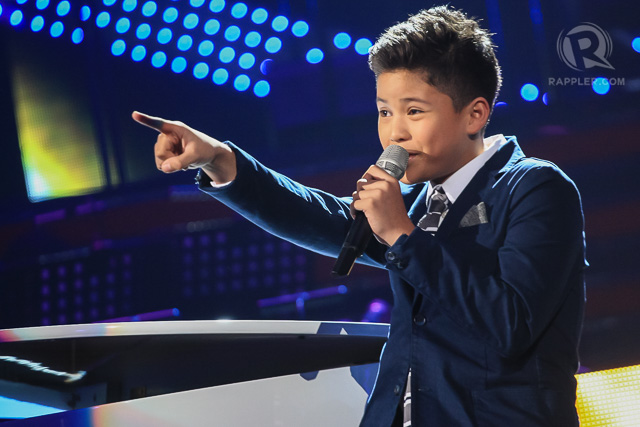 Ever the charmer, Kyle impressed the audience at the semi-finals as he crooned "Got to Believe in Magic" by David Pomeranz. 
Coach Bamboo said that Kyle sang without his usual nerves and he visibly got lost in the song. "Great job man, alam mo overall nagenjoy ako kasi parang nawala ka sa kanta (you know overall I enjoyed [your performance] because it's like you got lost in the song) you just sung… nalwala lang, which i really like. Congratulations. The nerves, whatever that was, that was gone. You just sung it."
Kyle's coach, Sarah, said, "It's your talent destiny and hard work that gave you the chance to let your voice be heard."  
Elha Nympha singing 'You'll Never Walk Alone' by Carousel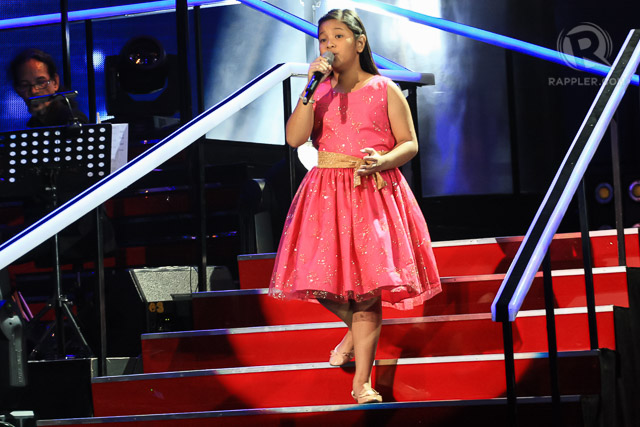 Elha earned a standing ovation from all 3 judges, a lovely reward for an emotional performance. 
"Medyo (I'm a bit) speechless ako for just a few seconds but that's the perfect song for you. That was the perfect song, perfectly coached… what a night this is for you," said Coach Lea. 
"Elha, Elha, Elha, I'm so happy. May mga moment talaga na nagbabago yung direction ng buhay. (There are some moments where the direction of your life changes) I think when you look back sa lahat ng (all of the) moment… this is the moment that changed your life," said Bamboo. 
The coaches gave their final messages at the end of Saturday night's performances. 
"Sassa, Elha, gusto ko lang sabihin sa inyo: (I just want to say to you:) 'Thank you for smiling,'" said Bamboo. He also thanked the kids' parents for their support.
Sarah thanked the kids for their performances, and for giving their best. She reminded them that no matter what happens, they're all winners. 
Finally, Lea said that Reynan and Esang are the greatest gifts she could get this season. "To all 6 of you, you have made all of us incredibly proud to be your coaches."
Voting opened after the show and results will be announced on August 23.  
Some time after voting began, it was again temporarily closed, and standings were shown without revealing the identities of the singers. 
Young artist T had 6.83%. Young Artist V had 7.4%. One K had 15.85%. Another, I, has the majority, 30.32%. Another had 12.67% and another had 26.94%.
In the Sunday episode, the kids will perform in groups and voting will once again commence. The combined scores from both Saturday and Sunday shows will decided which 4 of the 6 singers will move on to the finale. 
Who are you rooting for at this point in the competition?
Tell us who you think should win in the unofficial poll below. 
Note: The poll is unofficial and has no bearing on the results of the competition. – Rappler.com
More The Voice Kids PH 2 below: