This is AI generated summarization, which may have errors. For context, always refer to the full article.
'Life is curly. You'll never know what's around the corner,' says Paul Bettany, who also talks about his 'Avengers' role, why he loves Iron Man, and shares his message for Pinoy fans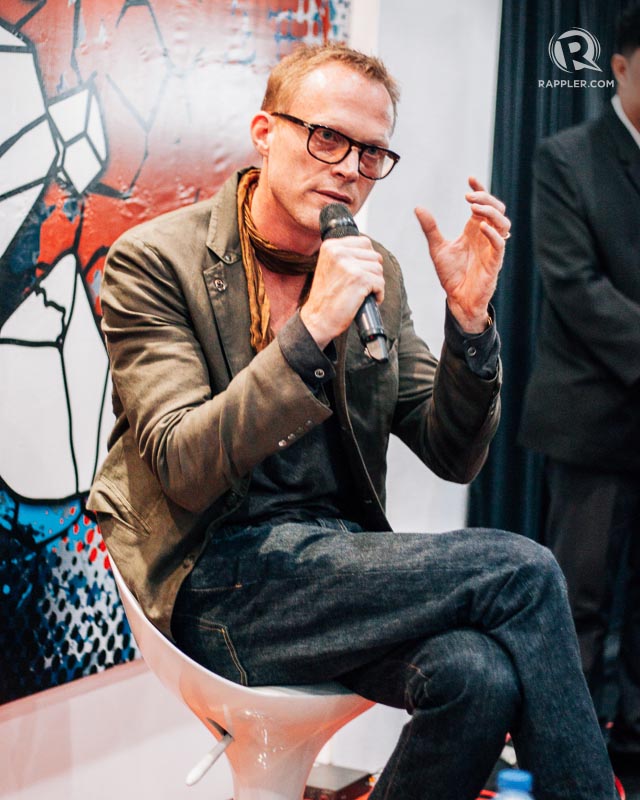 MANILA, Philippines – "Life is curly. You'll never know what's around the corner," said actor Paul Bettany, who was still quite optimistic in the middle of one dark, however transient, episode in his life. According to him, it's a story that's "never gonna go away."
"I was sitting on the sidewalk of Sunset Boulevard, having just come out of a meeting in the building behind me, having been told that my career was over by a producer," the Englishman told attentive fans at AsiaPOP Comic Con in a special panel at Hall D, which just moments before, was packed to the rafters to get an early glimpse of scenes from Captain America: Civil War.
In a swift reversal of fortune, his phone rang and lo and behold, it was Joss Whedon. "Joss Whedon said, 'Do you wanna be a superhero in the next Avengers movie?' and I said, 'Yes,'" Paul said, as he relived that moment, triumphantly flipping the bird towards an imaginary producer's office behind his back.
How Joss Whedon sort of saved @Paul_Bettany pic.twitter.com/fhcjwD85U6

— Out of Tune (@outoftunelive) September 21, 2015
Everyone was incredulous that someone would say something that mean to him. The voice of Tony Stark's virtual assistant J.A.R.V.I.S. and now, the ultra-cool and imposing the Vision in the Marvel Cinematic Universe, however, was such a good sport about it. He said, "People say strange things sometimes, and what I noticed about Hollywood is that people have second acts and they have third acts."
The actor's roles thus far have been diverse and point to his versatility – ranging from the edgy dramas like Gangster No. 1, Dogville, and The Da Vinci Code to light-hearted flicks like A Knight's Tale ("You've seen me naked! You have me at a disadvantage") and Wimbledon.
Like a true Avenger, he rocked Comic Con with his mere presence, and thrilled fans as well as us, reporters, with his stories and thoughts on a variety of topics – including his love for food and travel. We highlight some of these:
1. Robert De Niro, Marlon Brando, and Al Pacino are among his childhood heroes, plus "all of those great films from the '70s and '80s that really made me wanna become an actor and eventually a moviemaker – directing films."
2. Paul had an awkward Robert De Niro encounter. He once had to meet with De Niro, but the meeting got bumped off because the latter was filming. Although he hired a babysitter since his wife Jennifer Connelly was also away working, a two-hour window had already lapsed.
"So, by the time I walked into the meeting, I had one of those BabyBjörn carriers with the baby, and I conducted this audition with him wearing a baby," he said. Thankfully, De Niro was doting towards his kid.
3. He was once a struggling busker. "If I didn't make money, I went to bed hungry," he shared. He kind of reflects on this in his directorial debut, Shelter, a film about homelessness in New York City: "I do find myself thinking about how fortunate I am all of the time."
Like a call to action, he said, "In the world right now, if we look around [at] what's going on, we will be judged on how we treat our needy."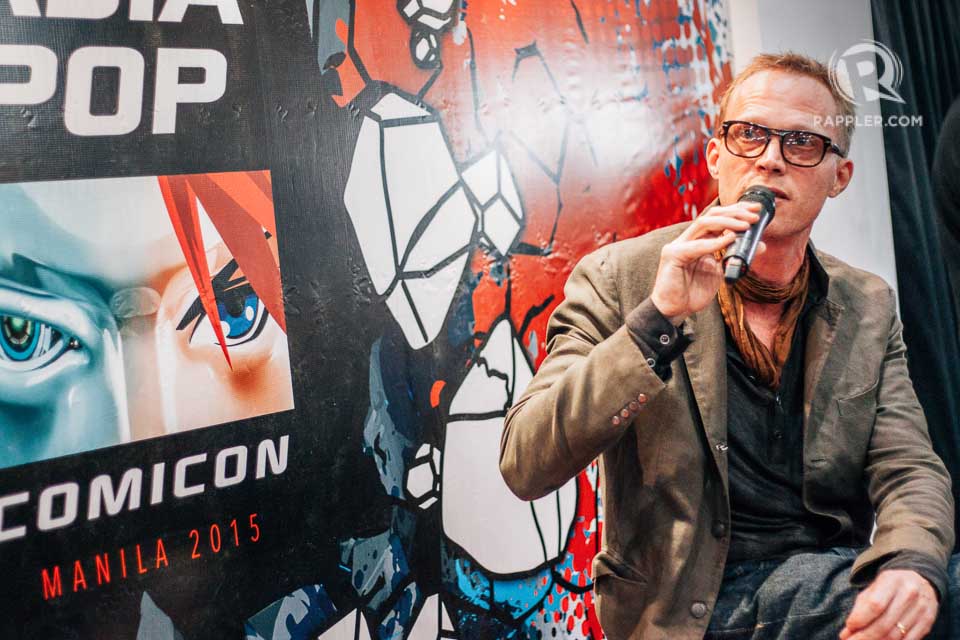 4. He's a huge Blur fan. "I can't think of an actor that I haven't met, but I've had the opportunity to meet [frontman] Damon Albarn twice – and have always said 'no' because I'm too nervous to meet him," Paul confessed. He even raved about Albarn's first studio album, Everyday Robots, calling it "superlative," "impeccable," and "perfect."
5. People have common phobias, but he said that he has an "irrational" one. He fears that The Walking Dead will end:"It keeps me awake at night, because I love it so, so very much. I love everybody in it. I've been watching it since the beginning. I'm so frightened of a life without The Walking Dead."
6. He hates emojis with a passion and thinks it's a "sign of weakness." "I try and use words," the actor said. "We used to be gaining words all the time, and now we're losing words. I would never use an emoji."
Shit faced in Manila. pic.twitter.com/Ly3exS2C4B

— Paul Bettany (@Paul_Bettany) September 20, 2015
He also abhors the exclamation point: "It means that you're worried that your sentence wasn't clear enough that you were trying to be funny. So make your sentence funnier. Don't add a smiley face at the end of it."
7. He's a foodie at heart. His favorite is curry and grew up eating it, "as it's the national dish of Great Britain." He also loves Greek food, saying, "It's so clean and honest and unpretentious."
Paul also claims to make "the best Spaghetti Bolognese in the entire world," adding, "I blow my own trumpet, but it's true."
8. For him, food brings people together. When he visits any country, he wants to experience what the country is like, and for him, "it's about eating."
He said, "I'll go and eat in local places, and slip past my security and go off on my own. I've never ever got into any trouble. I tend to sort of meet people through food, so that's what I'd like to do.
9. Paul wants Mark Ruffalo to be Jason Statham's "acting double," because "he made a funny joke."
However, he was genuinely apologetic. "The Jason Statham comment – I got totally broadsided on Conan, and I made a funny joke in response," he said. "It transpires that I offended one of my fans by making my joke about Jason Statham, so I'd like to apologize, Mum. I'm really sorry. Frankly, I can't afford to lose 50% of my fan base."
10. He is still proud of his work on the critically-acclaimed Master and Commander: The Far Side of the World,and references it several times throughout his discussions. "I loved making [this] movie with Peter Weir, who is probably our greatest living director," he said.
11. He puts in the same amount of effort in the Marvel films as his more dramatic oeuvre. "All movie sets feel the same in that you are all trying to fill in a huge puzzle together, and that's a lovely feeling," he said.
He said that that only the approach differs: "Definitely there are some physical aspects to doing an action movie that are challenging. You would be wise to get yourself in shape because it's a lot of work physically. And then, there are the roles that demand a more cerebral preparation."
12. Paul's acting method: "I ask myself what I know, what I have in that person, and then I try to make up the things that I don't have."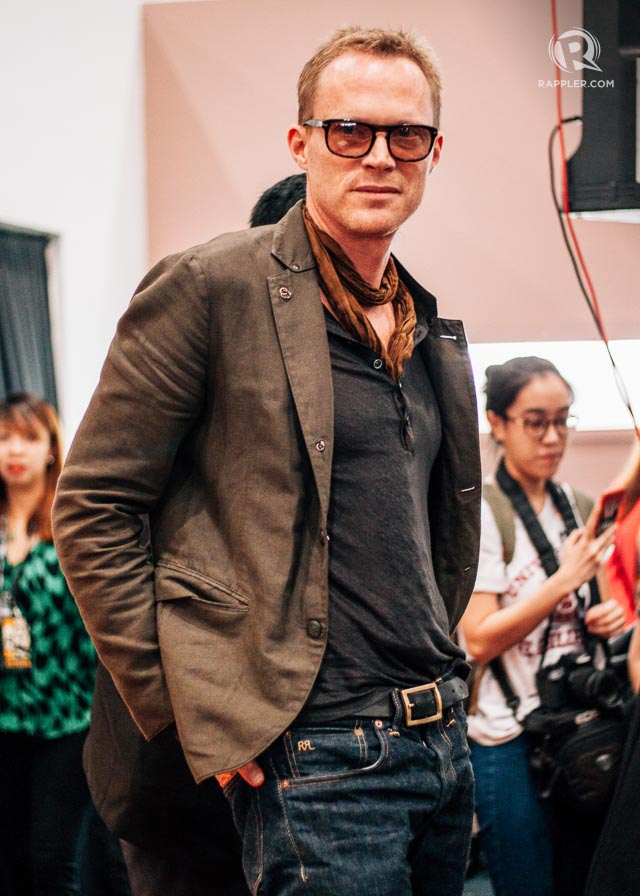 13. On getting to play a supervillain that embodied his most evil traits: "I'm English, so I tend to sound evil. It's just one of the hangovers from our colonial past," he joked, adding, "You know, I was so impressed with what [James] Spader did with Ultron, and I would relish the chance of doing something like that at some point."
14. How Paul keeps up with comic book fans' expectations from his portrayal of the Vision: "You feel a lot of pressure initially to deliver that, and then you realize, these characters are happening in every individual person's head. I can't possibly please the imagination of every person who's read the Vision, so I'm just left with what I wanna do and what I find interesting," he said.
15. On the entire Marvel Cinematic Universe: "America's a very young country and it's created its own mythology."
"It's kind of fun, and yet great things can be spoken about using it as a template," he added. "Now they're beginning to talk about the fact that the more defended we are, the more conflict there is. That's really interesting.
16. On his Marvel bosses Joss Whedon, Jeremy Latcham, and Kevin Feige: "You're working with the professors of these comics… They know them intimately. When they bend the rules, people trust them because they have grown up as fans themselves and are essentially continuing that in their grown-up adult lives," he said. "What is extraordinary, I think, about the pictures, is you feel that they're made by fans."
17. "There are Marvel agents everywhere!" Paul joked, "Every time I begin to reveal something, I see a red dot appear on my chest." When he was coaxed into confirming or denying a Spider-Man appearance in future Marvel films, he quickly retorted, "I can't corroborate any rumors, otherwise I'll get shot."
"You're sat down alone with the guy who chooses you, who says, 'Don't speak about your character. Don't speak about the plot. Don't speak about additional characters coming into the film," he shared.
18. He is also excited to see Civil War himself. "[Marvel is] making the biggest movies of all time," he said. "The scope is massive, and they're filmed in so many different locations around the world. It's hard not to get wrapped up in all of that excitement."
19. If Paul had his own J.A.R.V.I.S., he would make it do his dishes and laundry. "There are a lot of chores that are kind of meditative and great, but unloading dishwashers and doing my laundry is just irritating," he said.
20. Vision or J.A.R.V.I.S.? Paul chose Vision, but said, "It's a double-edged sword." He explained that he only had to do recording sessions as J.A.R.V.I.S. "They would give me a big bag of money, and I would sort of pick it up and leave like a thief," he said.
Now, he has to go through a grueling process of painting his skin beetroot-red and getting into a heavy but beautifully intricate costume. "Downey came in – he just came in 'cause he knew I'd been having an easy ride for eight years," he shared. "He came to see me trying to climb into my costume, and then just laughed his ass off."
It's worth it in the end though: "J.A.R.V.I.S. can't kick your ass. The Vision has such power, and with that power comes real responsibility. Frankly, JARVIS is a servant. There's nothing servile about the Vision."
21. The Vision vs. Iron Man: who will win? "Well, I can put my hand inside another human being and tear out their heart. I'm just saying!" Paul answered.
22. J.A.R.V.I.S. for Siri? "I couldn't even walk down the street without people stopping me and asking me to do J.A.R.V.I.S. on their outgoing message," Paul said. "I should do Siri. We should start a petition."
23. Paul's daughter loves Robert Downey Jr.'s Iron Man more than his own Vision character. "You know, the Marvel stuff is the only thing my kids have ever, ever been interested in [everything] I've ever done in my life – ever. So that's slightly humiliating," he told the Filipino fans. Because of this, plus the fact that "he's the best paid," he told reporters that he would happily swap roles with Iron Man.
He also planned to send Downey a video message trying to get her to say otherwise, but instead, he had to send one that added insult to injury: "I love you. I love you. I love you more than my daddy!" He said, "It was a very bad and dark moment for me," and grumbled, "Damn you, Downey!"
Watch the video he shared with Conan O'Brien:
24. Does being able to pick up Thor's hammer, Mjölnir, mean anything important for the Vision's character? Paul throws the question back, and comically demonstrates how simple the answer is: it means that he's worthy to rule Asgard. Is this a plot clue?
What does it mean that Vision is able to pick up Mjölnir? @Paul_Bettany pic.twitter.com/ZAnwq2GAYO

— Out of Tune (@outoftunelive) September 21, 2015
25. He thinks that there is a dangerous edge to the Vision. "For him to be omnipotent and yet totally naïve at the same time, and experiencing the world in real time and his place in it – whether he's gonna be a force for good or a force for evil – was really interesting and fun to play with because it's dangerous," he said. "You don't know whether he's gonna go one way or the other, and I'm continuing that theme in Captain America 3 [Civil War]."
"I don't think he knows anything about loyalty," he added, on the matter of the Vision fighting on Tony Stark's side. "His allegiance can flip if it's logical, if he thinks that the outcome is correct. So that's what's sort of dangerous about the Vision."
Cool poster. What do you think? #avengers #captainamerica #civilwar #hawkeye #ironman pic.twitter.com/gU4KfXBDWo

— Jeremy Renner (@Renner4Real) August 27, 2015
26. On the future of the comic book film: "Yes, in the end, all of this shall pass," he grimly but logically concluded. "I see no signs of it abating right now, which is really good news for me. Culture goes through all kinds of fads, but this is a really long one."
27. For Paul, one of the best parts of his acting job is "being able to travel and meet people all around the worldand really stay in a place and really go out." However, he regretfully said, "On press tours – not the time to do that. It's just impossible. So, I will be back, in the words of Arnold Schwarzenegger."
28. He would love to make a movie in the Philippines some day. "I have an idea. I'm not gonna tell you, but I really do have an idea about what I wanna do," he teased. "The thing about doing something like that, somebody else is gonna come and do it before me."
29. Paul said that the entire experience of flying out to Manila for Comic Con had been inspiring. He particularly referred to the Civil War trailer screening: "It's so lovely to see the reaction of fans here, and if you're doing work that's being enjoyed around the world, it's really nice to reach out and meet the people you're making those films for."
"I think it's important to know what is it you want to see. Are you happy with the job that we are doing?" he asked. "Sitting there with thousands of fans screaming at the screen was really reassuring that we're not messing it up."
30. His message for Filipino fans: "Thank you so much for being so warm and welcoming, and enjoying the work that we're all doing. I love that it's introducing me, and that I get introduced to – because of my job in it and also as an ambassador of it – to people from all around the world. It is, I promise you, the most edifying thing about my job."
The most 'edifying thing' about @Paul_Bettany's job: meeting people around the world pic.twitter.com/EJQ0caWGhE

— Out of Tune (@outoftunelive) September 21, 2015
Thanks to everyone who came out to see me at Asia pop in Manila. pic.twitter.com/AdzOKWx2mz

— Paul Bettany (@Paul_Bettany) September 20, 2015
– Rappler.com
Paolo Abad is a film/television editor and motion graphic designer. He is also a self-confessed concert junkie. Follow his Instagram for live music @outoftunephoto
More from Asia Pop Comic Con 2015: