This is AI generated summarization, which may have errors. For context, always refer to the full article.
Yaya Dub and Alden will unite with the AlDub Nation fans on October 24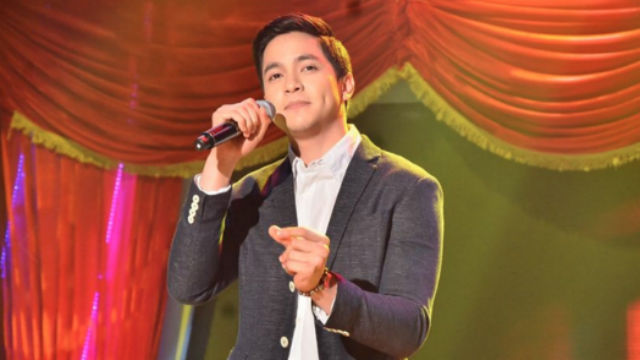 MANILA, Philippines – The tamang panahon (right time) has finally arrived. After 3 months of waiting, Maine "Yaya Dub" and Alden Richards will be together, with their fans, for a special day at the Philippine Arena on October 24.
The AlDub tandem became popular back in July when Maine "Yaya Dub" Mendoza met Alden during the "Juan For All, All for Juan" segment. In the kalyeserye, their characters are in love, but Lola Nidora, played by Wally Bayola, was initially against the relationship. (READ: #AlDub: The fun tandem of Alden Richards and 'Yaya Dub')
Many surprises cropped up in the last two weeks. Here's what happened:
Alden accompanied Lola Nidora and her sisters, Tinidora and Tidora during one of the sugod bahay episodes from October 5 to 10, where he dressed up as a bodyguard. Yaya Dub was at the studio that day. Lola Nidora challenged Yaya to a game of rock, paper and scissors: if Yaya won, she and Alden could be together, but if not, Yaya would have to leave the studio and return to Lola Nidora. Yaya did not win, thus she returned to Lola Nidora and sisters to help.
From October 6 to 13, Alden was away due to his other commitments. The episodes focused on what Nidora, Tinidora and Tidora were doing to protect Yaya Dub from Isadora, who is said to be Yaya's real mother.
On October 14, Wednesday, Nidora and Tinidora forced Yaya Dub to go to Cebu, to their aunt Bebeng, after much discussion on how to protect her from Isadora. As Yaya was about to leave, Alden rushed to Broadway to get a glimpse of her before she left. Although he was late, Lola Nidora reminded them both, that while they are away from each other, it will give them time to do their own things.
On October 15, Thursday, Alden paid a visit to Nidora and Tinidora while celebrating AlDub's weeksary. He was game to sing and make some Dubsmash videos with them. It was there that Nidora said she has a surprise for them, but decided to wait for Yaya's arrival, after she lost to Alden in a game of rock, paper and scissors.
On Friday, October 16, everyone in the audience felt kilig (giddy), when Alden talked to Yaya Dub live at the show.
On Saturday, October 17, Alden performed "Thinking Out Loud" by Ed Sheeran onstage, a song that he always sang to Yaya Dub in the past episodes. He received good news when executives of GMA Records presented him a gold record award. (READ: Alden Richards' album makes Billboard's Top 10 World Albums chart)
Congratulations to the GOLDEN BOY! #ALDUBTheBigSurprise pic.twitter.com/drY1vmWNwr

— Vic Sotto (@bossingofficial) October 17, 2015
Yaya Dub came back from Cebu and she and Alden said hi to each other again, telling each other how much they missed one another. After seeing how much the two missed each other, Nidora finally shared the good news–through cupcake puzzle. Using the cupcakes, both Alden and Yaya Dub spelled "Tamang Panahon." Nidora said that the time has finally arrived, and Alden and Yaya Dub will see each other in person again, with no more conditions, on October 24, Saturday at the Philippine Arena.
Tamang Panahon seven days from now!! Ahy Oct. twenty four AldubNation! #ALDUBTheBigSurprise pic.twitter.com/FHgZ3EKoGj

— AD|MD CHIBA (@Aldub_ChibaJP) October 17, 2015
Kapag nambitin talaga si Nidora, PASABOG ang kapalit! See you sa bungalow ng mga Lola! #ALDUBTheBigSurprise pic.twitter.com/4gHGLGq210

— Vic Sotto (@bossingofficial) October 17, 2015
Nidora explained that all members of the AlDub Nation are invited to the event for a special cause. The gathering will benefit the AlDub library project, where 100% of the ticket sales from the event will be given to the 3 elementary schools they picked.
Meanwhile, Isadora (played by Paolo Ballesteros) finally made an appearance, to Tinidora and Nidora's dismay. Nidora then asked Yaya to go near to her mother, it turns out that Isadora isn't mother at all, but just another lola (grandmother). The episode ends with Nidora asking why Isadora came back.
LOOK: Yaya Dub finally meets Isadora. #ALDUBTheBigSurprise pic.twitter.com/nlsSKsCgsR

— Jose Manalo (@itsmeJoseManalo) October 17, 2015
Who are Yaya Dub's real parents? Will Alden and Yaya Dub finally be together without any obstacles? The questions will be answered on October 24. – Rappler.com  
More AlDub stories: