Her celebrity crush, her one phobia, new projects, and more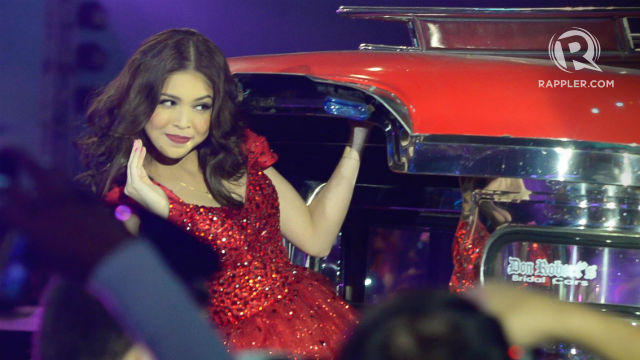 MANILA, Philippines – The AlDub fever is far from over. Now that Alden Richards and Maine "Yaya Dub" Mendoza can finally pursue their relationship with no obstacles, fans are now waiting with anticipation for what happens next in the show's Kalyeserye.
Since the formation of the tandem last July, Alden and Maine's careers have changed tremendously, with endorsements and photo shoots galore, plus a movie in the works. Alden has been in the business for a while, but newcomer Maine has already captivated the hearts of fans everywhere, making her mark as the memorable Yaya Dub. 
Here are a few things to know about Maine:  
1. She graduated with a degree in culinary arts and initially wanted to be a flight attendant. In an interview on CelebriTV last October 3, Maine said her secret wish was to be in showbiz. She initially took a course on culinary arts at De La Salle-College of St Benilde and even went to the US for her internship. However, she decided she wanted to apply as a flight attendant instead. On her blog, Maine shared that she had been waiting for the application period when she started dubsmashing.  
"Apparently, I had so much free time in the office. One time, I had the whole office to myself without anything to do. I got bored scrolling through different social media sites. (Which I didn't think was even possible) And at that moment, Dubsmash was a hit…. The rest is history," she wrote.
Her videos began circulating and she was later approached by Jenny Ferre, TAPE Inc., senior vice president for creatives and operations, for an audition for Eat Bulaga.  
2. Maine is actually pretty quiet and shy. Contrary to her Yaya Dub personality, Maine described herself as a shy girl. In an interview on YES! magazine's November issue, Maine said: "Actually, off-cam po, hindi ako gano'n kakulit. Tahimik po kasi akong tao e. (I'm not very wacky. I'm really a quiet person.)" 
In a video interview aired during the Tamang Panahon concert, her parents Mary Ann and Teodoro Mendoza also said the same. 
"Sa amin, si Menggay (Maine's nickname) tahimik siya. Medyo tahimik dahil takot siya sa tao. (When she's with us, Menggay's quiet. She's quiet because she's afraid to be around people)," mom Mary Ann shared. 
"Makulit siya sa mga kapatid niya. 'Pag naghaharutan, nagsisigawan pag sila-sila lang, (She's funny and wacky when she's with her siblings. They play around, scream when they're the only ones together." Mary Ann adds. "Hindi siya nakaka-open ng direkta. Dumadaan pa kay Coleen (her sister) pag pasabi… (She does not really open up directly. It goes through Coleen if she has to say something.)"
In a interview on the November issue of Meg magazine, hairstylist Celeste Tuviera, who has been fixing Maine's hair for commercials and photo shoots attests that Maine is a quiet girl, but changes in front of the camera.
"She's fairly quiet but she is a ball of fire when she's working," Celeste said.  
3. Count Ed Sheeran, One Republic among her favorites.  On her ask.fm account, Maine wrote she likes the songs of Ed Sheeran and groups such as One Republic, The Weeknd, and The Fray. In her interview with Meg magazine, she said the songs "Sway" by Bic Runga and "Cry" by Mandy Moore as her favorite go-to karaoke songs.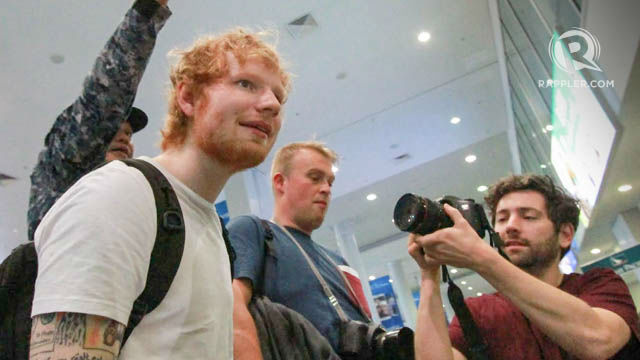 4. Maine hates cockroaches and doesn't like the dark. In an interview with YES! magazine, Maine ws asked if she had any phobias.
"Wala naman po akong masyadong phobia bukod sa ipis (I really have no phobia except for coackroaches.)," she said, adding that she also didn't like the dark. 
Maine shared that during the abduction episode, she saw a cockroach in her area and was thankful it did not come out when she was acting, as otherwise, she would be out of character.
5. She's quite the foodie. As someone who studied the culinary arts, it's only natural that Maine would be a food-lover. Like her character Yaya Dub, she loves isaw (specifically the intestines of chicken), all types of street food, laksa, siningang na bangus with lots of kangkong, and lasagna. She also confessed to loving spicy food, pepperoni pizza, frozen yogurt, fresh juice, and more.
6. She used to have a celebrity crush on Daniel Padilla. On her ask.fm account, Maine was asked if she used to like Daniel, who eventually became the Teen King.
"I had a crush on him 5 years ago, he was just a Candy [magazine] cutie back then. Iilan pa lang ang nakakakilala sa kanya (Only a few knew him then)," she said.
7. She loves MAC lipsticks. Maine is also a beauty trendsetter, becoming known for her red lips on TV. On her ask.fm account, she was asked about her favorite lipstick colors and brand.
"I use MAC. Mostly deep shades of red and nude shades. My faves are Sin, Faux and Flat Out Fabulous," she wrote.
Last October 8, Stylebible.ph wrote that MAC's Ruby Woo lipstick was sold out after makeup artist Krist Bansuelo said that he used the color in one of his makeup sessions with her.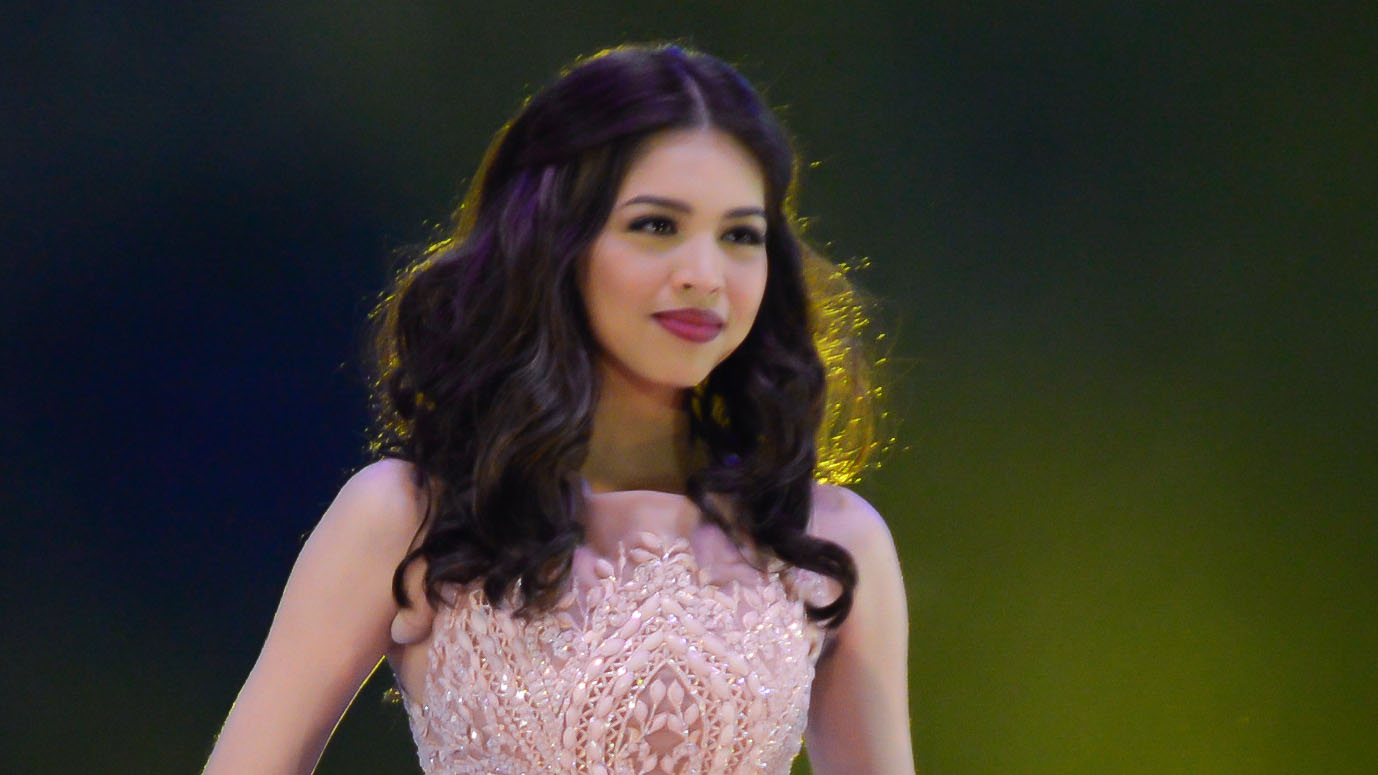 8. She loves Nicholas Sparks. On her ask.fm account, Maine said that she tries to read novels when she can. She confessed to loving Nicholas Sparks' novels. 
"Sometimes…I love Nicholas Sparks' books, gusto ko yung kinikilig ako with matching luha in the end (I like that I get giddy with matching tears in the end)," she answered. 
9. She has a small collection of Barbie dolls. In an interview on the "Match Pa More" of YES! magazine, Maine said that she loves Barbie and used to play with it when she was a kid.
"Yes! Barbie dolls. Ewan ko, mahilig talaga ako sa Barbie simula nung bata ( I really don't know, but I love Barbie when I was a kid). Then siyempre, habang tumatanda , hindi ko naman siya puwedeng laruin na, so nagko-collect na lang ako. Konti pa lang po. (The of course as I get older, I cannnot play with it so I just collect it. I have a small collection.) 
Siguro mga less than 20 po, pero 'yong iba do'n, (I guess I have about 20 but some of them are) limited edition," she said. 
10. Maine struggled with self-esteem issues. After her performance in Eat Bulaga's "Bulaga PaMore" segment last October 10, Maine shared on Instagram about the challenges of overcoming her insecurities and pessimistic attitude.
"I used to be a girl with a poor self esteem— I actually think I still am," she wrote. " I never believed in my capability of doing things; it could be just me being a pessimist about almost everything but the thing is, I never really believed in myself. Every time I am about to do something, the first thing that comes to my mind is "Hindi ko kaya yan. (I cannot do that.)" (That's the fighting spirit! *note sarcasm*) Though I am already used to it, it's still sad to think that I grew up with a negative mindset. I grew up believing I am not good enough for anything. People may think 'Wala pa namang nararating/napapatunayan yang Yaya nyo.' (She has not proven anything, your Yaya character.).  True enough, I guess.
"Pero para sa'kin, (But for me) I've done so many things that I never thought I can do, things that I never imagined I am capable of doing. Everything that I am experiencing and doing right now is new to me.
"And I am proud to say that [finally] —because of Eat Bulaga— I am having the courage to step out of my comfort zone. I have waited so long for the moment where I'd be able to say 'I am proud of myself.' Kung wala pa man akong napapatunayan sa inyo, sa'kin marami-rami na.. at yun lang, sapat na. Sapat na din para masabi kong proud ako sa sarili ko. (If I've not proven anything to all of you, for me, I've proven so much and that's enough. It's enough that I can tell how I'm proud of myself.)  Way to go, Meng!"
And indeed, Maine has come a long way. Three of the country's entertainment and fashion magazines have put her on the cover – Meg, her first solo cover, Preview, and YES! magazine with onscreen partner Alden Richards.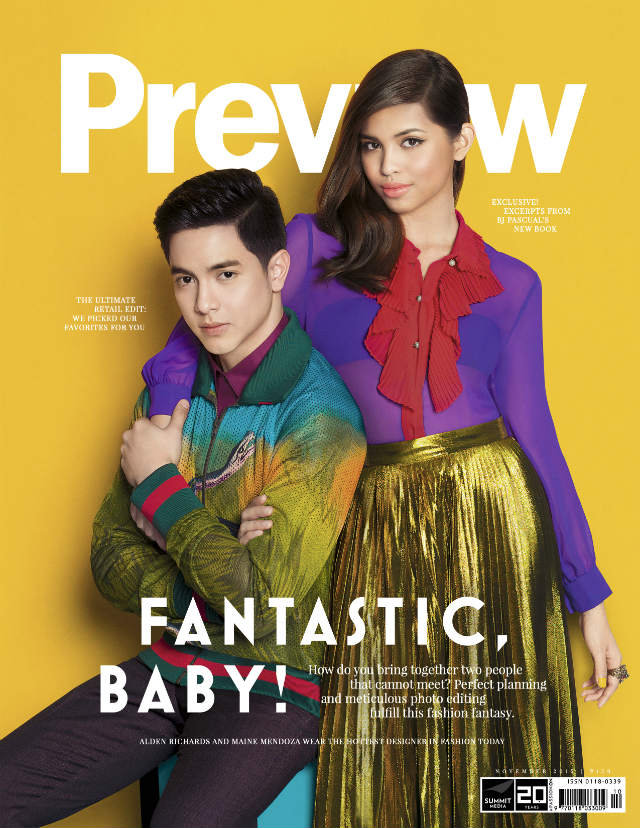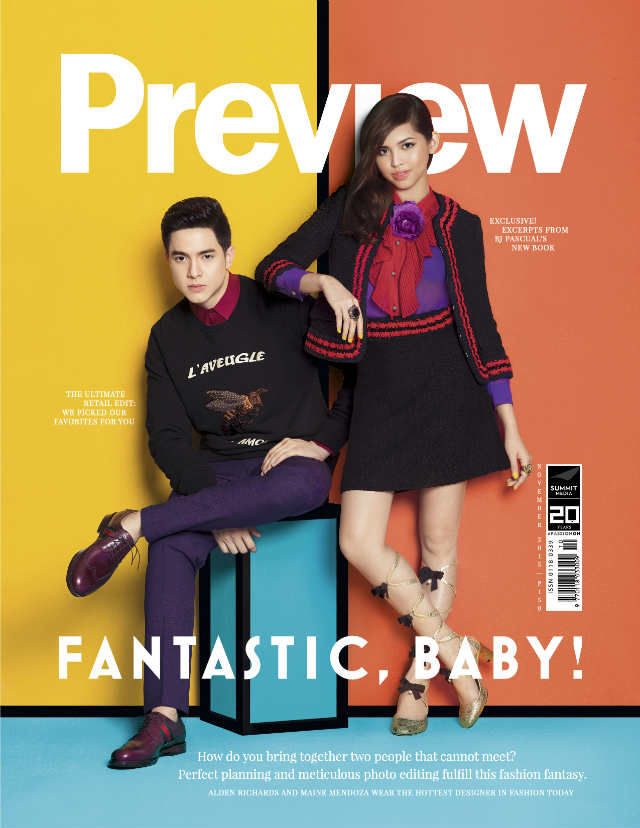 Aside from the magazine covers, Maine is also set to star with Alden, Vic Sotto, and Ai-Ai delas Alas in the upcoming My Bebe Love for the Metro Manila Film Festival. (READ: AlDub, KimXi, JaDine? Love teams to battle it out in MMFF 2015)
Maine has also appeared in a number of commercials. As of November 1, she has starred in 4 commercials with Alden (McDonalds, TnT, Bear Brand, and Zonrox), one with Wally Bayola (O+ phone), and a solo commercial (555 sardines). She is also scheduled to appear in another commercial with Alden for a Coca-Cola this holiday season.
Maine also knows that she is now a role model for many young women. Talking to Meg, she said she was very proud of being honored at the 1st Catholic Social Media Awards.
"To be honest, I was proud and delighted that these awards were given to us. Feeling ko, ang lapit-lapit na talaga namin kay (I really felt we became closer to) God! it was indeed a privilege to be acknowledged  by them," she said.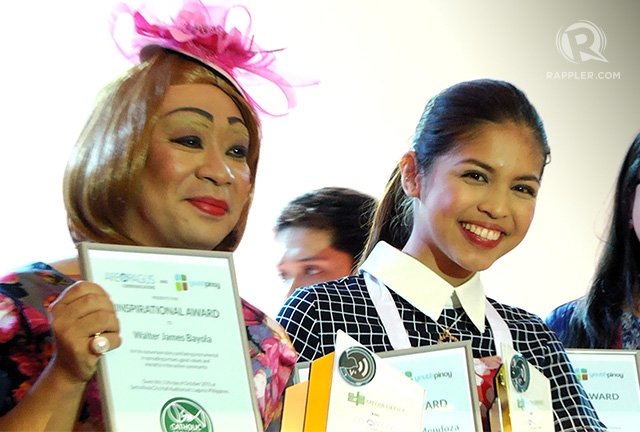 Maine Mendoza – Dubsmash queen, overnight sensation, and down-to-earth daughter. What's next? It's all just beginning for the talented actress whose star is currently on the rise. – Rappler.com
More on Maine, Alden, and AlDub:  
AlDub's big day:
Other AlDub stories: