The ring of everlasting love is found – plus, see Alden and Yaya Dub's Halloween outfits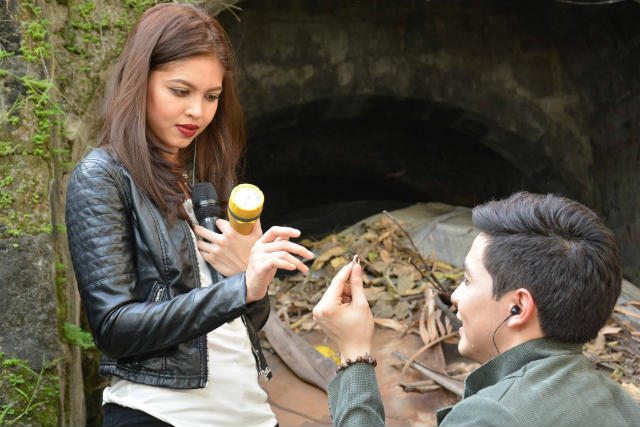 MANILA, Philippines – The love story between Alden Richards and Maine "Yaya Dub" Mendoza continued Saturday, October 31, on Eat Bulaga's Halloween special, when they accompanied Lola Nidora, Tinidora and Tidora to an old mansion to find the the true meaning of love.
After finally being together last October 24 at the Tamang Panahon concert, viewers continue to anticipate what will happen to the growing relationship between Alden and Yaya Dub. The Tamang Panahon episode has pulled in 41 millions tweets, with attention from the international media. (AlDub's 'Tamang Panahon': 10 unforgettable moments)
Here's what happened in the Saturday, October 31 kalyeserye: 
After reading the diary and recovering the keys to the mansion, Lola Nidora, Tinidora, Tidora, Yaya Dub, and Alden went to the house of the sisters' grandmother in barangay Pugotulo, Pangmayaman subdivision. Tidora, Nidora, and Yaya read that they must look for a jewelry box inside a drawer facing a mirror.
After the sugod bahay portion, all 5 went to the address, and found an old, abandoned mansion. The door finally opened after Alden and Yaya knocked together. 
You run i run.. we run together!! @officialaldub16 #ALDUBBahayNiLOLA pic.twitter.com/saJQFnHRYs

— OFC AD|MD BATAAN (@ofcaldub_bataan) October 31, 2015
All 5 then went inside the house and looked inside for the photo of a pretty woman, which they discovered near the staircase. It turns out to be a picture of the sisters' grandmother. In between looking for the jewelry box, there were many instances when the lights went out – Alden and Yaya hugged at one point and still continued to dubsmash.
"Now dont be scared, Its only love That were FALLING IN" Lifehouse yan uy!! #ALDUBBahayNiLOLA pic.twitter.com/8tgG28NCU4

— BARAKONG ALDUB LOVER (@barakonglover) October 31, 2015
All 5 continued to look for the jewelry box and heard a voice telling them to get out of the house. After some encounter with the mysterious elements, they finally found the room. According to Yaya Dub, she was sure she saw the same mirror in a dream. 
Alden immediately unlocked the drawer and took out the jewelry box. All 5 then left the house.
Outside of the house, Lola Nidora reminded everyone not to forget to light a candle for their departed loves ones. 
After some more dubsmashing and kilig moments, Alden opened the jewelry box, and found a small note. Lola Nidora then asked him to read it.
"Kung sino man ang makakakuha muli nito, nararapat na ibigay mo ito sa taong nagpapatibok ng puso mo, sa tao na gusto mong makasama forever," Alden read.
(Whoever gets this, you must give this to the person who makes your heart beat faster, the person you want to be with forever.)
"Ang taong gusto mo alayan ng pag-ibig na wagas, na walang katapusan. Wala man ito sa kamay ng iyong pinakamamahal, sa mga oras na pagaalinlangan, isuot ang singsing upang ipaalala na meron naman talagang totoong pag ibig," Alden continued. 
(This is for the person to whom you want to offer your everlasting love. It may not be in the hands of your true love, but in times of doubt, wear this ring as a reminder that there is true love.)
You're the most precious ppl that I really treasure i always want you to be happy! ily #ALDUBBahayNiLOLA @mainedcm pic.twitter.com/cSe9GUk34n

— aldenbreezy richards (@queenmenggay) October 31, 2015
Alden then opened the box and found the ring. He later knelt before Yaya, but before he could put the ring on, everyone froze.
Will Alden be able to put the ring on Yaya's finger? Will they finally get the happy ending they've been longing for? The road to forever continues in Eat Bulaga's kalyeserye.
What was your reaction to Alden and Yaya's big moment? Let us know in the comments section. – Rappler.com
AlDub's big day:
Other AlDub stories: