Derek Ramsay co-hosts the lunch with Kris, while Ogie Alcasid, Angeline Quinto, and Matteo Guidicelli perform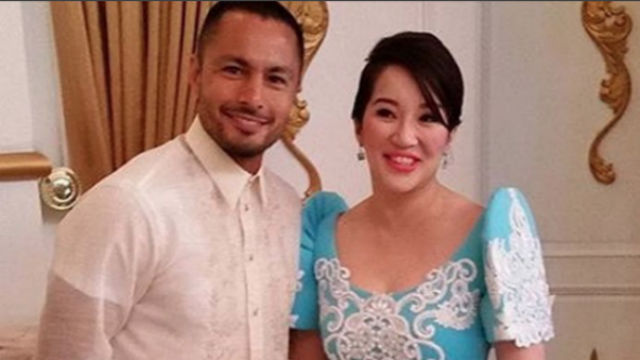 MANILA, Philippines – Aside from the Asia-Pacific Economic Cooperation (APEC) Welcome Dinner held on November 18, President Benigno Aquino III and his team, including his sisters, have more entertainment and cultural presentations prepared for our foreign guests. (IN PHOTOS: PH stars perform at APEC 2015 dinner)
Kris Aquino and her sisters, Viel Aquino-Dee, Ballsy Aquino-Cruz, and Pinky Aquino-Abellada, prepared a lunch for the APEC leaders' spouses on November 19.

The lunch was held at the Marble Ballroom in Intramuros. 
The spouses of the leaders from 9 countries – Hong Kong, Indonesia, Japan, Malaysia, Singapore, China, Taipei, Thailand, Vietnam – attended.

Last week, Kris announced on Instagram that those who will perform at the luncheon are Derek Ramsay, Matteo Guidicelli, Ogie Alcasid, Angeline Quinto, and Erik Santos. Kris herself hosted the lunch, together with actor Derek Ramsay.
Some of the performers posted photos from backstage.
Other guests at the lunch included Lily Monteverde, Virgie Ramos, and Tootsy Angara and her mother.

Before the event, Kris told reporters outside Intramuros that the program was around 20 minutes, and she was lucky to have been able to call in favors from her friends.
Aside from the program prepared, there was also a "small showcase of our world-class Filipino products." The artists behind these products were at the luncheon too.
Preview of the performance for the spouses later. Dance portrays festive wedding celebrations in rural areas. pic.twitter.com/6V4FbDQGyY

— Jee Y. Geronimo (@jeegeronimo) November 19, 2015
Before the lunch, the 9 leaders' spouses, together with Kris and her sisters, went on a tour of Fort Santiago.
First stop: Fort Santiago. Tour starts later at 10 am. pic.twitter.com/lRoiVSyJmS

— Jee Y. Geronimo (@jeegeronimo) November 19, 2015

"Ang nanay namin, sinabi na 'Hindi man tayo mayaman na bansa, sobrang yaman natin sa ating hospitality, sa warmth, (Our mom said, 'We're not a rich country, but we're very rich in hospitality and warmth) and we really want to make sure that everybody who visits the Philippines will go home with a positive impression of all Filipinos," said Kris of the luncheon.

"And I think we've achieved that," Kris said, not only because of the lunch, but also because of the Welcome Dinner, where artists like Apl de Ap, Reynan dal Anay, Gary Valenciano, Charice Pempengco, and Jessica Sanchez performed.
"Nakita ko naman kagabi (I saw last night) how much they (the foreign visitors) were so appreciative… of our cultural presentation, even I was really amazed at the extent of our talent," continued Kris.
APEC is an economic forum in the Asia-Pacific with 21 member economies. The economic leaders held their meeting in the Philippines from November 18 to 19. – Rappler.com