Frankie Arinoli returns and singer Bryan White performs 'God Gave Me You' on 'Eat Bulaga'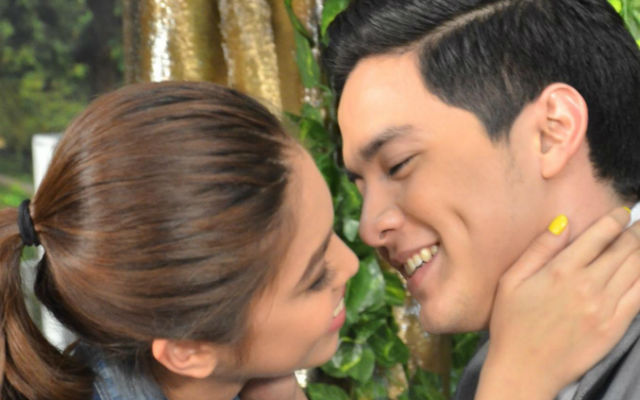 MANILA, Philippines – It's time for Alden and Cindy's wedding, and our beloved characters are emotional with Yaya Dub giving way, saying she cannot allow Alden to go against his grandmother Babah's wishes. 
Since their meeting during the Tamang Panahon last October 24, fans of AlDub continue to watch what will happen when it comes to the blossoming relationship between Alden and Yaya Dub.
But despite the challenges, it seems they have a second chance to fix things. Here's what happened.
The past days, Lola Nidora and Tidora have been comforting Yaya Dub, as Alden and Cindy's wedding approaches. Alden told Nidora that he did not mean to run away from them last week, as he wanted to just protect Yaya from his Lola.
Nidora meanwhile said that running away is not the solution, and that they must face the problem. Nidora also asked them if they were already a couple. The two did some Dubsmashing, and said they were not yet formally a couple.
When Cindy dropped by the studio again, Alden said that they could remain friends. However, Cindy said their marriage was arranged because of business matters. Not knowing what to do, Alden left.
Yaya was worried, as Alden has not been replying to her since he left. When Alden called her, Yaya reminded him that he was not supposed to run away from their problems. Alden said that no matter what happens, they will face it together. Cindy, meanwhile, dropped by the studio and showed the sketch of her wedding dress, to Yaya's dismay. Yaya then got a letter, which made her jump for joy.
The letter was about a scholarship that Yaya got to study Business Management abroad. When Nidora and Tidora asked if she was sure about applying, she said yes. All 3 also received an invitation to Alden and Cindy's wedding. 
Meanwhile, Frankie Arinoli (played by Jose Manalo) returned to the show. He said that he was in town for the Christmas holidays. When Cindy dropped by to see Tidora, Nidora, and Yaya, Frankie became smitten with the Russian model. Yaya, meanwhile, said she was happy for Cindy and Alden, which caught Alden by surprise. Yaya said she had dreams to fulfill, and told Alden that she did not love him anymore.
While Cindy and Frankie were getting close to each other, Nidora tried talking some sense into Yaya. When Nidora asked if Yaya was sure about her decision to leave Alden, she said yes, because she did not want Alden to disobey his grandmother. Nidora hugged Yaya, who finally cried.
Alden tried to talk to his Lola, but she refused to listen to him. He then tried to talk to Yaya, who quietly watched him onscreen. He then appealed to her to not give up on their relationship.
Alden then tried talked to Yaya face-to-face. However, Yaya Dub was firm about her decision, saying it was best to part ways. Alden pleaded with her not to give up on them after what they've been through the past months. When Yaya did not say anything, Alden hugged her.
On Saturday, the day of Alden and Cindy's wedding, a somber Alden took his time getting ready, while Cindy was being made up. Yaya, meanwhile, was arranging her things for the scholarship orientation.
Enter a letter from Yaya to Alden's Lola Babah. In the letter, Yaya Dub asked Lola Babah to give her and Alden a chance to be together. Moved by the letter, Lola Babah went to look for Yaya.
As Yaya was fixing her things and Alden and Cindy were preparing, American singer Bryan White performed "God Gave Me You," to the audience. (IN PHOTOS: 'God Gave Me You' singer Bryan White arrives in Manila)
Lola Babah arrived at the location where Yaya, Nidora, and Tidora were. Nidora was not happy to see Lola Babah, but she allowed her to talk to Yaya. Lola Babah then whispered something to Yaya, who suddenly cried and left. 
After the sugod bahay portion of the show, Nidora, Tidora, and Frankie went to Lola Babah's house. Lola Babah then asked to have a word with Alden, who was at the studio preparing. Lola Babah told her grandson that she was so sorry for getting in the way of his love for Yaya Dub. It was later revealed that Lola Babah told Yaya Dub to go to Alden at the studio. True enough, the two reunited, hugging each other. 
WOW! FANTASTIC SI BIBI! HAPPY WEEKEND ALDUB NATION! @mainedcm @aldenrichards02 #ALDUBStaySTRONG pic.twitter.com/RA7LftOu5y

— AlDubMaiDen Org (@aldubmaiden) November 28, 2015
Meanwhile, Cindy arrived in her wedding dress at Lola Nidora's mansion. Lola Babah was about to talk to her, when Cindy tripped and hit her head. When Cindy woke up, she could not remember anything – including Frankie, who was dismayed because he thought he would have his happy ending. When Lola Nidora looked for Alden and Yaya, they found them spending time together at the mini park in the studio. The episode ends with Yaya and Alden about to kiss.
Will Yaya Dub and Alden finally have the happy ending they have been waiting for? What will happen to Cindy now that she has amnesia? The saga continues. – Rappler.com
More on Maine, Alden, and AlDub:
AlDub's big day and beyond:
Other AlDub stories: