The Singapore stop on Madona's 'Rebel Heart Tour' is rated R18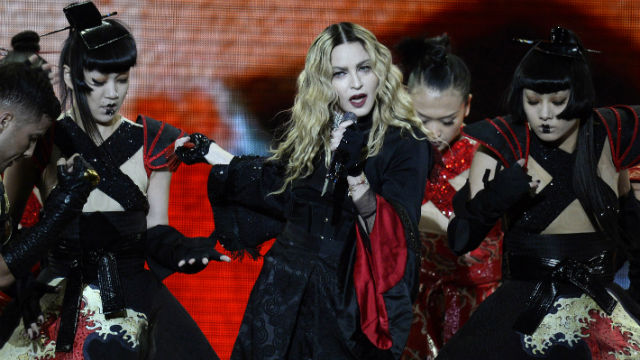 SINGAPORE, Singapore – The Singapore leg of pop superstar Madonna's global "Rebel Heart Tour" has been restricted to fans aged 18 and above, the concert's local coordinator said Wednesday, January 6. (READ: Confirmed: Madonna is coming to Manila)
The one-night-only event on February 28, Madonna's first-ever concert in the city-state, will be held at the 55,000-seat National Stadium, entertainment firm MediaCorp Vizpro said. (READ: Madonna adds 2nd date to PH concert)
"Please note that this concert is rated 'R18' with the consumer advisory on 'Sexual References.' Only those above 18 years of age will be permitted into the venue," it said on its Facebook page.
Concerts and other forms of public entertainment are classified by the Media Development Authority, which also regulates the film and broadcast industries.
The Straits Times newspaper noted that Madonna's concert tour setlist includes a segment involving dancers dressed as scantily-clad nuns pole-dancing on cross-shaped stripper poles.
Affluent Singapore, often ridiculed as a "nanny state" for its tradition of social control, has eased censorship in recent years and become an Asian entertainment hub. But the authorities say its population is still largely conservative.
Madonna is set to hold her two Manila concerts for the Rebel Heart Tour on February 24 and 25 at the Mall of Asia Arena. – Rappler.com