'I am not begging Manny Pacquiao for dignity, I am not begging you for respect, I am not begging you for my humanity, because you do not own my humanity...that's my birthright'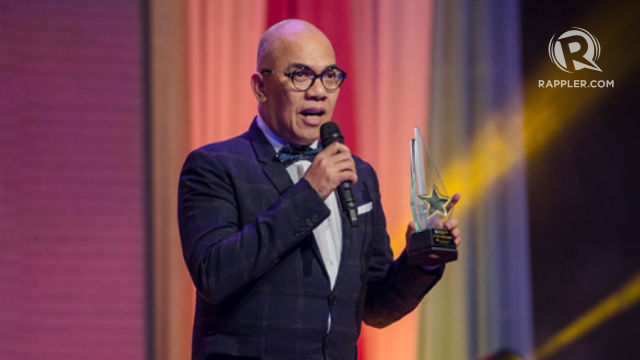 MANILA, Philippines – Boxing champion and Sarangani Representative Manny Pacquiao's comments on same-sex unions have sparked much criticism, including those of showbiz personalities from the LGBT community. (READ: Pacquiao: Couples in same-sex unions 'worse than animals')
On the Tuesday, February 16 episode of his TV show, Tonight With Boy Abunda, Boy Abunda took a few minutes to air his views on the issue of Manny saying that since it was "common sense" for animals to mate with the opposite sex, people in same-sex unions are worse than animals. (WATCH: Pacquiao apologizes for calling gay couples more disgusting than animals)
"Ako po ay nasaktan, ang sama-sama po ng loob ko dahil sobra po ang pag-galang ko 'kay Manny Pacquiao," started Boy. "Alam niyo po, hindi ko alam kung ano ang pamantayan niya ng sinasabi niyang 'tao.' Kung ang tao ay nananakit o ang tao ay nangyuyurak ng karapatan ng ibang tao, eh gugustuhin ko na po maging hayop. Kung ang ibig sabihin po ng mga hayop ay gumagalang, ang ibig sabihin ng hayop ay nagmamahal, then I am an animal."
(I am hurt, I am very hurt because I highly respected Manny Pacquiao. You know, I don't know what his standard is for what he is calling 'people.' If a person hurts or if a person damages the rights of other people, then I would prefer to be an animal. If what it means to be an animal is to show respect, if what it means to be an animal is to love, then I am an animal.)
Boy explained that he voiced out his support for Manny in 2012, because in a 2012 interview with the Associated Press, Manny said, "I'm not against the gay people. I'm not condemning them. … I have a cousin (who is) gay. I have relatives (who are) gay. I have a lot of friends (who are) gay, so I'm not condemning gays. What I said is I'm not in favor of same-sex marriage."
"Sabi ko, 'Iginagalang ko ang opinyon na ito, because in this world, there is space for respectful, for vibrant debate. Kanya-kanya tayong opinyon.' So sabi ko, 'iginagalang ko ang kanyang opinyon.'"
(I said, 'I respect this opinion, because in this world, there is space for respectful, for vibrant debate. Each person has their own opinion.' So I said, 'I respect his opinion.')
This time, continued Boy, Manny's words were different. "Now remember, Manny Pacquiao is considered – or was considered – by many as a national hero. Pero itong mga binitaw niyang salita, para po sa akin (But these words that he said, in my opinion)… he crossed the line. Hindi ako papayag, Manny, if you're watching, na matawag mo ako na mas masahol pa ako sa hayop (I won't allow you, Manny, if you are watching, to call me worse than an animal). I am lower than an animal?"
Boy then recalled the struggle of those who have been discriminated against in the past – slaves, women – and said that many are now respected leaders.
"Why am I saying this, Manny? Dahil gusto kong malaman mo, na hindi sila tumigil sa kalalaban para sa kanilang mga karapatan. At kami, sa LGBT community, hindi rin kami titigil, hanggang sa dulo ng buhay namin, hanggang kamatayan, ipaglalaban namin ang aming karapatan to equality, to dignity, dahil ninakaw ito sa amin."
(Why am I saying this Manny? Because I want you to know that they did not stop fighting for their rights. And we, in the LGBT [lesbian, gay, bisexual, transgender] community, we won't stop either, until the end of our lives, until death, fighting for our rights to equality, to dignity, because these were stolen from us.)
Boy continued, "I am not begging Manny Pacquiao for dignity, I am not begging you for respect, I am not begging you for my humanity, because you do not own my humanity. Akin 'yon (That is mine), that's my birthright."
Bringing up Manny's use of the phrase "common sense," Boy quoted US president Barack Obama, US presidential aspirant Hillary Clinton, and Pope Francis, sarcastically saying that perhaps these respected leaders have some common sense.
From Obama's 2013 inaugural statement, Boy quoted, "Our journey is not complete until our gay brothers and sisters are treated like anyone else under the law, for if we are truly created equal, then surely the love we commit to one another must be equal as well."
From Clinton, Boy quoted a 2011 speech on International Human Rights Day, saying, "Gay rights are human rights."
And from Pope Francis, Boy quoted, "If someone is gay and he searches for the Lord and has good will, who am I to judge?"
"Manny, sino ka?" Boy asked after quoting the Pope. "Sino ka para manghusga? Saan ka kumuha ng kapangyarihan para tawagin kami na mas masahol pa kaysa sa mga hayop?"
(Manny, who are you? Who are you to judge? Where did you get the power to call us worse than animals?)
Boy finished saying that anyone with common sense wouldn't vote for Manny, who is running for senator in the 2016 elections.
"Last point: common sense ang pinag-uusapan natin. Tatakbo ka para senador? Ito ang aking katanungan, ito ang personal ko lamang na tanong: palagay mo ba iboboto ko – mga kababayan dito sa studio, sa inyong mga bahay – iboboto ko ba ang isang tao na ang tingin sa akin ay hindi isang tao? Iboboto ko ba ang isang tao na ang tingin sa akin ay mas masahol pa sa hayop? Manny, ang kasagutan, salita mo: common sense.'"
(Last point: We are talking about common sense. You're running for senator? This is my question, this is just my personal question: do you think I – or our countrymen in this studio or those at home – would I vote for a person who doesn't see me as a person? Would I vote for someone who thinks I am worse than an animal? Manny, the answer, in your own words, is common sense.)
Before his speech, Boy said that he had heard Manny's apology already, but still chose to air his views on his late night show, because he had been keeping his feelings about the issue in all day.
Since his interview was released, Manny has apologized for saying that people in same-sex unions are worse than animals. In a Facebook video posted on February 16, Manny said: "I'm sorry for hurting people by comparing homosexuals to animals. Please forgive me for those I've hurt."
To Rappler, Manny clarified, "I am not condemning them (gays), just the act. I do not agree with them having to marry."
Boy isn't the only celebrity who has spoken out against Manny's thoughts on same-sex unions. Vice Ganda, Lea Salonga, and Perez Hilton have commented on the issue on social media. – Rappler.com