This is AI generated summarization, which may have errors. For context, always refer to the full article.
Chris Rock's opening monologue, Lady Gaga's amazing performance of 'Til It Happens to You,' Leonardo DiCaprio's long-awaited win, and more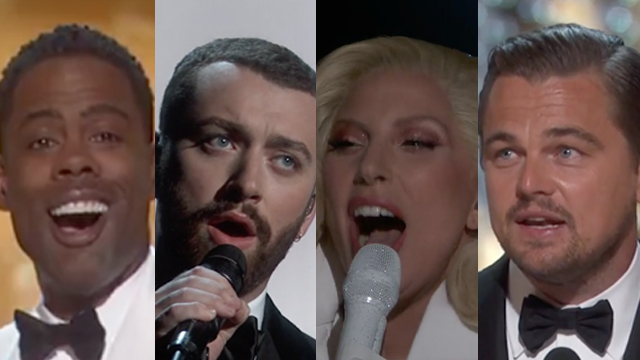 MANILA, Philippines – While the curtain already closed on Hollywood's biggest night this 2016, there were unforgettable, amusing, and inspiring moments worth revisiting.
Here are our picks for the night's best moments:
Chris Rock's swipe at the #OscarsSoWhite uproar and the subsequent boycott by Will Smith and Jada Pinkett Smith
In Chris Rock's second time hosting the Academy Awards ceremony since 2005, he didn't shy away from the issue of the Academy's perceived lack of diversity – the second year in a row – and the #OscarsSoWhite uproar that followed it. (WATCH: Chris Rock confronts race issue head-on at Oscars)
Chris quipped, "It's the 88th Academy Awards, which means this whole no black nominees thing has happened at least 71 other times."
His monologue took a different turn when he focused on the high-profile couple who boycotted the Oscars.
"Everybody went mad. Jada [Pinkett Smith] got mad. […] Jada boycotting the Oscars is like me boycotting Rihanna's panties. I wasn't invited," Chris joked.
He also took a swipe at Jada's husband: "It's not fair that Will Smith was this good [in Concussion] and didn't get nominated. It's also not fair that Will was earning $20 million for Wild Wild West."
Whoopi Goldberg, Tracy Morgan, and Leslie Jones left everyone in shambles with a hysterical sketch
The Oscars took a meta turn when they screened a hilarious star-studded sketch featuring African-American comedians replacing key characters (or animals) in this year's nominated films.
Whoopi Goldberg appeared as a sassy janitor in Joy and The Martian.
She prodded Jennifer Lawrence's Joy to speak up while taping a TV home shopping video for her Miracle Mop: "Say something. Maybe one day they'll make a movie about a skinny white lady who invented a mop."
Leslie Jones went all beast mode – in place of the grizzly bear – on Leonardo DiCaprio in The Revenant.
Tracy Morgan is The Danish Girl, and munched on a Danish pastry, saying, "These danishes [sic] is good, girl!"
The comedian also replaced Matt Damon in The Martian, where he had a hysterical exchange with Jeff Daniels and Kristen Wiig who were in mission control.
Sam Smith: 'I stand here as a proud gay man, and I hope we can all stand as equals one day.'
Standing alone on the Oscars stage, Sam Smith soulfully crooned his way through the latest James Bond film Spectre's theme song, "Writing's on the Wall." He promptly brought down the house.
The most inspiring moment, however, came when he accepted the Oscar for Best Original Song for it.
Referencing Sir Ian McKellen, who raised the issue that no openly gay man has won the Oscar, he said, "If this is the case – even if it isn't the case – I wanna dedicate this to the LGBT [lesbian, gay, bisexual, and transgender] community around the world."
"I stand here as a proud gay man, and I hope we can all stand as equals one day."
C-3PO, R2-D2, and BB-8 crashed the Oscars stage, capturing everyone's hearts
Like a lost and bewildered trio, the beloved droids from the Star Wars saga, C-3PO, R2-D2, and BB-8, appeared onstage.
C-3PO quipped about the inevitable comparison between him and the gigantic Oscar statue on the stage.
"He happens to rather look like me," C-3PO said, adding, "He's quite handsome, I suppose."
The droids also paid tribute to Star Wars composer John Williams who was nominated for the 50th time this year.
Minions, plus Buzz and Woody from 'Toy Story' presented the animated film awards
Three adorable Minions presented the nominees for Best Animated Short in their trademark gibberish-esque language. However, the microphone stand conked out on them and they caused a ruckus onstage.
Having just celebrated their 20th anniversary in 2015, Buzz Lightyear and Woody from Toy Story announced the Best Animated Feature.
Buzz & Woody present the award for best animated feature film: "Reach for the sky!" https://t.co/vG5LjQdCo9 #Oscars https://t.co/GeNU5jjNgk

— ABC News (@ABC) February 29, 2016
Pete Docter's inspiring speech when he accepted the Best Animated Feature Oscar for 'Inside Out'
Receiving the Oscar for Disney Pixar's Inside Out, director Pete Docter had some very inspiring words for the young ones watching.
"Anyone out there who's in junior high, high school, working it out, suffering. There are days you're gonna feel sad, angry and scared, that's nothing you can choose," Pete said.
"But you can make stuff. Make films. Draw. Write. It will make a world of difference," he said.
His "Thank you" on-screen marquee also revealed a surprise for his family: "Okay, yes, let's get a dog."
Pete Docter's Hidden Message in Oscar Thank You Promises a Dog For His Family https://t.co/9NRk2ANOFV pic.twitter.com/qqoqaTJgmt

— Pixar Post (@ThePixarPost) February 29, 2016
The Weeknd enchanted with his performance of 'Earned It'
Set to some lush strings and surrounded by dancers and acrobats sensually moving, The Weeknd performed his Oscar-nominated song "Earned It" from Fifty Shades of Grey. 
Lady Gaga's moving performance of 'Til It Happens to You' from 'The Hunting Ground'
Playing the piano, Lady Gaga sang "Til It Happens to You" from The Hunting Ground, a documentary film that tackled campus rape in the USA.
Later, other instruments kicked in, and several youths joined her onstage, clasping their hands – a powerful moment. Written on their hands, there were words like "Not Our Fault," "Survivor," and other similar phrases.
Lady Gaga's voice soared above it all, singing, "Til it happens to you, you don't know / How it feels."
Leo DiCaprio wins the Oscar – at last, and uses his speech to drive a point about climate change
"I do not take tonight for granted." – @LeoDiCaprio on first #Oscar win. https://t.co/aYPinAW8CL #Oscars https://t.co/wz33SAZPes

— Good Morning America (@GMA) February 29, 2016
It took a compelling performance of a man surviving the odds in the frigid wilderness, and at last,The Revenant star Leonardo DiCaprio took home the Oscar for Best Actor.
He didn't only use it to thank everyone who helped him get to the point, but drove a point about inaction towards the reality of climate change.
"Climate change is real. It is happening right now. It is the most urgent threat facing our entire species, and we need to work collectively together and stop procrastinating," Leo said.
"We need to support leaders around the world who do not speak for the big polluters and the big corporations, but who speak for all of humanity, for the indigenous people of the world, for the billions and billions of underprivileged people who will be most affected by this, for our children's children, and for those people out there whose voices have been drowned out by the politics of greed."
He closed his speech, saying, "I thank you all for this amazing award tonight. Let us not take this planet for granted. I do not take tonight for granted. Thank you so much."
'Spotlight' takes home the top prize, and its producers use the stage as a platform for their impactful message
And the Oscar for Best Picture goes to… Spotlight! Watch this moment presented by @SamsungMobileUS. #Oscarshttps://t.co/QKhO6cfd7G

— ABC Network (@ABCNetwork) February 29, 2016
After it won Best Screenplay, Spotlight took home the final and top prize of the night. The producers who received the Oscar made sure that it became a platform for relevant and impactful messages.
"This film gave a voice to survivors, and this Oscar amplifies that voice which we hope will become a choir that will resonate all the way to the Vatican," said producer Michael Sugar, before calling out to the Catholic pontiff himself, "Pope Francis, it's time to protect the children and restore the faith."
Co-producer Blye Pagon Faust also recognized the value of journalism in her speech. "We would not be here today without the heroic efforts of our reporters. Not only do they effect global change, but they absolutely show us the necessity for investigative journalism," she said.
Naomi Watts, the wife of cast member Liev Schreiber, also posted this photo of the jubilant cast with the golden statuette:
What were your favorite moments from this year's Oscars? Tell us in the comments below. – Rappler.com
More Oscars 2016:
Oscars night:
More: