This is AI generated summarization, which may have errors. For context, always refer to the full article.
Cesar Montano, Arnell Ignacio, Mocha Uson, Jim Paredes, and more speak up on the issue of Duterte's alleged bank accounts, brought up by senator Antonio Trillanes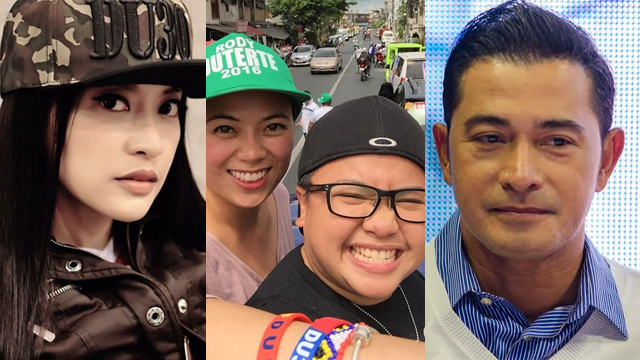 MANILA, Philippines (UPDATED) – Celebrities took to social media to express their thoughts on presidential candidate Davao City mayor Rodrigo Duterte, after vice presidential candidate Antonio Trillanes IV alleged that Duterte had an undeclared bank account with Bank of the Philippine Islands with P211 million that was not included in his Statement of Assets and Liabilities (SALN).
On Monday, May 2, Trillanes answered Duterte's challenge to present an affidavit. The senator showed up with the signed document at the BPI Julia Vargas branch to face the latter's camp and acquire a copy of his transaction records.
Salvador Panelo, Duterte's legal counsel, appeared at the Julia Vargas branch to secure a "certification" from BPI to counter claims that Duterte's accounts had contained P211 million.
However, Panelo said that the bank had asked for 7 days to examine the request because of legal consequences, citing the non-standard wording of the Special Power of Attorney signed by Duterte.
In it, Duterte authorizes Panelo to "request for and receive, from the Bank of the Philippine Islands Julia Vargas Avenue Pasig Branch, bank certificates for BPI Savings Account No. 2433-0695-39 to show the current balance as well as the fact that at no time since the opening of the aforesaid Bank Account was there a deposit either singly or collectively of Two Hundred Eleven Million Pesos (P211,000,000.00)."
Supporters of the two camps also gathered at the Julia Vargas branch, including Robin Padilla who posed with bomb squad police officers stationed outside: "Bagamat naghihikahos ang RULE of LAW sa ating Bansa, Inaasahan ko at ipinagdadasal ko na maging mapayapa ang araw na ito. Mabuhay ang PNP [Philippine National Police]."
(Although the Rule of Law is sorely insufficient in our country, I expect and pray that this day would be peaceful. Long live the PNP.)
In an interview with Pep, Cesar Montano, who is seeking a congressional seat under the party list Aangat Tayo said: Naiintindihan ko siya kung kailangan niyang magbayad ng bills niya every month, kaya niya ginagawa 'yan para pagkakitaan.
(I understand that he needs to pay bills every month, that's why he's doing it, to earn money.)
"Ano ba siya, as Vice President? Ano ba ang rating niya, wala na, e. (What is he as Vice President? What is his rating? Nothing.)
"Pinapakinabangan na lang siya ng administrasyon." (The administration is just using him.)
In the same interview, Montano said that it would be better if the senator just kept quiet about this issue.
Meanwhile, TV host Arnell Ignacio posted two videos of him outside a BPI branch, telling Trillanes to issue an affidavit regarding about the bank account. 
 "Kasi sabi mo may account dito ang aming tatay na si Digong. (You said our father figure Digong has a bank account here.)
"Salamat naman at itinuro mo, kasi tutulong na kami, dito namin ilalagay ang tulong namin dahil kawawa naman yung tao. (Thank you and pointed out because we're going to him and this is where we will deposit the money because he looks really tired.)
"Hindi na nga nakakabili ng T-shirt, tatatlo lang yata ang damit, hindi pa napaplantsa. ( he could not buy a T-shirt, I think he only has few clothes and it doesn't even get ironed.)
"Anyway, maganda naman yung sinasabi mo na meron kang mga imbestigasyon, pero sana mag-issue ka ng affidavit para legal ang lahat. (It's good that you said there is an investigation but I hope you issue an affidavit so it's all legal.)
"Hindi yung kung ano lang ang sabihin mo, gusto mo paniwalaan na namin. (It's not just about saying anything, then you just want us to believe you.)
"Ginagawa mo naman kaming masyadong tanga. Mag-issue ka ng affidavit para legal lahat, okay? (You're making us look like fools. Issue an affidavit that's legal okay?)
"Anyway Mayor, nag-deposito ako sa 'yo ng P1,000 ha? Ipambili mo ng pagkain o kaya damit ha? (Anyway Mayor, I'm depositing P1,000 okay? Use it to buy food or clothes okay?)
"Mr. Trillanes, kapag totoo yung sinabi mo, sisingilin ko si Mayor ng ipinagpagawa ko ng T-shirt at saka ng relos. (Mr. Trillanes, if everything you said is true, I'll ask Mayor for the money I used to make for this T-shirt and watch.)
"Ikaw, kung gusto mo rin, maganda e bigyan kita, dalhan kita sa Senado, ha? Sige, wag kang masyadong maingay, ang daldal mo." 
(If you want one it's nice, I can give you, I can bring it to you in the Senate okay? So please don't be noisy, you're so talkative.) 
He posted a follow-up video on May 2, further defending the Davao City Mayor against allegations that he keeps P211 million in a BPI bank account.
Singer Mocha Uson defended Duterte in an Instagram post, enumerating 2 reasons: first, that BPI has said there had never been P211 million in his account, and that Trillanes had acquired his information through hearsay.
She also questioned why BPI said that they need 7 working days "to issue [a] Bank Certificate and Statement," citing the bank's reason that this was a "Special Case."
"Bakit ayaw nyo ilabas bago mag election? This is a NATIONAL ISSUE. Kinabukasan ng BAYAN natin ang nakasalalay (Why don't you want to release it before the elections? This is a national issue. The future of our nation is at stake)," she wrote.
Earlier, she posted a photo on Instagram with the caption: "Desperado (Desperate) moves! Watch out #traPoe Trillanes!"
Aiza Seguerra posted the same photo with the caption: "Ano na Trillanes? San na affidavit mo? Bilis na!"
(So Trillanes, where the affidavit? Do it now quickly!)
Following developments on May 2, Liza Diño, Aiza's wife, wrote on Facebook: "TRILLANES is a BRAT who throws callous accusations without BASIS. He doesn't know how follow protocol and doesn't know how to respect basic rules."
Liza also previously posted on Facebook: "Hay, yung mga ibang "disenteng" supporters nagpipiyesta, akala mo nanalo sa lotto. Wagas makapost! Sa wall ko pa eh hindi ko naman kilala. (Those "decent" supporters jumping for joy who thought they won the lotto. Wow, to post on my wall considering I don't know them.)
"Eh kaso yung "beacon of hope" niyo kung makademand wala na nga sa lugar, dinaan pa sa media. Dada ng dada wala naman palang affidavit. Tsk tsk! (Your "beacon of hope" who makes demands though it's not appropriate, went through the media. All he does is talk and talk but he has no affidavit.)
"O ayan na inamin na, may bank account nga. Kaso mukhang pagkatapos nito, makukulong ka na, magwiwithdraw ka pa. Tsk tsk." (So there he admitted his bank account. But it seems after this, you'll be in jail, you have to withdraw money.)
Richard Poon said this:
Meanwhile, celebrity supporters of other candidates, particularly of Mar Roxas, who runs on a platform of anti-corruption, criticized Duterte.
Jim Paredes wrote: "Duterte is a fraud. 41 houses. Billions in accounts. Liar. Collecting campaign funds from the poor. SWITCH TO MAR."
Duterte is a fraud. 41 houses. Billions in accounts. Liar. Collecting campaign funds from the poor. SWITCH TO MAR.

— Jim (@Jimparedes) April 30, 2016
Former Miss International title holder Aurora Pijuan meanwhile posted this: 
ah, poor! poor man!! " now i can dispose of the mosquitero and go back to my air-conditioned room" P#*& In@#@#% https://t.co/yVoYg83xgH

— Aurora Pijuan (@aupijuan) April 29, 2016
Leah Navarro meanwhile said: "Ay naku, Duterte. Stop it. Stop it. Stop it. Stop fooling around. SIGN THE WAIVER." 
Ay naku, Duterte. Stop it. Stop it. Stop it. Stop fooling around. SIGN THE WAIVER pic.twitter.com/4XPHIHtjVw

— Leah Navarro (@leahnavarro) April 30, 2016
On Friday April 29, Trillanes challenged Duterte to sign a bank secrecy waiver, after he alleged that Duterte had a secret account with BPI amounting to P211-million. 
"Mayor Duterte, tigilan mo na ang drama. 'Wag kang magtago sa mga alipores mo at nag-aala Binay ka na (Mayor Duterte, stop the drama. Don't hide behind your minions, you're starting to act like Binay)," the senator alleged in an interview with dzMM's Ted Failon.
Duterte on the other hand said that all of Trillanes' accusations were "garbage," but told reporters that he has instructed his lawyer to be present on Monday, May 2 when his bank account is opened. 
BPI has already issued a statement, saying that there has not been a breach in client confidentiality regarding the matter. –Rappler.com