Entertainment personalities join everyone who mourns for the Orlando shooting victims. They post about their shock and grief, as well as proclaim messages of empowerment and hope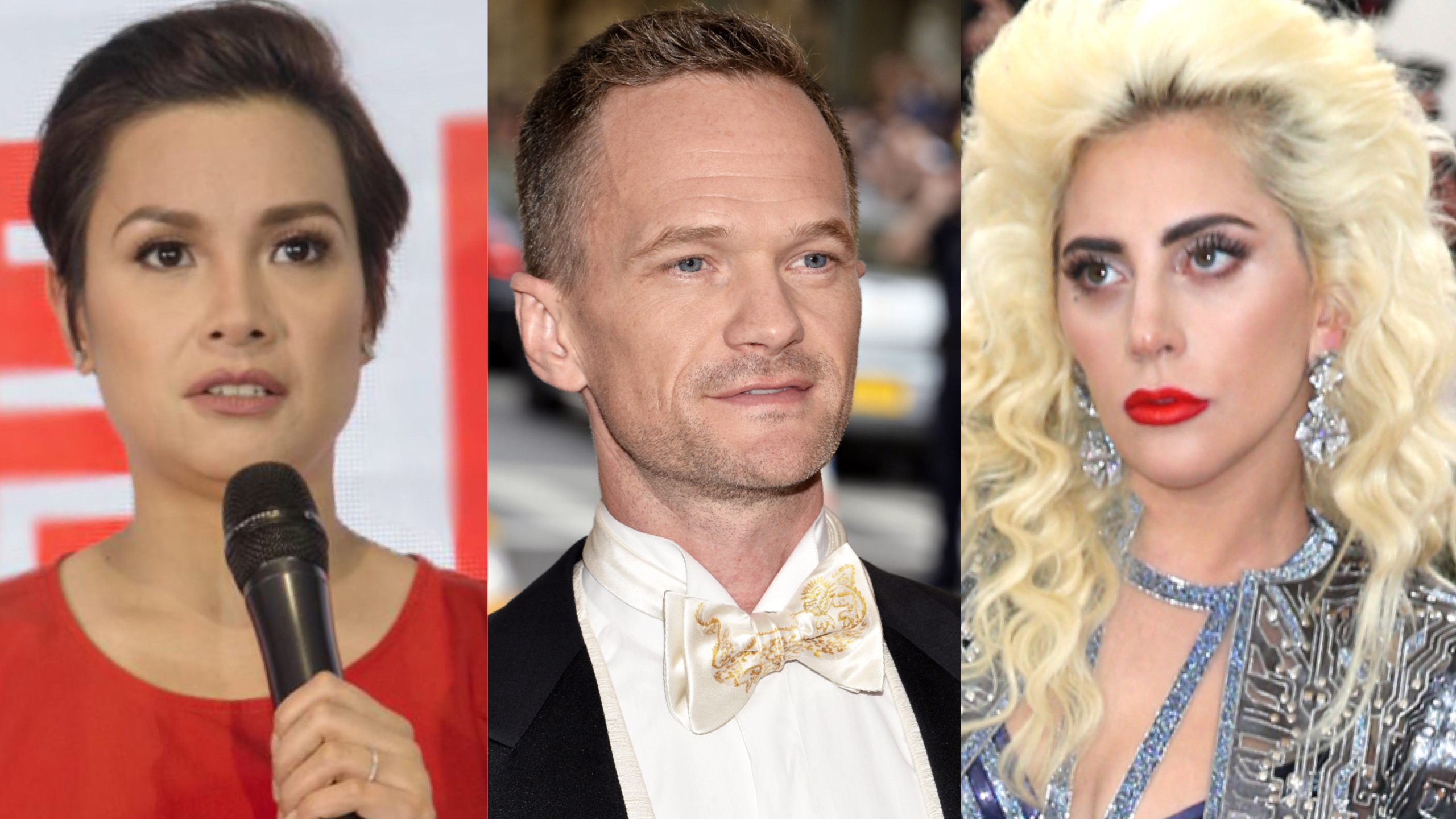 MANILA, Philippines – After 50 lives were lost in Pulse, a gay nightclub in Orlando, Florida, USA – what has been tagged the most deadly shooting in US history – the world was in shock.
"We know enough to say that this was an act of terror and an act of hate," said President Barack Obama.
Entertainment figures, being influential on social media, used their platforms not just to express shock and grief at an attack that had seemed to be targeted at gay people, but also to proclaim messages of empowerment and hope, as well as to shun hatred.
Lady Gaga
Lady Gaga appeared onstage at a Los Angeles vigil for the victims of the Orlando shooting.
"As we have now witnessed the largest mass shooting in American history, I can't help but feel that this level of hatred – like all prejudicial crimes – this is an attack on humanity itself. This is an attack on everyone," she said.
"Tonight, I gather humbly with you, as a human being, in peace, in sincerity, in commitment, in solidarity, to take a real moment and mourn the tragic loss of these innocent, beautiful people."
Watch this Periscope video from Beverly White of NBC in Los Angeles:
LIVE on #Periscope: Reading of the Orlando victim names featuring Lady Gaga in LA https://t.co/oPJlSauNLR

— Beverly White (@BeverlyNBCLA) June 14, 2016
As she has been championing gender equality, Lady Gaga also put this message on Instagram:
The pop star also tweeted earlier on June 12:
I pray for all the victims families during this shooting epidemic. That their pain be met with compassion and support from the world.

— Lady Gaga (@ladygaga) June 12, 2016
It's a traumatizing & emotional time for a many people. I dream of the world reflecting on what we can do to change this violence. #Orlando

— Lady Gaga (@ladygaga) June 12, 2016
Madonna
Elton John
Our hearts go out to all the families and loved ones of those lost in Orlando. #prayfororlando #loveisthecure pic.twitter.com/nyfzJiyPma

— Elton John (@eltonofficial) June 12, 2016
Beyoncé
Jennifer Lopez
Ariana Grande
How how how how can one have so much hate ????? My heart…… is so broken. Praying for the families of the Orlando victims. I am so sorry.

— Ariana Grande (@ArianaGrande) June 12, 2016
Katy Perry
I just can't believe this is the world we live in today.

— KATY PERRY (@katyperry) June 12, 2016
Pharrell
I will never understand why people hate. No words can express how sad my heart feels about the tragedy in Orlando #EqualityMeansEverybody

— Pharrell Williams (@Pharrell) June 12, 2016
Miley Cyrus
Miley Cyrus wrote on Instagram, "Sending so much love to the friends and family who lost loved ones in this devastating shooting in Orlando… Sending peace to the souls injured and killed."
She also posted an text exchange with her dad, Billy Ray Cyrus (who was tagged in the photo):
Billy Ray first said, "A day that started out as so innocent has now become so tragic. My heart is broken… and I know yours is too. So much hate… Not sure love has a chance anymore."
To this, Miley replied: "Love has a mega chance! Don't give up!"
"You're right. Love has to win… Love wins!" her father replied.
Justin Timberlake
Emma Watson
June 13, 2016
Nick Jonas
My heart is broken this morning. So much hate in this world. So many beautiful innocent lives taken last night in Orlando. #PrayForOrlando

— Nick Jonas (@nickjonas) June 12, 2016
Kim Kardashian-West
Kim Kardashian-West tweeted this:
I'm truly at a loss for words. To everyone in Orlando affected by this massacre, my thoughts, love, & prayers are with u

— Kim Kardashian West (@KimKardashian) June 12, 2016
She also spoke about the issue of gun control in the US in relation to the Orlando tragedy.
Under current federal law people on terror watch lists can legally buy guns – this is called the Terror Gap

— Kim Kardashian West (@KimKardashian) June 12, 2016
We have repeatedly called on Congress to close this loophole that makes it easy for dangerous people to get guns & kill.

— Kim Kardashian West (@KimKardashian) June 12, 2016
Nothing has changed!!!! People continue to senselessly die. When will these gun laws be changed?!?!?!?!!!!?????

— Kim Kardashian West (@KimKardashian) June 12, 2016
Kourtney Kardashian
Waking up to this horrifying and heartbreaking news. I don't know what to say anymore. #PrayForHumanity #Orlando

— Kourtney Kardashian (@kourtneykardash) June 12, 2016
Caitlyn Jenner
Shocked & heartbroken. Sending all my thoughts & prayers to my bothers & sisters in Orlando. Be safe the rest of this weekend friends #pride

— Caitlyn Jenner (@Caitlyn_Jenner) June 12, 2016
Hilary Duff
Horrified watching the news. Where has the love in our world gone. Honestly I don't know what to say. So sad. So wrong  #PrayingForOrlando

— Hilary Duff (@HilaryDuff) June 12, 2016
Lea Salonga
This is apparently the worst mass shooting in US history. This needs to stop. Please, no more.

— Lea Salonga (@MsLeaSalonga) June 12, 2016
Wishing I could hug all my friends celebrating #PrideWeekend, this news about Orlando is devastating. A gay nightclub was targeted.

— Lea Salonga (@MsLeaSalonga) June 12, 2016
Pia Wurtzbach
Miss Universe 2015 took to Instagram to condemn recent terror events, including the Orlando shooting. In two separate posts on the Miss Universe and her personal account, she highlighted a symbol of lesbian, gay, bisexual, and transgender (LGBT) pride: the rainbow flag. (READ: Pia Wurtzbach stands by LGBT community after Orlando shooting)
On her personal account, she wrote: "I am Miss Universe Pia Wurtzbach from a highly conservative Catholic country but I am not afraid. Celebrated but also sometimes criticized. And staying true to my word, the LGBT community is close to my heart. It's 2016, people. There's no room for hate anymore."
Hailee Steinfeld
Ryan Gosling
June 12, 2016
Ellen DeGeneres
My heart is heavy today, but I still believe in love. There's more love than hate in this world. #OrlandoUnited

— Ellen DeGeneres (@TheEllenShow) June 13, 2016
Neil Patrick Harris
The tragedy in Orlando is just beyond sad. My deepest regrets to all those suffering. There are no words that suffice. I'm…stunned.

— Neil Patrick Harris (@ActuallyNPH) June 12, 2016
James Corden
The Tony Awards, the biggest night in theater, also dedicated this year's awards night, Sunday, June 12, to the victims of the attack.
Its host, James Corden, opened the show: "Our hearts go out to all of those affected by this atrocity. All we can say is that you are not on your own right now. Your tragedy is our tragedy."
"Theater is a place where every race, creed, sexuality and gender is equal, is embraced, and is loved. Hate will never win. Together, we have to make sure of that. Tonight's show stands as a symbol and a celebration of that principle."
Watch the video from CBS News:
Lin-Manuel Miranda
Hamilton creator and star Lin-Manuel Miranda won big at the Tony Awards, and when he accepted the award for Best Original Score, he said recited a sonnet he made himself. (WATCH: Lin-Manuel Miranda dedicates sonnet to Orlando victims)
At one point, it goes: "This show is proof that history remembers / We live through times when hate and fear seem stronger / We rise and fall and light from dying embers remembrance that hope and love last longer."
"Love is love is love is love is love is love is love is love cannot be killed or swept aside."
Anna Kendrick
Fuck. I don't even know what to say anymore. Fuck. #Pride #Pride #Pride

— Anna Kendrick (@AnnaKendrick47) June 12, 2016
Zoe Saldana
Kristian Nairn
Kristian Nairn, aka Hodor on Game of Thrones, was in Manila for ToyCon 2016 at the time of the tragic attack and tweeted this in solidarity:
My thoughts are with the people of Orlando Florida, and the horrible events at Pulse 🙁 be safe people <333 #orlando

— Kristian Nairn (@KristianNairn) June 12, 2016
In 2014, the Game of Thrones star said in an interview with the fan site WinterIsComing.net, "When you talk about 'the gay community,' you are talking about MY community. […] I've never hidden my sexuality from anyone, my whole life in fact, and I've been waiting for someone to ask about it in an interview, cos it's not something you just blurt out. I've tried to lead the questions a few times, to no avail!"  
Amy Schumer
Sickening news. All my love to Orlando.

— Amy Schumer (@amyschumer) June 12, 2016
Ellen Page
My heart goes out to the victims and their families. Our community has suffered a tremendous loss. We must stand together more than ever.

— Ellen Page (@EllenPage) June 12, 2016
George Takei
Devastated by the news out of FL. Whatever the madness behind this, let us all come together first to support victims & their loved ones.

— George Takei (@GeorgeTakei) June 12, 2016
Laverne Cox
Deeply moved that in the face of tragedy Orlando & Americans everywhere are coming together to give blood, love & support.This is who we are

— Laverne Cox (@Lavernecox) June 12, 2016
Vanessa Hudgens
Martin Nievera
Aiza Seguerra
On Instagram, Aiza Seguerra wrote: "Nakakalungkot isipin na dahil lang sa kung sino kami at mga pinili namin mahalin, akala ng mga ibang tao, wala na kaming puwang sa mundo."
(It's saddening to think that just because of who we are and who we choose to love, some people think that we don't have a space in this world.)
"Sana huwag ninyong kalimutan na ang LGBT ay mga tao rin, at may mga taong nagmamahal sa amin at nagbibigay ng pagpapahalaga sa aming buhay kagaya ng mga pamilya at kaibigan. Hindi porke iba ang tingin ninyo sa amin ay mayroon na kayong lisensiya para murahin kami, pagkaitan ng karapatan at kalayaan, pagtawanan, bastusin, saktan at patayin." 
(Hopefully, you won't forget that LGBT people are humans, too, and there are people who love us and give us importance like family and friends. Not just because you see us differently, you have the license to curse at us, deny us of our rights and freedom, ridicule, laugh, mock, hurt, and kill.
"Tao kami. Kagaya ninyong lahat (We are human. Just like all of you)," he ended his note.
Liza Diño-Seguerra
While promoting their film Traslacion, which tackles the "plight that we LGBTQ [lesbian, gay, bisexual, transgender, and queer] couples go through," Liza Diño-Seguerra said that she found their premiere at the Soho International Film Festival in New York timely with its message.
She wrote, "Sana hindi lang manatili sa Facebook ang inyong pakikiramay sa nangyari sa mga GAY PEOPLE na walang awang pinagbabaril dahil lang para sa inyo 'iba' sila. STOP HATE CRIME."
(We hope that your sympathy with what happened to the gay people, who were mercilessly shot dead, wouldn't stop with Facebook.)
"Pare-pareho tayong TAO. Lahat tayo may karapatang mamuhay ng totoo sa sarili natin at magmahal ng MALAYA."
(We are all people. We all have the right to live being true to ourselves and to love freely.)
Iza Calzado
Gab Valenciano
What is happening. Worst thing to wake up to. Praying for all the families affected. God have mercy. #Orlando #PrayForOrlando

— Gabriel Valenciano (@gabvalenciano) June 12, 2016
The Pulse nightclub attack coincided with gay pride month in the United States, with festive events all over the country.
Reports say that the suspect, identified as 29-year-old Omar Mateen, harbored anti-gay views and regularly beat a former wife. (READ: Orlando shooter homophobe and wife beater – reports)
The FBI also said that they received reports that the gunman had made a call prior to the massacre, claiming allegiance to the Islamic State (ISIS).
Also in Orlando, last Friday, June 10, The Voice alumna Christina Grimmie was also shot while meeting fans after her concert. She did not survive the gunshot wounds that she sustained.  – with reports from Agence France-Presse/Rappler.com