Robin speaks up on being granted executive clemency from President Rodrigo Duterte and what this means for his chances of joining his wife Mariel Padilla in the U.S.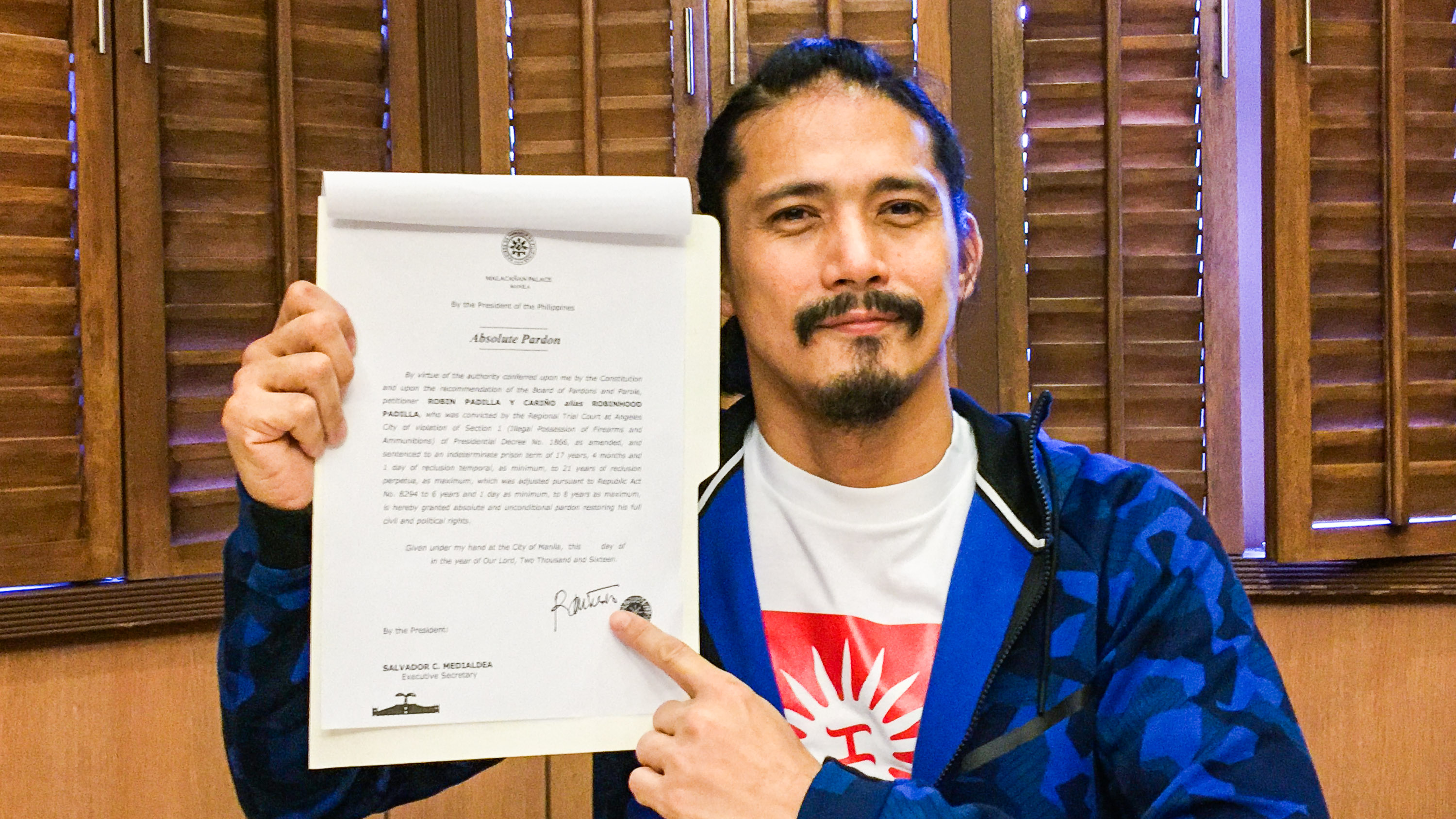 MANILA, Philippines – Robin Padilla had quite a day on Tuesday, November 15, when President Rodrigo Duterte granted him executive clemency – an absolute pardon at that – just hours after his wife, Mariel Rodriguez, gave birth in the US.
The next day, the actor spoke to reporters about what he now calls his "birthday" – "napanganak si Isabella, pinanganak yung kalayaan ko (Isabella was born and my freedom was born as well)," he explained.
Mariel gave birth in the US due to her delicate pregnancy – she suffered two miscarriages previously – but Robin couldn't be with her because his visa was not approved. Instead, he was with her for her hours-long labor through video call.
"Malungkot, siyempre, kasi nag-aral pa 'ko niyan eh," Robin said, when asked how he felt that he couldn't be there with her. "Pinag-tiyagaan kong aralan yung birth coaching na yun eh… Meron akong diploma niyan."
(I was sad, of course, I studied for that too. I worked hard to study birth coaching… I have a diploma for it.)
But now that he's been granted absolute pardon, Robin is hopeful that he can get a US visa to visit his wife and new baby, Maria Isabella, in Delaware.
In the past, said Robin, he had a would always be denied visas because of his conviction or be told that his visa was still in process.
Mariel is set to stay in the States for 3 more months, and will return home around February 2017, said Robin. 
Road to Robin's absolute pardon
Robin was convicted of illegal possession of firearms in 1994, before being granted conditional pardon in 1998 by former president Fidel V. Ramos.
His lawyer Rudolf Jurado, who was present at the November 16 press conference, said that his conditional pardon expired in 2003, which meant Robin could have applied for absolute pardon then.
The delay, said Robin, was because he wasn't a priority. He had been focused on changing his country, starting a farm, and more recently, caring for Mariel. 
"Regalo itong hindi ko inaasahan eh, talagang mapanganak ulit," said Robin. "Kasi dati, rebolusyon 'yun eh. Masyado tayong, 'Bayan, bayan, bayan,' biglang siyempre nung manganganak na si Mariel, pamilya."
(This was an unexpected gift, to truly be born again. Because before, that was the revolution. We were too focused on 'Country, country, country,' then suddenly, of course, when Mariel was about to give birth, it became family.)
It was Rudolf and Robin's manager Betchay Vidanes who arranged the papers and filed them for Robin at around July or August so he could be granted executive clemency.
"November, doon kami nagkagulo, ayaw niya (November, that's when we fought, because he didn't want [to file] it)," recounted Rudolf at the press conference.
Robin didn't know that they filed the papers until late August, when his name was among those in a published list of those recommended for executive clemency.
Rudolf continued: "Ngayon, [sinabi ni Robin] 'Sandali, ano 'to? Baka ako'y matira ng mga tao dito, sabihin ginagamit ko yung ano ko.' So inaway niya ako doon, dahil doon, sabi niya, "Di dapat ganoon, ba't ganito?'"
(Now, [Robin said] 'Wait, what's this? People might hit at me and say that I'm using my relationship with the president.' So he fought me on that, because of that, he said, 'It shouldn't be like this, why is it like this?)
But they couldn't do anything anymore once the papers were filed, said Rudolf, who added that they went through all the right processes, presenting their petition to the Board of Pardons and Parole and the Department of Justice, before the president.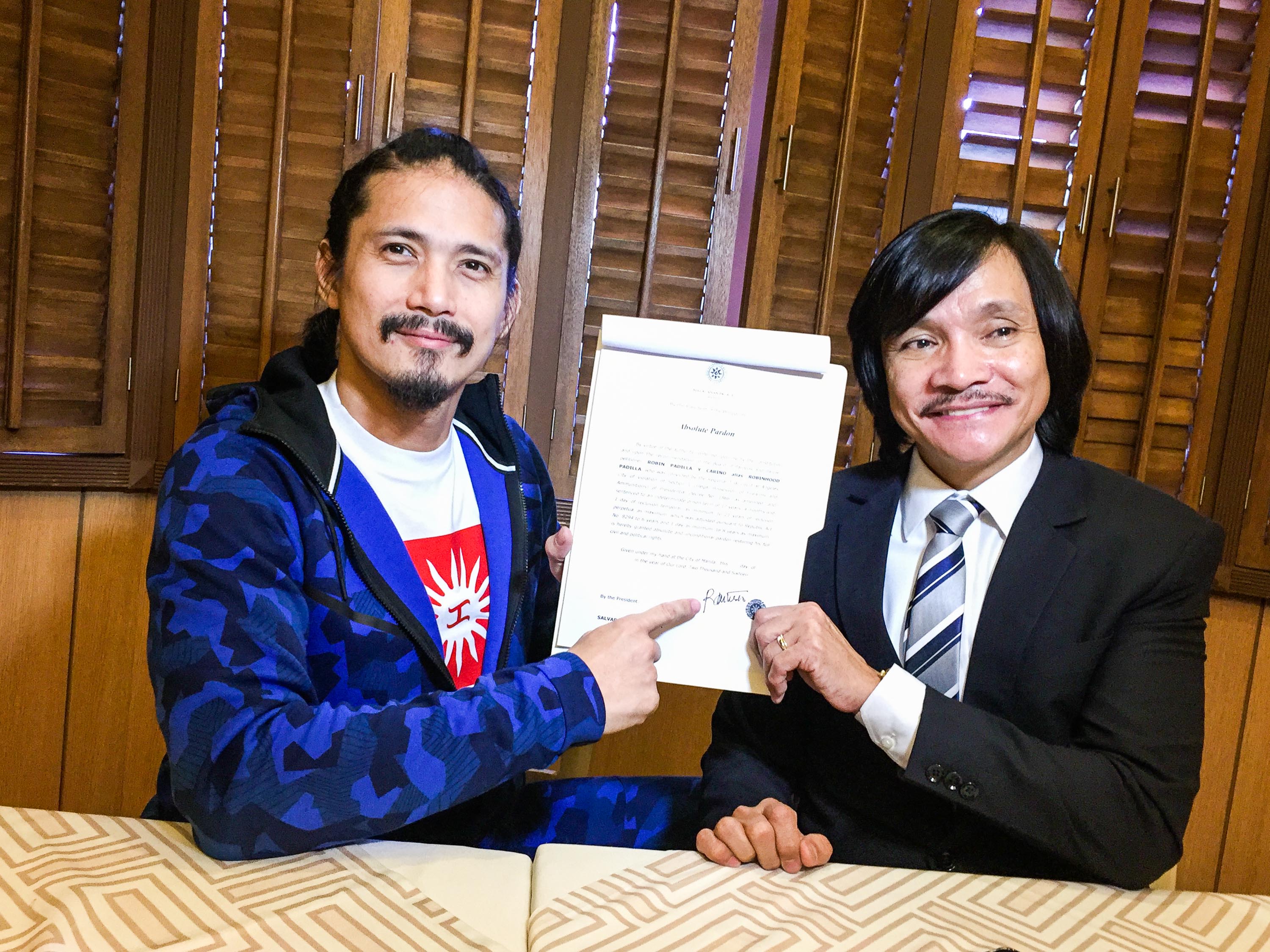 On people saying that he did use his influence on the president to be granted pardon, Robin said it's unavoidable.
"Gusto ko lang sabihin sa mga tao, lahat ng naging pangulo, malapit ako. [Fidel V Ramos], kinandidato ko po 'yan.
"Si [Joseph Estrada] po, uncle ko po 'yan… Kamag-anak ko po yan ang masasabi natin, hindi ko po 'yan hinigan.
"Si [Gloria Macapagal Arroyo] kinampanya ko po yan. Kung saan-saan ako inutusan niyan sa Mindanao, hindi po ako hiningan.
"Si [Benigno Aquino III], kasama ko si [kapatid niyang si Kris Aquino] sa [TV series] Kailangan Ko Ikaw. Pwedeng-pwede ko pong sabihin, hindi ko hiningan. Lahat po ng naging pangulo, malapit po 'yan. Pero hindi ko po hiningi. Ang humingi nito, siya," said Robin, pointing to Rudolf.
(I want to tell everyone that I was close to all the presidents. I supported Fidel V Ramos. Joseph Estrada is my uncle… he's family, and I didn't ask for pardon. I campaigned for Gloria Macapagal Arroyo. She asked me to go wherever in Mindanao, I didn't ask for pardon. With Benigno Aquino III, I was with his sister Kris Aquino in the TV series Kailangan Ko Ikaw. I could have said something, but I didn't ask for anything. All the presidents, I'm close to them. But I didn't ask for anything. The one who asked for this was him [Rudolf].)
'Nagbigay siya ng pag-asa'
For Robin being granted absolute pardon by the president on November 15 was a surprise, as he had been in Malacañang with his sister Rema Padilla-Ohno to discuss her hospital rehabilitation program. Rema is the president/CEO of Himex Corporation, which distributes medical equipment and supplies.
When asked what he and the president talked about when he was granted pardon, Robin said that aside from thanking Duterte, he was speechless.
Robin recounted: "Ang sabi ko kasi, 'Salamat po.' Sabi niya, 'Eh, wala ka namang sinaktan, ang nakalaban mo bakal.'"
(I said, 'Thank you.' He said, 'You didn't hurt anyone, your enemy was metal.)
"Masayang-masaya lang si Mayor kasi nakita niya na nagbigay siya ng pag-asa (Mayor was very happy because he saw that he gave us hope)," he added later, saying that everyone, including himself and his sister, were emotional.
Now that Robin has been granted executive clemecy, Robin has his political and civil rights back, including his right to run for office. However, Robin is not looking to work in the government.
When asked if the president was interested in appointing him a position in the government, Robin said, "Iyan po ang isang quality ni Mayor … yung kanyang paniniwala sa kasama. Dahil kasama naman po ako noong umpisa palang ninanamnam ni mayor yung pagsasama na yun.
"Pero alam namin ni Mayor na mas makakatulong ako sa kanya nang wala akong posisyon. Para sa lahat ng bagay pwede niya akong utusan. Kasi kapag meron ka nang appointment, doon ka lang… wala ka nang gamit sa iba. Eh sa rebolusyon kasi ni Mayor kailangan expendable ka anytime."
(That's one quality of the Mayor… his belief in his friends. Because I was with him from the start, the Mayor enjoyed my support. But the Mayor and I both know that I can be of better help if I didn't have a position. So that in all matters, he can ask me to do things. Because if there's an appointment, you're stuck there… you're of no use anywhere else. In the Mayor's revolution, you have to be expendable anytime.) – Rappler.com