Mike Pence seeks to defuse the swirling controversy over the November 18 performance he attended in New York of a hugely popular play that many see as a symbol of the multicultural left in America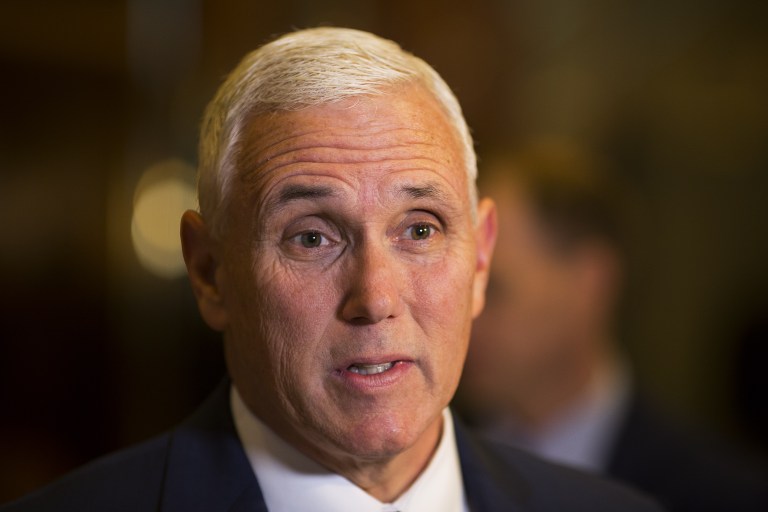 NEW YORK, USA – The US vice president-elect insisted Sunday, November 20, he was not offended when the cast of the Broadway hit "Hamilton" expressed worries to him that Donald Trump might not respect US racial, cultural and social diversity.
In another chapter of what appears to be a nascent culture war, Mike Pence clearly sought to defuse the swirling controversy over the Friday night (November 18) performance he attended in New York of a hugely popular play that many see as a symbol of the multicultural left in America.
The incident prompted the president-elect himself to demand an apology over what he saw as rude behavior toward Pence, who was also booed by some in the audience as he entered the theater with his family.
"I did hear what was said from the stage, and I can tell you I wasn't offended by what was said. I'll leave to others whether that was the appropriate venue to say it," Pence said on Fox News Sunday.
Pence acknowledged that these are anxious, disappointing times in America for people who voted for Hillary Clinton.
"I just want to reassure people that what president-elect Donald Trump said on election night" – that he would be the president of all Americans – "he absolutely meant from the bottom of his heart," Pence said.
But even as Pence tried to end the flap, Trump – who insulted Mexicans, Muslims and women among others during the campaign and so far has named only arch-conservative white men for his cabinet and senior adviser positions – kept at it.
Trump attacked the play and its cast for the second straight day and also criticized, again, another potent symbol of the left in America: the NBC TV comedy show "Saturday Night Live," which has ruthlessly ribbed Trump the candidate and now Trump the president-elect.
'Highly overrated'
Trump fired off a tweet again demanding an apology from the "Hamilton" cast and dismissing the award-winning musical as not that great.
"The cast and producers of Hamilton, which I hear is highly overrated, should immediately apologize to Mike Pence for their terrible behavior," Trump tweeted early Sunday morning.
Pence differed, saying, "If you haven't seen the show, go and see it."
The wildly popular play, which won 11 Tony Awards in June – including best musical – follows young colonial rebels who became America's founding fathers, celebrating diversity and immigrants' contribution to the nation.
The show's lead actor, Javier Munoz, is openly gay, HIV positive and a cancer survivor.
Among other concerns, activists worry that the Trump's administration will be hostile to gay rights.
Brandon Victor Dixon, who plays vice president Aaron Burr, read a statement to Pence during the curtain call that echoed some of the main concerns critics have voiced since Trump won the election on November 8.
Thanking Pence for attending the performance, Dixon asked him to "hear us out."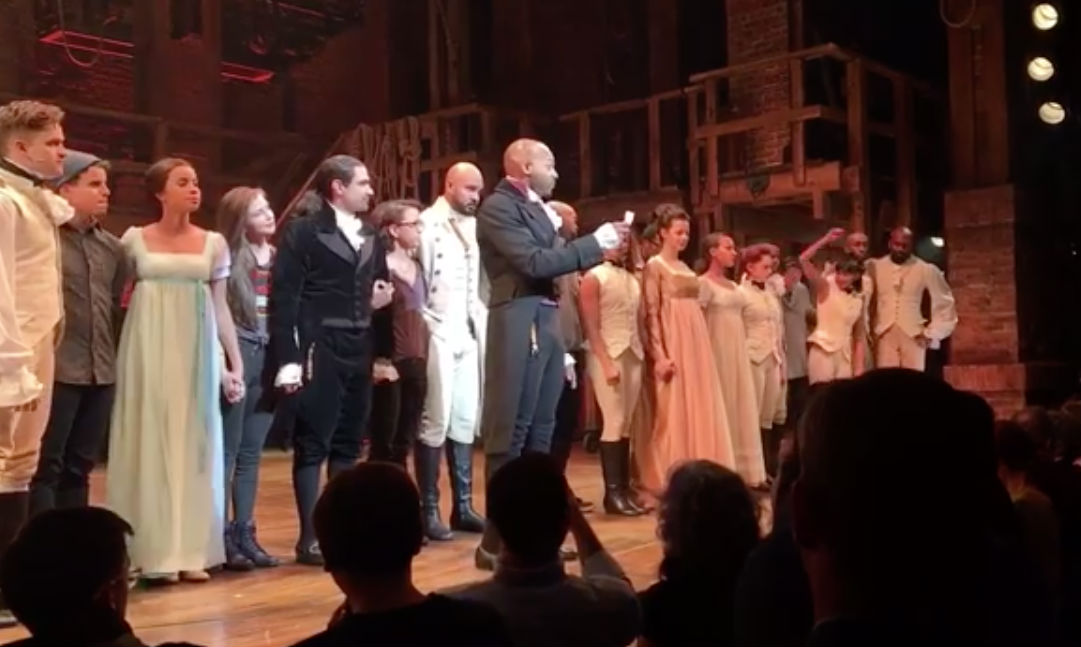 "We, sir, we are the diverse America who are alarmed and anxious that your new administration will not protect us, our planet, our children, our parents or defend us and uphold our inalienable rights, sir," Dixon said.
"But we truly hope this show has inspired you to uphold our American values and work on behalf of all of us. All of us."
"Hamilton," Dixon told Pence, was performed by "a diverse group of men, women of different colors, creeds and orientations."
The audience cheered and applauded loudly.
The crowd had greeted Pence with a mix of boos and cheers when he entered the theater before the show.
During the performance, the audience gave a standing ovation at the line "immigrants, we get the job done," theatergoer Christy Colburn tweeted.
Although Pence was leaving the auditorium when Dixon began reading his statement from the stage, he stood by the entrance to hear the entire message. He made no comment.
In the latest edition (November 19) of "Saturday Night Live," Trump as played by Alec Baldwin is depicted, once in the Oval Office, as being overwhelmed as he sets about fulfilling campaign promises such as defeating the Islamic State group, also known as ISIS.
"Google, what is ISIS?" Trump says as he pecks away at a laptop. "Oh my, 59 million results."
In a tweet Sunday morning, Trump wrote: "I watched parts of @nbcsnl Saturday Night Live last night. It is a totally one-sided, biased show – nothing funny at all. Equal time for us?" – Rappler.com