Gigi Hadid impersonates Melania Trump, Drake's Apple commercial, Ariana's big win, and some special moments from the show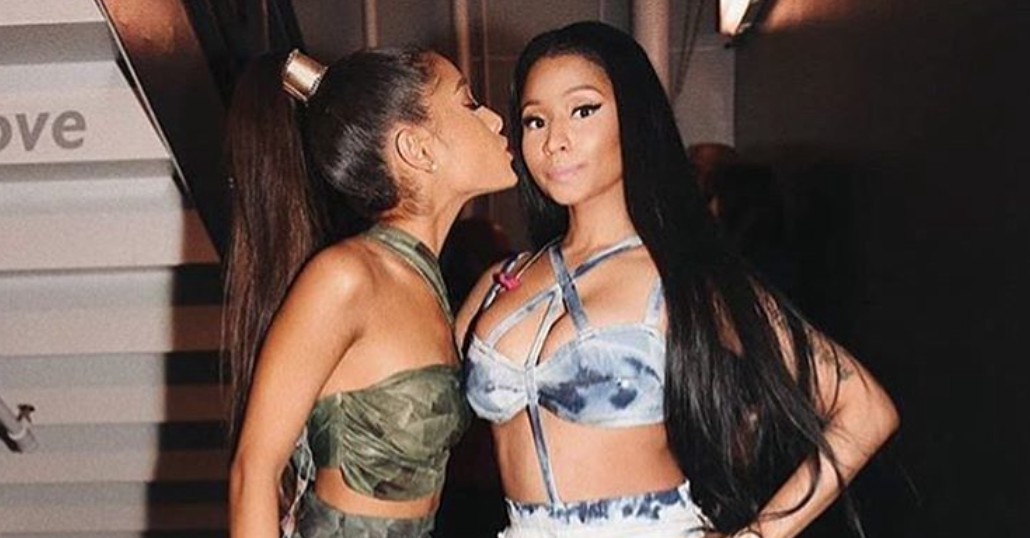 MANILA, Philippines – The American Music Awards 2016 ended with a bang, with Drake winning two awards and Zayn picking up the New Artist of the Year.
As in the past, the awards show had some unforgettable moments, including some in reaction to the results of the recent US elections. It also featured some amazing performers, including Ariana Grande and Nicki Minaj, Bruno Mars, The Weeknd, and more. 
Here are some of the moments from the show.
1. Gigi Hadid impersonates Melania Trump 
Gigi, who hosted the show with Jay Pharaoh, showed off her impersonation of the President-elect's wife Melania as the show opened. 
Our #AMAs hosts @GiGiHadid and @JayPharoah are holding nothing back tonight. Let's get this party started! pic.twitter.com/w50MYd7nvk

— AMAs (@AMAs) November 21, 2016
2. Idina Menzel's shout-out to the cast of Hamilton
Before presenting the award for Country's favorite duo/group, Mark Cuban and Idina Menzel quipped about the aftermath of the US elections. Mark, a vocal supporter of Hillary Clinton, said he expects not to be invited to the inaguration, while Idina, a Broadway superstar, shouted her love for the cast of Hamilton, after they addressed vice-president elect Mike Pence during a performance last week. Trump had expressed displeasure over the cast's actions. 
3. Niall Horan's performance and Zayn's award.
One Direction's Niall Horan performed his song "This Town" during the show. Meanwhile, former bandmate Zayn won the New Artist of the Year award.
Zayn accepting his award tonight #AMAs pic.twitter.com/7bAbvJtzHF

— 1D Updates (@1DBreakUpdates) November 21, 2016
4. Jay Pharaoh recites Kanye West's "rants."
Before introducing Green Day for their performance, host Jay Pharaoh took a bit of a swipe at Kanye West, as he recited the rapper's rants. Kanye recently hit Beyonce and Jay-Z, who supported Hillary Clinton. Kanye himself had previously said that he would've supported Trump.
5. Special award for Prince
The late singer Prince's album Purple Rain (yes, the one from decades ago!) won Best Soundtrack, with his sister Tyka Nelson accepting the post-humously given award in the evening's most emotional moment. 
Tonight, @Prince wins Top Soundtrack for "Purple Rain" at the #AMAs! pic.twitter.com/DxurfECrp2

— AMAs (@AMAs) November 21, 2016
6. Drake lip syncs Taylor Swift's 'Bad Blood' for Apple.
Drake's new commercial for Apple debut during the awards show. Check his funny lip sync to Taylor Swift's "Bad Blood."
7. Ariana Grande's big win
Ariana Grande went home with one of the biggest awards – Artist of the Year.
8. Sting performs, accepts American Music Merit Award.
Robert Downey Jr presented the American Music Merit award to Sting, and the singer also performed his hits for the audience.
9. Selena Gomez's special message
After taking time off, Selena accepted her award for Favorite Female Artist – Pop/Rock, Selena gave a message for those who are going through many struggles in their lives. She previously announced that she was cutting her tour short, as she continues to battle lupus.
10. Lady Gaga's 'Million Reasons' performance
Lady Gaga took to the stage to perform her latest song "Million Reasons," from the album Joanne. It was a soulful yet relaxed performance, as she sang barefoot while strumming a guitar. 
Lady Gaga giving a beautiful performance of 'Million Reasons' at the #AMAs pic.twitter.com/EmbqHx2jFB

— Pop Crave (@PopCravePolls) November 21, 2016
What was your favorite moment at this year's AMAs? Let us know in the comments below. – Rappler.com