(UPDATED) Ping Medina says that Baron Geisler allegedly urinated on him while filming for the movie 'Bubog'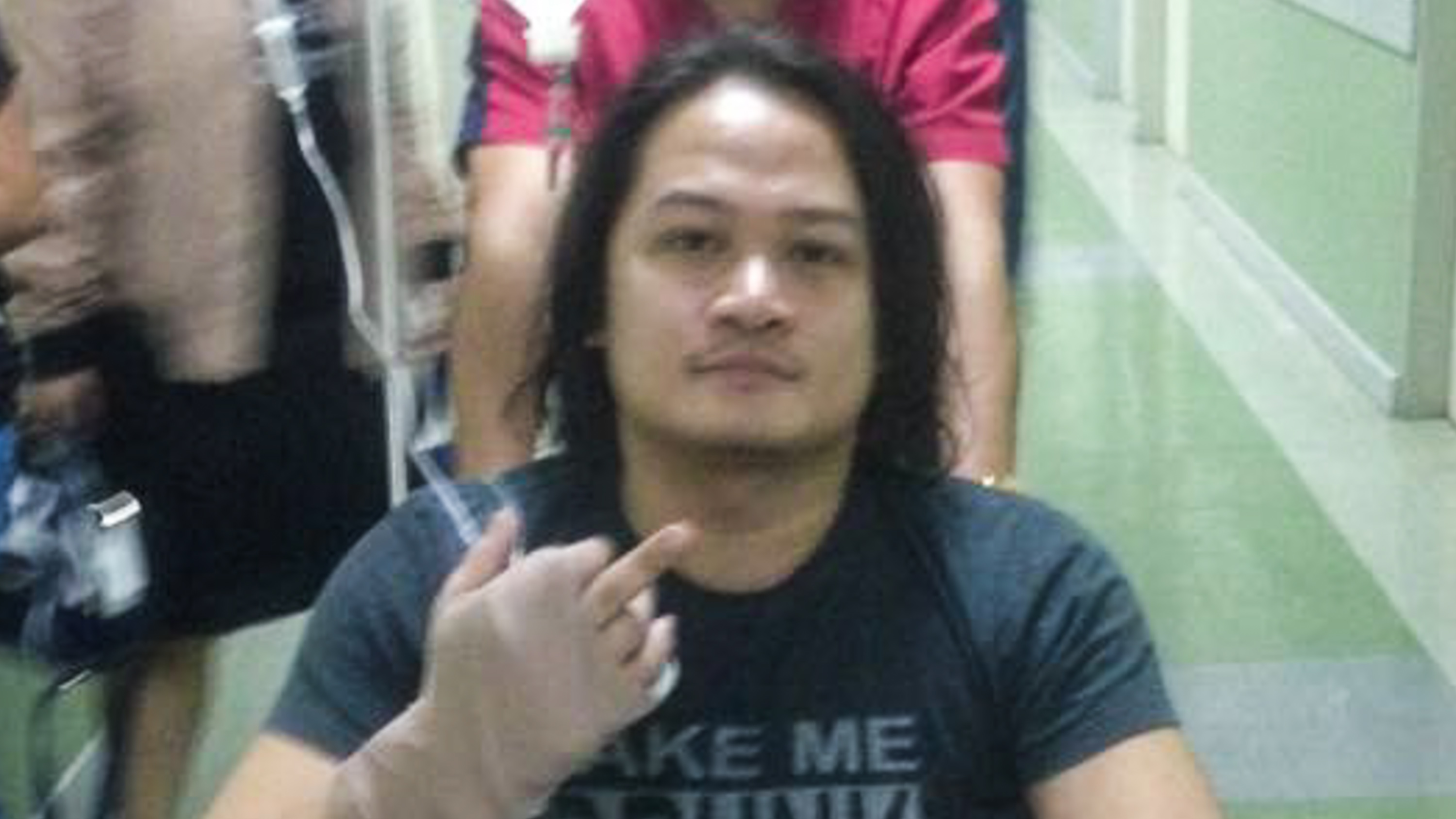 MANILA, Philippines (UPDATED) – Actor Baron Geisler, who's been in the public eye in a number of occasions for various altercations, is once again involved in a conflict – this time with actor Ping Medina and director Arlyn dela Cruz.
The two have warned film industry members against working with Baron, following an incident where Baron allegedly peed on Ping during a shoot for a movie. 
On Monday, November 28, Ping recounted the incident on Facebook, saying that they had been on location in Subic to shoot scenes for Bubog.
According to Ping, he and Baron were shooting a scene where Ping's character, an informant, would be carried into a cargo crate, bound and gagged. Baron was supposed to enter the crate, remove the tape from Ping's mouth to hear him beg for his life, then leave him for his 3 goons to kill.
"Right before mag take dun may narinig akong sinabi ka [Baron]: 'May gagawin ako sayo Ping ah. Sana 'wag ka magalit,'" Ping wrote.
(Right before we did the take, I heard you [Baron] saying: 'I'm going to do something to you, Ping. I hope you don't get mad.)
Ping said that he thought Baron would spit on him during the scene. Instead, Baron unzipped his pants and peed on him. He shared:
"Nung hinagis ako ng 3 pulis sa sahig, pumasok na si tarantado. Tumayo siya sa tabi ko, hovering over me.
(When the 3 police threw me onto the floor, the idiot came in. He stood beside me, hovering over me.)
"Habang umiiyak ako, nagmamakaawa, di makagalaw dahil naka packaging tape ang kamay at paa, at parang napansin ko: binubuksan ba ni Baron ang zipper niya? Siguro dahil ang lalim ko na sa eksena. Umiiyak ako at may mga luha ang mga mata ko kaya di ko makita nang mabuti.
(While I was crying, begging, couldn't move because of the packaging tape around my feet, I noticed: is Baron opening his zipper? I guess because I was so deep into the scene. I was crying and there were tears in my eyes so I couldn't see properly.)
"In fairness, wala rin naman masyado makikita. Iniisip ko, baka daliri lang niya yun. Mukhang pinky finger? Kamukha at kasing hugis ng lumang chips na Cornetto. (Totoo ata ang chismis.)
(In fairness, there wasn't much to see. I thought, maybe it was just his finger. It looked like a pinky finger? It looked and was the same shape as the old Cornetto chips. (The rumors are true.)
"Pero tangina!!! Gagawin ba niya talaga ang gagawin niya???
(But son of a b-tch!!! Is he really going to do what he looks like he's going to do???)
"Napakabilis ng pangyayari. Naramdaman ko na lang na may bumabasa sa dibdib ko. Medyo mainit at may amoy. Unti unti ko na realize na putangina, ginagawa niya talaga to. Umagos ito. Basang basa ang shirt ko. Umagos ito hanggang sa bibig ko. Buti may nakatakip na tape."
(It all happened so fast. I felt that my chest was wet. It was a bit warm and there was a smell. I slowly realized that son of a b-tch, he really did it. It flowed. My shirt was wet. It ran onto my mouth. Its a good thing it was covered in tape.)
Ping said he tried to stay in character, as they were only supposed to do the scene in one take.
When they finished filming the scene, Arlyn and Baron went into the cargo crate set and Ping confronted Baron:
"Cut! Pasukan sila direk at si mokong. Nung tinanggal ang tape sa bibig ko, ang una kong nasabi, 'Putangina mo hayop ka.'
(Cut! Direk and the moron came in. When they removed the tape from my mouth, the first thing I said was 'Son of a b-tch, you're an animal.')
Ping asked Baron more than once if it was real pee, but Baron denied it. 
"Tinignan ko ang mga kasama ko na 3 pulis [actors on set]. Tahimik sila, at mukhang nalugi. Nakita ko ang totoong sagot sa mga mukha nila,'" wrote Ping.
(I looked at the 3 police [actors on set] that I was with. They were quiet and looked like they had lost. I saw the true answer in their faces.)
Arlyn asked Baron to leave the cargo crate, and Ping, unable to keep his temper, punched and kicked the metal walls.
He then rushed out and challenged Baron to fight, but backed off after seeing that Baron wasn't interested in fighting back. 
"Dahil alam ko, kapag nabigyan na kita ng isa, mageenjoy na ako. At hindi ko na alam ang magagawa ko sayo. Malamang something na pagsisisihan ko. Yung tubo sa gilid, muntik ko na damputin. Kaya naglakad ng lang ako palayo."
(Because I know if I give you one punch, I'll enjoy myself. And I don't know what I could do to you. Of course, it would be something I'd regret. I almost picked up the pipe by the side. So I just walked away.)
Ping said that when he calmed down, he asked to be brought to the hospital, as he felt that he had broken his hand. Fortunately, his "boxer's fracture" will not need surgery, he said.
Plea to industry members
Earlier in his post, Ping said that when he first saw Baron on set, he seemed calm and sober. Baron has a history of alcohol addiction.
Ping added that Baron was drinking turmeric tea and claimed to be 5 days sober, as his mother was in the hospital and didn't want to smell alcohol. Baron also promised Arlyn he wouldn't drink on set.
The two actors spoke for hours, before Baron borrowed P200 from Ping at 4 am. Baron's friend later came back with alcohol instead of the food Baron told Ping he would ask her to buy.
Ping also had trouble rehearsing with Baron the next day – he had spotted Baron holding a beer, he said, and the actor was slowly turning red during rehearsals.
After Ping recounted the incident on Facebook, he said that before industry members took on a project, they should first ask if Baron was involved.
He called out ABS-CBN's Cory Vidanes, GMA's Jake Tordecillas, and indie filmmakers to be wary of Baron.
Ping ended his post with a message for Baron: "Darating ang lahat nang papunta sayo. Dahil itong 2016 ay ang year of the 'change is coming.' Kaya please, lahat ng kasama ko sa industriya pakinggan niyo ang panawagan ko. Dahil pag nangyari 'yun, kukuha ako ng popcorn at beer na parang nasa sine lang ako."
(You'll get everything you deserve. Because this 2016 is the year of the 'change is coming.' So please, everyone in the industry, listen to my plea. Because when that happens, I will get popcorn and beer and it will be just like I'm at the movies.)

Arlyn dela Cruz's statement
Hours before Ping recounted his version of events, Arlyn posted about the incident on Facebook as well, but did not give details on the incident.
Like Ping, she also gave a message to Baron:
"What you did on the set, for the film Bubog is unacceptable and cannot be justified by any claim of being in character because I repeatedly explained to you and was clearly written on the script where your character is coming from and how I wanted it to be tackled, stressing that the idea is, power is felt, not expressed. To show true might, in subdued silence and suppressed emotions.
Ping Medina does not deserve what you did. No actor deserves that. No person deserves that."
Arlyn also called on her fellow filmmakers not to cast Baron in their projects, saying, "You told Ping you are ready to face the consequences of your action. Be ready to face it. Because you cannot get away with everything that you do, all the time. To my fellow filmmakers, you may think you need Baron in your movies… but you don't… you really don't."
Baron made headlines in May after he was caught on video cursing at a student and violently grabbing him. He was also the subject of controversy in June, after he and Kiko Matos settled their altercation at a bar through a mixed martial arts fight.
Baron's response
On Monday, November 28, Baron responded to Arlyn's post, apologizing to the director and saying that the issue was a misunderstanding. 
"I asked you 3 times na 'Direk, may gagawin po ako,' then you just said gawin mo nalang sa eksena. Kung tinanong nyo po ako kung ano yun di sana naiwasan ang mga bagay na ito," wrote Baron. 
(I asked you 3 times, 'Direk, I'm going to do something,' then you said to just do the scene. If you had asked what I was going to do, then we could have avoided this.)
Baron also said that if one checked the behind-the-scenes footage, Arlyn couldn't prove that he was disrespectful to anyone. 
"But you were trying to pull off a Brillante Mendoza, bulong ka sa artista na samapalin mo para magulat or maganda reaction (whisper to the artist to slap somone so he'll be caught by surprise or the reaction will be nice)," said Baron, referring to award-winning director Brillante Mendoza, the man behind the 2016 Cannes Film Festival nominee Ma' Rosa. 
"I was slapped many times. So I thought… ahhh… 'so it's okay pala to surprise my co-actors sa (on) set.'
Baron called Arlyn out for trying to influence other filmmakers against him: "So low po of you to discredit my name. You are better than that po. Mahal kita (I love you)."
In a reaction to Ping's post, Baron said that he's unaffected by the call to filmmakers to think twice about working with him. 
"So low," he said about the photo Ping included in his post. "Lalo na sa mga naniniwala agad (Especially those who believe right away). Inspect.. know the truth. 'Wag mag judge agad. Plastic na industriya (Don't judge right away. The industry is plastic)."
 – Rappler.com