The Filipina actresses are part of the musical's cast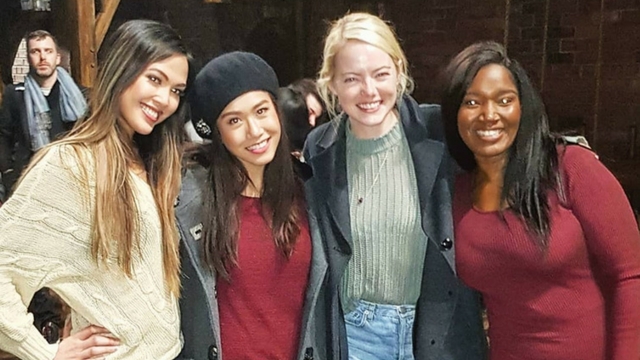 MANILA, Philippines – Despite playing one of the lead roles in Hamilton, Rachelle Ann Go went full-on fangirl when she met one of her audience members: Emma Stone.
Emma met Rachelle Ann and other Hamilton cast members at a showing of the hit musical. Rachelle posted a photo capturing the moment on her Instagram, along with a gushy caption.
"I adore her so much!!!" Rachelle Ann wrote, while thanking the Oscar-winning actress for seeing the play.
Rachelle Ann plays Eliza Schuyler, the main love interest for the titular character, Alexander Hamilton, in the play's London West End production. Also part of the cast is Christine Allado, who plays Eliza's sister, Peggy.
Christine also posted a photo on Instagram of her, Rachelle Ann, and Rachel John, who plays the third Schuyler sister, Angelica.
"Looooved meeting the beautiful and incredibly sweet @emmastone at @hamiltonwestend tonight," Christine said.
Rachelle Ann and Christine are the two Filipinas who are part of the London West End cast of Hamilton. – Rappler.com