We look back at the ups and downs of Kris' and Korina's relationship, from daytime talk to the messy world of Philippine politics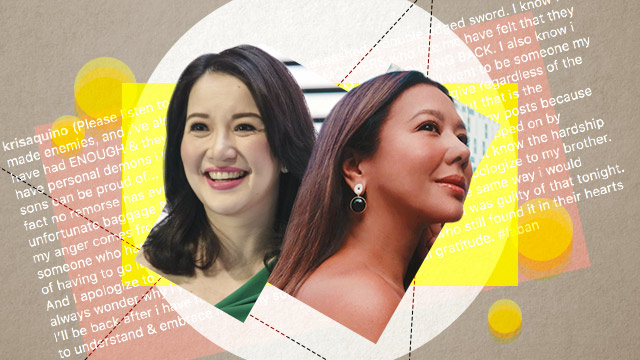 MANILA, Philippines – They once hosted a morning show together and were even on the same political "side" in the recent elections.
But there was no stopping Kris Aquino, "Queen of all Media", from hitting "post" for a now-viral lash-out against former co-host Korina Sanchez over a television magazine show feature on the former's ex-husband, James Yap.
In case you've been hiding under a rock the entire weekend, here's a quick background: Kris, who signed a movie deal with Star Cinema on April 20, recently broke her silence against James Yap. The reason was deeply personal and fundamental. James had apparently made rather rude and hurtful statements about Bimby, his son with Kris. Bimby turned 11 years old on April 19.
So what triggered the rant against Korina, whom Kris deliberately did not name in the viral post? Rated K, the ABS-CBN show Korina hosts, did a feature on James and his young family for its April 22, Sunday episode.
The episode didn't sit well with Kris, who said it was a "slap to her face." And if the points Kris raised in her post are any indication, her ties to Korina run deep.
We look back at the ups and downs of the relationship between the two, from daytime talk to the messy world of Philippine politics:
Korina… Aquino? Back in the '80s or '90s – long before the age of social media and social media tea-spilling and cancellations – Korina dated Benigno "Noynoy" Aquino III.
Yes, you read that right. Korina, then a young broadcast journalist, dated Kris' only brother for a while. The two have been relatively mum about their past. Korina, of course, would go on to marry Mar Roxas, who would also eventually be among Aquino's closest allies in politics.
It's a small world after all.
Unlikely tandem. Their ties become loose after that, until in 2002 when ABS-CBN introduced the unlikely twosome of Kris and Korina as hosts of a daytime talkshow, Morning Girls with Kris and Korina. 
It was a unique pairing – Korina's deadpan "news" voice contrasted well with Kris' perkiness and enthusiasm. The show ran for two years, with Korina eventually leaving to host the still-running Rated K.
Kris would go on to host Good Morning Kris.
Despite its relatively short run, the show did have a few highlights, which cross both the professional and personal lines for the two women.
The Roxas-Sanchez love story. It was on Morning Girls where Korina and eventual husband, then Cabinet secretary Mar Roxas, first made public their relationship.
But the relationship – and the way it unfolded in public, would ironically be among the triggers for a rift between the two women.
Tampo over an exclusive. The problems, at least publicly, began in 2009 when Kris admitted she felt disappointed because Korina and Mar announced their engagement on Wowowee, then a popular noontime variety show hosted by Willie Revillame.
Speaking to ABS-CBN.com in May 2009, Kris said she had already worked on making sure the engagement would be an exclusive on Showbiz News Ngayon, an entertainment program hosted by herself and Boy Abunda. Kris said she and Abunda "went out on a limb" to negotiate the terms for the exclusive interview, which included "concessions" like an election endorsement.
Roxas then was eyeing a possible run for the presidency. He eventually slid down and ran for vice president to make way for Noynoy Aquino, Korina's former flame and Kris' brother. Roxas would lose the vice presidential race to Jejomar Binay, a long-time Aquino family friend (more on that later).
Months later, in September 2009, the two apparently had made up a bit. By then, Noynoy Aquino and Mar Roxas had announced their intention to run as the Liberal Party's (LP) presidential and vice presidential bets, respectively.
While Noynoy and Mar were very close allies (and continue to be so), the LP's decision for Mar to run as vice president instead of president was seen as a selfish one and a major sacrifice on the part of Mar himself. His sympathizers naturally included Korina. Kris admitted as much in a September 2009 interview.
The 2010 elections. The 2010 elections, while not as polarizing as the more recent presidential polls, had enough political and personal drama to sustain a 6-year presidential term.
While the Aquino-Roxas tandem was solid as far as the Liberal Party was concerned, there were pro-Noynoy groups that were supporting another vice presidential candidate, Jejomar Binay.
The Binay clan, headed by the long-time Makati mayor and vice presidential candidate, had long been friends with the Aquino family. Former president Cory Aquino and Jejomar Binay himself were very close political and personal allies.
It was an understandable difficult situation for the Aquinos, but the clan still rallied behind the official LP tandem.
It should be pointed out too that the Aquinos also have very close personal and political ties to the Araneta-Roxas clan. The late Senator Ninoy Aquino, democracy icon and father to Kris and Noynoy, was a close ally of the late senator Gerry Roxas, father of Mar.
Mar's mother, Judy Araneta-Roxas, is also Kris' godmother. In the comments section of the now notorious post of Kris, she said that she used to sit front-row in many events held at the Araneta Coliseum in Cubao, which Mar's clan operates and owns.
2016 elections, this time. Six years later it was Aquino-Roxas for the Liberal Party once again. This time, however, Noynoy was chief endorser and Mar, standard-bearer.
Kris went all-out in campaigning for Noynoy's anointed candidates, Mar included. Kris also campaigned heavily for Leni Robredo, Mar's running mate and eventual Vice President of the Philippines.
But all was not smooth-sailing for the youngest Aquino sibling during the 2016 campaign. She got flak for endorsing the Liberal Party slate then, particularly when she was caught using the presidential helicopter to attend a provincial campaign sortie. Kris made a reference to these criticisms during her April 22 post.
Hours later, she would apologize to Noynoy, President Rodrigo Duterte, and Mar for her post. She said she would not be taking it down, however.
And that's the wrap, so far, of the Kris and Korina tricky friendship. Did we miss any milestone? Let us know in the comments section below. – Rappler.com