'It took a long time for people to embrace us – people outside of our community, our culture – to see this not just as vocal lyrics, but to see that this is really pain, this is really hurt, this is really true stories of our lives on wax,' the rapper tells Vanity Fair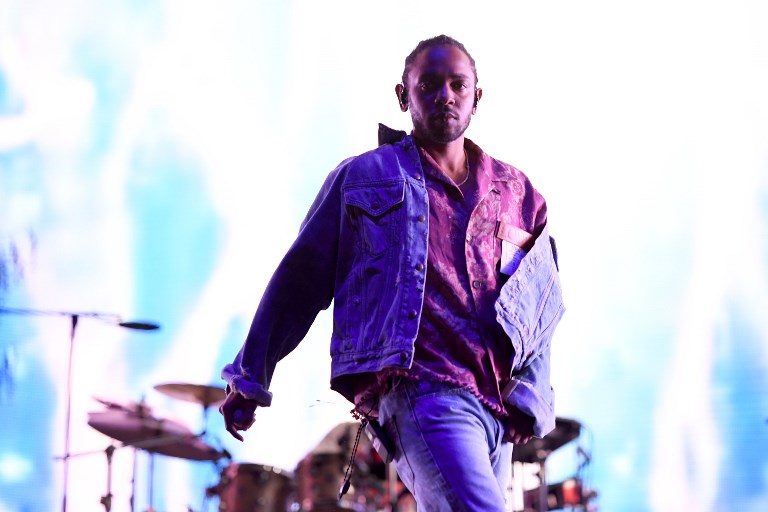 NEW YORK, USA – Kendrick Lamar has vowed to resist complacency and stay creative after he became the first rapper to win the Pulitzer Prize for Music.
 
In his most extensive remarks since he was announced as the prestigious award's recipient in April, the 31-year-old told Vanity Fair magazine in an interview published Thursday, June 28 that any good news "motivates me to do more." (READ: In rap milestone, Kendrick Lamar wins Pulitzer for music)
 
"I don't want to get complacent. If you asked 7 out of 10 people, 'What would you do if you got the Pulitzer Prize?,' they'd say, 'I'd put my feet up.'

"But that would make me feel I'd reached my pinnacle at 30 years old, and that wouldn't make me feel good," he told the magazine.
{source} <blockquote class="instagram-media" data-instgrm-captioned data-instgrm-permalink="https://www.instagram.com/p/BkkPUNkl5ok/" data-instgrm-version="8″ style=" background:#FFF; border:0; border-radius:3px; box-shadow:0 0 1px 0 rgba(0,0,0,0.5),0 1px 10px 0 rgba(0,0,0,0.15); margin: 1px; max-width:658px; padding:0; width:99.375%; width:-webkit-calc(100% – 2px); width:calc(100% – 2px);"><div style="padding:8px;"> <div style=" background:#F8F8F8; line-height:0; margin-top:40px; padding:62.5% 0; text-align:center; width:100%;"> <div style=" background:url(data:image/png;base64,iVBORw0KGgoAAAANSUhEUgAAACwAAAAsCAMAAAApWqozAAAABGdBTUEAALGPC/xhBQAAAAFzUkdCAK7OHOkAAAAMUExURczMzPf399fX1+bm5mzY9AMAAADiSURBVDjLvZXbEsMgCES5/P8/t9FuRVCRmU73JWlzosgSIIZURCjo/ad+EQJJB4Hv8BFt+IDpQoCx1wjOSBFhh2XssxEIYn3ulI/6MNReE07UIWJEv8UEOWDS88LY97kqyTliJKKtuYBbruAyVh5wOHiXmpi5we58Ek028czwyuQdLKPG1Bkb4NnM+VeAnfHqn1k4+GPT6uGQcvu2h2OVuIf/gWUFyy8OWEpdyZSa3aVCqpVoVvzZZ2VTnn2wU8qzVjDDetO90GSy9mVLqtgYSy231MxrY6I2gGqjrTY0L8fxCxfCBbhWrsYYAAAAAElFTkSuQmCC); display:block; height:44px; margin:0 auto -44px; position:relative; top:-22px; width:44px;"></div></div> <p style=" margin:8px 0 0 0; padding:0 4px;"> <a href="https://www.instagram.com/p/BkkPUNkl5ok/" style=" color:#000; font-family:Arial,sans-serif; font-size:14px; font-style:normal; font-weight:normal; line-height:17px; text-decoration:none; word-wrap:break-word;" target="_blank">Pulitzer Prize–winning "poet laureate of hip-hop" @KendrickLamar has made history with his music. Lisa Robinson takes an intimate look at what drives Compton's favorite son in V.F.'s August cover story (link in bio). Photograph by Annie Leibovitz.</a></p> <p style=" color:#c9c8cd; font-family:Arial,sans-serif; font-size:14px; line-height:17px; margin-bottom:0; margin-top:8px; overflow:hidden; padding:8px 0 7px; text-align:center; text-overflow:ellipsis; white-space:nowrap;">A post shared by <a href="https://www.instagram.com/vanityfair/" style=" color:#c9c8cd; font-family:Arial,sans-serif; font-size:14px; font-style:normal; font-weight:normal; line-height:17px;" target="_blank"> Vanity Fair</a> (@vanityfair) on <time style=" font-family:Arial,sans-serif; font-size:14px; line-height:17px;" datetime="2018-06-28T11:12:55+00:00″>Jun 28, 2018 at 4:12am PDT</time></p></div></blockquote>
<script async defer src="//www.instagram.com/embed.js"></script> {/source}

Lamar said the Pulitzer "should have happened with hip-hop a long time ago" and praised the talents of older rappers such as Jay-Z, Eminem, Snoop Dogg and the late Tupac Shakur.
 
"It took a long time for people to embrace us – people outside of our community, our culture – to see this not just as vocal lyrics, but to see that this is really pain, this is really hurt, this is really true stories of our lives on wax," he said.

 
The Pulitzer board recognized Lamar for DAMN., saying the album was "unified by its vernacular authenticity and rhythmic dynamism that offers affecting vignettes capturing the complexity of modern African American life."

Lamar, who in the magazine profile recalled going hungry as a child in the historically deprived Los Angeles community of Compton, has turned to verse to tackle race relations and his own internal searching set to music that incorporates jazz and spoken word.  
 
With the Pulitzer, Lamar joins the company of major US composers such as Aaron Copland and Charles Ives as well as, more recently, jazz greats including Ornette Coleman and Wynton Marsalis. – Rappler.com