Here is our Retro Review for the Valentine's Day week
MANILA, Philippines – There are a lot of Audrey Hepburn movies that we could go to for Valentine's Day viewing.
I choose "Paris When It Sizzles" (1964) even though it is rather uneven, unwieldy, all over the place, and too cheesy. I actually like it because of those often unlikable elements. 
Quick judgments might dismiss the film. Among them the May-October pairing of the leads, Audrey Hepburn and William Holden. Another is the general unbelievability of the film and its narrative movement. Friends of mine have commented on its overly macho stance. And as I mentioned earlier, the film is a bit of a mess.
Holden plays Richard Benson, a smarmy screenwriting hack who has to deliver on a deadline in a few days' time. Hepburn's Gabrielle is the young typist sent over to get the script onto paper. When she shows up, Benson's got nothing but blank pages and way too much liquor. 
Benson charms and regales Gabrielle, while also plying her with drinks. Benson plays a fantastical image of a writer, Hemingway-esque in his adventuring and traveling and drinking; most of us who write will admit that this image has its draw, but it is far from what writers are really like, and how long-form works actually get written. 
Gabrielle too is a little too good to be true. A beautiful American in Paris, come to the great city to live (yes, LIVE!, in great big punctuation marks and happy gasps and emotional swoons). She is witty, erudite, playful, and all too charming. And she would fall in love with the magic of creativity. 
So the two begin working together, and as they work we get two things: First, we get to know them as characters — fantastical, overly cinematic archetypal characters, but characters nonetheless. 
Next is that we are introduced to the great conceit that the film plays off of, which is that we get to watch the film that they are writing, as they imagine it. Sure it's meta-film in that sense, but the great thing about its meta-ness is that it isn't used as an intellectual device, but as an added layer of play. 
What makes it so much fun is its willingness to be wacky. It works because the narrative frame is so simple — two people in a hotel suite — set against this ever larger and more imaginative story. 
The film is a rom-com, but it plays with many film genres as it goes. Touches of noir, spy movie, war flick, and most hilariously old school horror. It takes all of the fun elements of each kind of movie and just smacks them together willy-nilly in an attempt to move the plot forward. And think: isn't that what a lot of Hollywood filmmakers do now? 
Funnily too, it seems to pre-date the Manic Pixie Dream Girl by a few decades, but she is already here waiting to be codified. We've got the main character, an old hack who's troubled by his lack of actual artistry, who feels like his life has lost meaning. His world is impinged upon by this magical girl who is full of verve and reawakens his enthusiasm. It all falls into the large fantasy mode.
So from the innermost layer of the story, the fantastical script that Benson and Gabrielle piece together through the course of the film, which goes from romantic film to spy thriller to horror flick and all points between, we get another fantasy. This is the fantasy of how a story is made, in a beautiful Paris hotel room with a view of the Eiffel Tower while one downs drink after drink while falling in love. 
And I guess the biggest joke the film plays on us is it asks us to buy into both fantasies. It simultaneously reveals the unbelievability of love stories and the great pains at which we go to construct love stories. 
Then it asks us to say, okay, I'll go along with this. I'll give you this "kiss and dissolve" not necessarily because the film has earned it, not because this is the logical end point. I'll buy the "kiss and dissolve" even though I know this isn't how falling in love works in real life. I'll buy it because this is what I want from Hollywood.
There is some sly referencing in the film of the French New Wave, and some snide talk of how their stories work. Jabs are also made at method acting and other new techniques that were being explored. It's clear then that "Paris When It Sizzles" is well aware of itself as product, as film about film, and more so film about film within its specific tradition. 
I have to admit, with all the places this movie goes, and with everything else that I can read into it, and with the way that everything falls easily into place, there is a definite feeling of it being fabricated and engineered. I know that I am being manipulated, that my strings have been pulled. 
Yet, I love it, I go wholeheartedly for the spiel:
"The music soars, and there, totally oblivious of the fireworks, the fountains, and the holiday mad throngs, they fall happily and tenderly into each other's arms. Two enormous, highly paid heads come together for that ultimately inevitable moment, the final, earth-moving, studio rent-paying, theater-filling, popcorn-selling kiss." – Rappler.com
(What is YOUR favorite retro film and why? Tell us by posting your comment below.)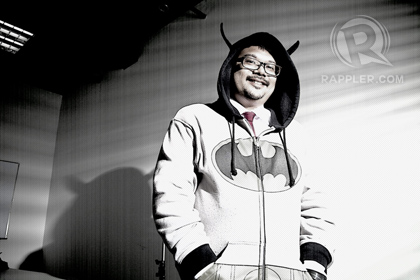 Carljoe Javier doesn't know why people think he's a snarky film critic who spends his time dashing the hopes of filmgoers. He thinks he's not all that bad, really. He teaches at the State U, writes books, and studies film, comics, and video games… Then again, those people could be right.