The top Oscar contender is finally screening in the Philippines
MANILA, Philippines – Everyone I knew was expecting a stuffy historical biopic from "Lincoln." I was worried it would be that, too; the kind of movie that takes us from his childhood growing up in a log cabin, to his self-education and becoming a lawyer, to his rise in politics.
Thankfully, the film eschews this expectation in favor of a tightly framed and moving historical drama. While it still references many well known facts of the 16th American president's life, it keeps a tight focus on the president's drive to amend the constitution and end slavery.
The film opens with a brutal, messy battle. Occurring in the middle of a muddy field, we have both sides' soldiers stabbing and brawling with a near mindless ferocity. It is in stark contrast to the meticulously choreographed and filmed opening battle of "Saving Private Ryan." That sequence stands as one of the most powerful portrayals of battle in all of film.
While less nuanced and structured, "Lincoln's" portrayal of the brutality during the American Civil War is no less effective. It sets the ground and establishes how much is at stake in the film. 
Then it leaves the war in the background. With the gruesomeness of that opening, we are given enough of a sense of the conflict to invest in the power struggles that concern all of the politicians that we spend pretty much the rest of the film with. 
We are given Abraham Lincoln as he struggles to convince those around him — and then those in the House of Representatives — that it is a moral imperative that they amend the constitution and abolish slavery. This sounds like a dry and boring exercise.
We can pick up a history book and know that he was successful, that slavery was abolished, and that it stands as one of the greatest things that any American president has ever done. There were people in the screening that I attended who found this boring, and they did not go out of their way to hide their boredom. They talked through the film and over the dialogue, yawned, and periodically expressed how they were annoyed that it was all talking.
Point goes to them for recognizing that the movie is almost all talking. Lots of people meeting up and talking to each other, convincing each other, arguing. Well, I mean, unless you have him killing vampires, that's pretty much what an Abraham Lincoln movie should be about, right? Lincoln was supposedly one of the greatest orators, and the writing he has left us shows his skills at rhetoric. 
While I acknowledge that for a good number of viewers "Lincoln" will be an exercise in boredom (as it was for those moviegoers I had the misfortune to be seated around), I still think it's an outstanding film if you are willing to listen and absorb the dialogue and the performances.
It's expected, I know, that Daniel Day Lewis would turn in a fine performance. But he surpasses the hype here, providing a truly memorable performance that takes Lincoln from legend or caricature to a real, believable person. His struggles are many, but Lewis imbues him with an unshakable integrity and the kind of perseverance and passion that would convince us that he wins people over.
The supporting cast is similarly stellar. Sally Field gets a few big moments alongside Lewis, and when they go at it, their interactions are emotionally devastating. As if the weight of the country was not enough on the tall president's shoulders, we see the demands of family similarly weighing him down.
The rest of the cast made up of familiar faces from film and TV all turn in fine performances, whether extensive or limited. 
The film plays on a number of levels. It goes epic in its scale because the future of the country is literally at stake. But it goes down to the personal, showing the petty motivations of some congressmen as there is a crack group of guys that is sent to swing Democrats to Lincoln's side.
More importantly, it is effective in showing the personal struggles that the various characters go through, making the film and its subjects human and relatable. It is all rendered real and believable by both the outstanding performances and accomplished script. 
Being a Spielberg fan, I was watching out for some of his signature shots and mannerisms. The directing here is far from stylized. He finds the simplest, most efficient way to frame scenes and then allows the actors and the story to take over. "Lincoln," at its best, is an actors' showcase, and Spielberg lets his actors take over.
What made it even more compelling were the kinds of moral and ethical considerations that were presented to the audience.
Sure, we are all in agreement that slavery is wrong. But beyond that basic belief, the film revealed all of the different concerns and considerations that the characters faced. Further, we were made aware of the politics behind decisions and strategies.
It sounds boring on paper, but as executed in the film, it makes for exciting viewing. 
"Lincoln" isn't for everyone. But if you want to engage in philosophical debates and witness outstanding acting, then you should not miss it. – Rappler.com
('Lincoln' is now screening in Philippine theaters.)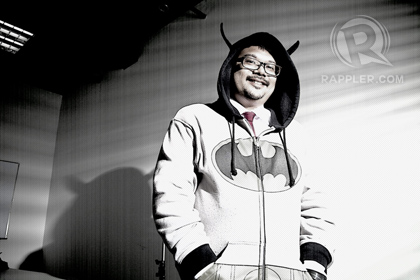 Carljoe Javier doesn't know why people think he's a snarky film critic who spends his time dashing the hopes of filmgoers. He thinks he's not all that bad, really. He teaches at the State U, writes books, and studies film, comics, and video games… Then again, those people could be right.