DSWD begins investigation to ensure that the welfare of Aguilar's 16-year-old girlfriend is not at risk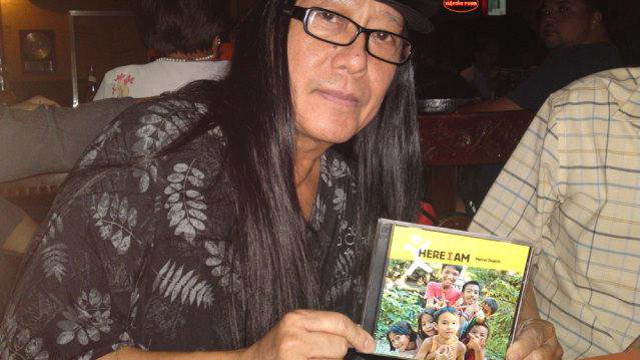 MANILA, Philippines – The Department of Social Welfare and Development (DSWD) has begun gathering facts and details regarding music icon Freddie Aguilar's romantic relationship with a 16-year-old girl.
According to DSWD Undersecretary Flor Villar, the assessment is geared toward ensuring that the "welfare and interest" of the 16-year-old, considered to be a minor child under the law, is not at risk.
The government agency intends to make sure the child was not coerced or intimidated by adults involved, whether Aguilar or her parents.
Sixty-year-old Aguilar caused public outrage after admitting to being in a relationship with the girl, whose name was revealed to the public by his daughter Maegan Aguilar.
He defended the relationship in an interview with pep.ph saying "love knows no age" and that he has the girl's parents' full consent.
He is is ready, he said, to marry the young girl once she is of legal age. The couple has also talked about plans about having children in the future.
No longer young
The 16-year-old also spoke out in an interview with dZBB confirming that her parents approve of the relationship.
"Sabi ng nanay ko, eh di sige kung doon ka masaya eh di susuportahan ka namin," she told dZBB. "Tapos 'yon sinabi na nila na, pero mag-ingat ka kasi maraming babae 'yan."
(My mother said, okay, if it's what makes you happy, we will support you. Then they said to be careful because he has a lot of women)
The young girl also confessed that she has let go of her life as a 16-year-old.
"Kinalimutan ko na yung pagiging 16, kasi nandito na 'ko sa time na, yung buhay na settled na di ba? Na hindi ko na kailangan yung maraming kaibigan."
(I have given up my being 16, because I'm at a time in my life where I'm settled and I know I don't need many friends.)
Investigation
According to Villar, DSWD staff have already been given instructions to reach out to both the child and her parents.
"The DSWD-NCR social worker will be conducting an assessment to gather facts on the situation of the child who is in Metro Manila, while DSWD FO IV-B (Mimaropa) will conduct an assessment of her family in Mindoro," Villar told Rappler through email.
"The visit to the girl's parents is not the only course of action though this is necessary because the child is a minor and in need of parental guidance and supervision."
Without delving into details about the investigation, Villar clarified that their actions will not stop at proving that parental consent exists. They will continue until the department is certain of the child's well-being.
"If the assessment indicates that her welfare and interest is at risk, we will pursue this angle and solicit assistance of our legal service," she said.
Mandate to investigate
Republic Act 7610, The Special Protection of Children Against Child Abuse, Exploitation and Discrimination Act, defines children as "those below 18 years of age, or those over 18 who are unable to fully take care of or protect themselves from abuse, neglect, cruelty, exploitation or discrimination because of a physical or mental disability or condition."
Women's rights lawyer Evalyn Ursua said that since the girl falls under this definition, DSWD may rightly conduct an investigation.
"[DSWD] has the mandate to interview the child and the parents to ascertain whether child abuse has been committed or is being committed. The DSWD may initiate the filing of a complaint for child abuse," Ursua told Rappler through email.
Consent immaterial
The DSWD said that there may be a case for neglect if it's proven that the parents do not perform their duties. One course of action would be to take the child into DSWD's custody.
"A petition for involuntary commitment of the child to the State may also be filed by the DSWD."
Ursua noted that it is the young girl's condition that matters. "Parental consent is immaterial. What is decisive is the state of mind of the 16-year-old woman in her relationship with Aguilar. Has she been coerced, induced, influenced or intimidated?"
Ursua added that if the parents coerced, influenced or intimidated the child into submitting to Aguilar, "then there is child abuse."
Abuse, coercion, liability
In this context, Ursua enumerated key elements that must be proven to determine whether any form of abuse has occurred.
"For a charge of child sexual abuse to prosper, it must be proven that Aguilar engages in sexual intercourse or lascivious conduct with his girlfriend. Second, it must be proven that the girlfriend engages in such conduct with Aguilar due to coercion, influence or intimidation by Aguilar or some other adult."
Both Villar and Ursua also noted that child sexual abuse may be charged regardless of whether the child consented — if it is proven the child was coerced, intimidated, persuaded, seduced, or enticed by an adult.
Cases like these fall under crimes of qualified seduction and simple seduction, punishable under the Revised Penal Code.
Ursua said an adult man may be found guilty of qualified seduction of a woman at least 12 years of age but under 18 if he committed any of the following:
Abused his authority over the woman (person in public authority, guardian, teacher, or any other person entrusted with the education or custody of the woman seduced)

Abused the confidence reposed in him by the victim (priest, house servant, domestic)

Abused his relationship to the victim (brother or ascendant of the victim)
"In simple seduction," said Ursua, "deceit must have been employed. Under decisions of the Supreme Court, deceit generally takes the form of an unfulfilled promise of marriage, which induced the woman to have sexual intercourse with the man."
Willing to wait
Whether or not any sexual or lascivious conduct between Aguilar and the minor child is proven, DSWD's Villar noted that under Section 10 of RA 7610, child abuse may still be charged against Aguilar if the relationship is found to be "prejudicial to the child's development."
While the DSWD's assessment is currently in its initial stages, Villar explained that in similar cases, the child was "not permitted to be sexually or romantically engaged with the adult person."
"Either the adult was charged in court or both parties agreed to part ways until the child matures."

If this is the case, Aguilar may have to prove that true love waits, at least for another two years. – Rappler.com