He tells his wife that the responsibility to bring up their children is a task they both share, and that he is 'deeply saddened' by his daughter's suicide attempt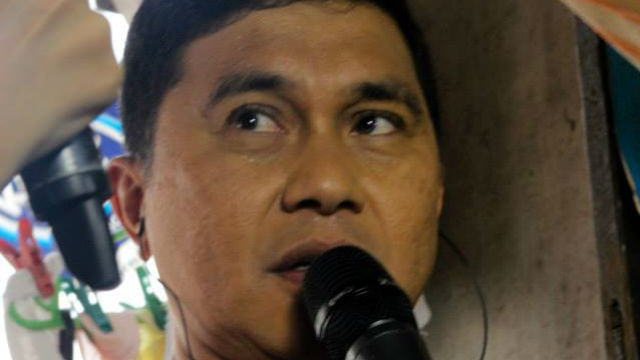 MANILA, Philippines – Comedian Jose Manalo released a statement Friday, March 14, denying his alleged neglect for his children which drove his 17-year-old daughter to attempt to commit suicide two days prior.
ABS-CBN and PEP.ph reported that Manalo's camp sent a statement where he said he was "deeply saddened" by what his daughter did due to his alleged "refusal to send her to her choice of school." However, the comedian said he has been "providing, and will continue to provide his children such support to the best of his ability."
The statement gave details saying that the comedian never fails to provide for his children's education: "Truth is, Jose has given TAPE INC. the authorization to deduct from his pay the tuition fees of all his children, and they (TAPE) have been remitting these directly to their respective schools." (TAPE produces noontime show Eat Bulaga, where Manalo makes regular appearances.)
In the past two years, Manalo has faced two lawsuits, one filed by his estranged wife Annalyn Manalo in early 2012, the other, filed by his 17-year-old daughter in December 2013, both for allegedly violating RA 9262, or the Anti-Violence against Women and their children Act of 2004.
PEP.ph earlier reported that Annalyn accused Jose of emotional and verbal abuse. The couple has 5 children while Manalo has two other children from a previous marriage. All children, according to Annalyn's interview with Pep.ph, were left under her care after their marriage didn't work out.
Manalo's camp revealed in their statement that he and Annalyn are facing civil and criminal charges due to a 'transaction' Annalyn was involved in, holding them liable for P68 million.
Currently, Manalo is seeking his lawyers' advice on the matter and was told not to comment anymore about the cases filed against him while they are being heard.
He maintained however that he never neglected his financial responsibilities to his children, dictated by the court.
Manalo added that the responsibility to bring up their children is not only on him alone but on Annalyn as well. And that they should work together for the welfare of their children.
Manalo also asked the media to give them the time and privacy to resolve their family's issues.
Jose Manalo is a mainstay on GMA 7 noon time show Eat Bulaga. He has also starred in a films such as the Enteng Kabisote franchise, Scaregiver, and MMFF 2013 entry My Little Bossings. – Rappler.com