This is AI generated summarization, which may have errors. For context, always refer to the full article.
The Hollywood actor appeared as a guest on 'Live with Kelly and Michael' and admitted that he 'used bad judgment' – referring to rumors that he tried to ask out a teenage fan in New York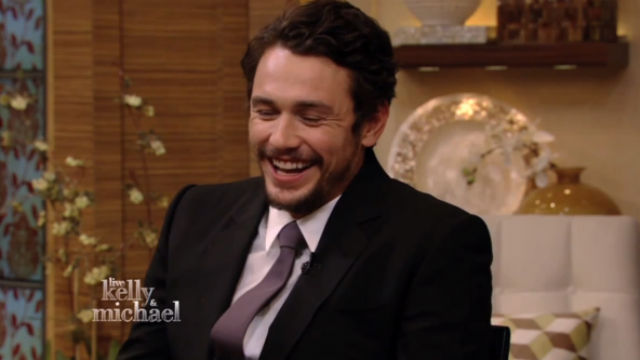 MANILA, Philippines – Following rumors that he tried to ask out a teenaged fan initially via Instagram, 35-year-old Hollywood actor James Franco has appeared on television to explain the situation.
"I'm embarrassed, and I guess I'm just a model of how social media is tricky," Franco said on TV show Live with Kelly and Michael. "It's a way people meet each other today, but what I've learned, I guess just 'cause I'm new to it, it's like you don't know who's on the other end… I used bad judgment and I learned my lesson."
"Not only do I have to go through the embarrassing kind of rituals of meeting someone, sometimes if I do that, then it gets, you know, published for the world, so now it's like doubly embarrassing," he added.
This, after reports surfaced that Franco asked out a teenaged fan who took an Instavideo with him in New York city. Franco reportedly asked to be tagged in the video; following that, a series of messages, screenshots of which appeared online, saw Franco attempt to ask out the 17-year-old girl.
The messages (see the screenshots on Gawker here) appeared to ask the fan a series of questions – who she was with, when her birthday was, where she was staying, if he could see her – and if he needed to rent a room.
Like most people who might receive such a message, the teen wasn't sure if it was a prank or if it really was James Franco contacting her, so she asked for proof.
The screenshots show that Franco sent her what appears to be a selfie, and followed up with a second one, this time with him holding a piece of paper bearing the teen's first name.
Franco initially posted on social media, "I'M NOT! I HOPE PARENTS KEEP THEIR TEENS AWAY FROM ME. Thank you." The Instagram post has been deleted, but the link to it on his verified Twitter account is still there.
I'M NOT! I HOPE PARENTS KEEP THEIR TEENS AWAY FROM ME. Thank you http://t.co/I1d4n3yVe0

— James Franco (@JamesFrancoTV) April 2, 2014
Initially, netizens weren't too sure whether or not Franco actually tried to ask out a teenager or if it was a stunt, perhaps related to his upcoming movie Palo Alto, where he coincidentally plays a coach who has an affair with a young student. 
However, the actor himself appeared on TV to discuss his blunder, and also posted a photo of himself at the show with the caption, "KELLY AND MICHAEL TODAY – cool as shiz! MUCH LOVE TO THEM!"
Franco also reposted an Instagram post from a fan saying that his honesty made them admire him more.
On the show, host Kelly Ripa said, "You know, I think the way you came out here and handled it is perfectly acceptable, it happens to everybody, and I think it happens to movie stars on a much grander scale like you just said because everybody knows who you are… and I promise I will not reveal our text messages!" – Rappler.com