Will there really be a fight between Mystica and Marlene? This, after Marlene's social media rants on Facebook about the popular Pope Francis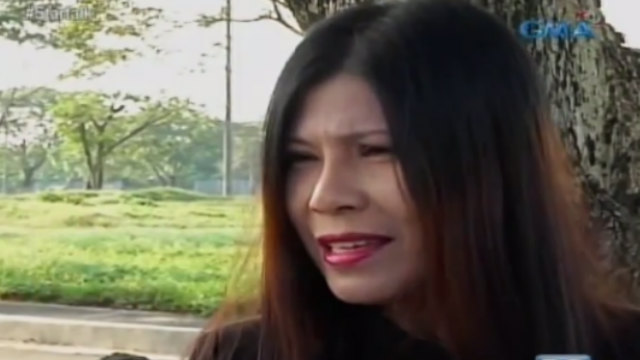 MANILA, Philippines – Singer Mystica is speaking up about a possible fight between her and Marlene Aguilar, the sister of musician Freddie Aguilar. 
This, after Marlene's Facebook posts calling Pope Francis "the commander of Satan," among other colorful insults. Pope Francis visited the Philippines last January 15-19. 
It was reported that after Marlene's attacks against the Pope on social media, the subject of a fight between the two was brought up. 
In an interview on Startalk Saturday, January 24, Mystica said it was not only the Pope whom Marlene insulted, but also the Catholic community. 
"Kasi hindi lang si Pope ang sinabotage niya eh. The whole humanity, so para sa akin, in order to defend the Catholic people, pero yung mga sumasamba or rumirespeto kay Pope Francis, yung ang point ko talaga kung bakit umentrada ako," she said.
(It was not only the Pope who she insulted. It was the whole of humanity. For me, in order to defend the Catholic people for those who respect Pope Francis. That was the point why I spoke up.)
Mystica spoke up about the terms and conditions of the said match between her and Marlene.
"May kondisyon siya provided daw na close door kami at tsaka sa Elorde Gym o kung saan man gusto niya. Ako naman street fight total palengkera siya diba? Masa ako," Mystica said.
(She has a condition, provided that the fight be behind closed doors and in Elorde Gym or wherever she wants. For me, I prefer a street fight, after all she is a coarse woman, right? I am from the masses.)
For Mystica, Marlene's silence after the issue means she is afraid.
"Takot siya eh. So sino ngayon ang coward? Siya, dahil natatakot siya. I am very sorry for your spirit kasi once you are going to continue doing this, ewan ko lang kung saan pupunta ang soul mo," Mystica said.
(She is afraid. So who's the coward now? She is, because she's afraid. I am very sorry for your spirit because once you are going to continue doing this, I do not know where your soul will go.)
The offending posts 
In a series of posts on Facebook, Marlene said that she does not see the Argentinian pope as "an ally of God" and calls him "evil." 

"To those attacking my wall because of my personal beliefs:
I do not see Pope Francis as a servant of good, or an ally of god. In my opinion, he is evil. And I think those who follow him are idiots. If what I say is not true, then why does it bother you?
I don't go to your wall attacking you for idolizing a man wearing a white robe, who in my eyes is the commander of Satan himself. So why do you attack my wall? Is it because I threaten your false faith? Or is it because you are afraid I speak the truth? – She Dragon."
Here are a few more posts from her Facebook account.
"To my haters-People stop wasting your time here. Google POPE FRANCIS SCANDALS. SEE THE TRUTH. GO! – She Dragon."
"
I believe in god, but I don't believe in religion. For thousands of years, religion has failed to create peace in this world. In my opinion, religion has failed all mankind. – She Dragon."
Marlene's statements did not sit well with many netizens but according to her, she does not care. 
To my haters –The awesome attention you give me equals my power over you. – She Dragon."
"
When people call me all sorts of bad names, I don't get insulted. Why? Because I know people's judgement against me is not true. So why does it offend you that I do not like your Pope? In my opinion, he serves evil and darkness. And there is nothing you can do to change how I feel. – She Dragon."
Social media users' reactions to Marlene's posts varied from mild amusement to incredulous outrage. Pope Francis is a very popular figure in the Philippines – during his visit, millions of the Catholic community came out to see a glimpse of the Pontiff. 
Marlene also made headlines back in 2010 when she was charged with obstruction of justice after allegedly hiding her son Jason Ivler in her home.  
This, after he was arrested following the death of Renato Victor Ebarle Jr, son of former Palace official Renato Ebarle Sr during a traffic argument in Quezon City in 2009. – Rappler.com