This is AI generated summarization, which may have errors. For context, always refer to the full article.
Initially, the doctors said that Panganiban should consider joint replacement surgery. But the actress wanted to pursue a more conservative approach.
MANILA, Philippines – Angelica Panganiban opened up about having been diagnosed with avascular necrosis, a bone disease that left her experiencing severe pain in her hip area. 
In a vlog released on Saturday, November 18, the actress revealed that she's receiving treatment for avascular necrosis, which is commonly referred to as "bone death."
According to the Mayo Clinic, this condition happens when the bone tissue dies due to lack of blood supply. Mayo Clinic added that the condition is also called osteonecrosis, and that it "can lead to tiny breaks in the bone and cause the bone to collapse."
Panganiban recalled that she first started experiencing pain around her hips when she was around six months pregnant with her daughter Amila Sabine. At the time, she attributed it to common symptoms for pregnant women.
But when she gave birth and started doing physical exercises, the pain in her hip area persisted. Panganiban again brushed it off as the usual discomfort in physical activities and continued being active. The actress shared that it would only be when she got diagnosed properly will she find out that these rigorous activities only aggravated her condition.
However, during her trip to Palawan with celebrity friends in March, Panganiban suffered from excruciating pain in her hip area that almost rendered her immobile.
"Hindi makalakad, hindi makapag-swimming, hindi maka-workout (I can't walk, I can't swim, I can't work out)," she said.
Upon returning home, she went straight to the hospital. The medical professionals then advised her to undergo therapy as she can't take any medication since she's breastfeeding.
At first, Panganiban said that she responded well to therapy for about two months, but she then started experiencing more persistent painful spells that would recur often.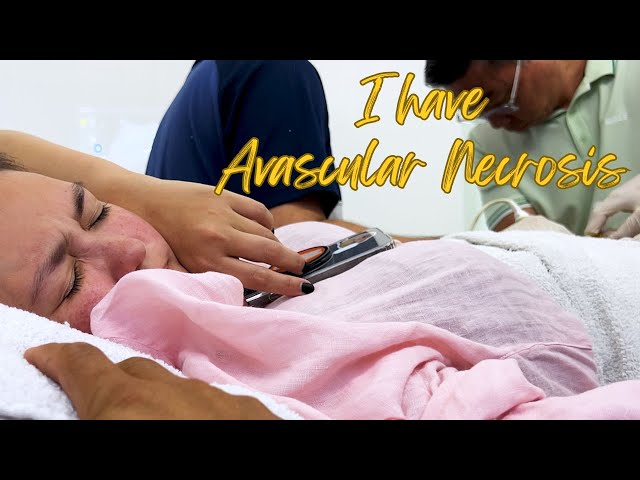 Her fiancé Gregg Homan then brought her to a bone specialist, who recommended the actress do platelet-rich plasma (PRP) injections. This process requires medical professionals to cultivate plasma from Panganiban's own blood to have it injected into the affected bone as her treatment.
The actress also had an MRI test that revealed her avascular necrosis diagnosis.
"Namatay na 'yung mga bones ko sa balakang. Kaya pala hirap na ako maglakad." she said.
(The bones in my hip have already died. That's why it's hard for me to even walk.)
Initially, the doctors said that Panganiban should consider joint replacement surgery. But the actress wanted to pursue a more conservative approach, and opted for doing PRP instead.
Bringing up how physically taxing the treatment is, the actress said she's deeply questioned the whole experience, especially since steroids, which often causes her condition, had never been part of her lifestyle.
"Nakaramdam ako ng awa sa sarili ko na, 'Bakit ako? Bakit sa akin nangyari ito?,'" she said. "Ano 'yung cause niya? Wala. Malas lang talaga at nangyari siya sa akin."
(I pitied myself. Why me? Why is this happening to me? What caused this? Nothing. I was just unlucky to be experiencing this.)
Despite this, Panganiban shared that she'll choose to be positive now that they're able to finally identify her condition and start treatment for it. The actress also hoped for a safe and fast recovery as she plans to return working in 2024.
Panganiban gave birth to her first daughter with Homan in September 2022. They announced their engagement in October 2022. – Rappler.com