The posts seemingly refer to his ex, Catriona Gray and her new boyfriend Sam
Clint Bondad continued posting strange Instagram stories on July 16, leaving some followers increasingly worried about his current state of mind.
The actor had earlier posted a screenshot of him sending a private message to Sam Milby saying "Want to become my client?"
Sam is the current boyfriend of Clint's ex, Miss Universe 2018, Catriona Gray. Catriona confirmed her break up with Clint in February 2019, shortly after she won her Miss Universe title.
Cat and Sam confirmed their relationship in May 2020 – though rumors of a romance between them have been brewing since December 2018.
Clint's series of Instagram stories have left many speculating that his break-up with Catriona was more complicated than it appeared.
He seemed to allude to her in several posts on July 15, saying "P.S. I create Queens" in one story and "Because I push Yiu Beyon£d [sic] all Your Limits" in the following story.
He also posted a story that read "Letter to my Ex," with the word "Thanks" superimposed on the text.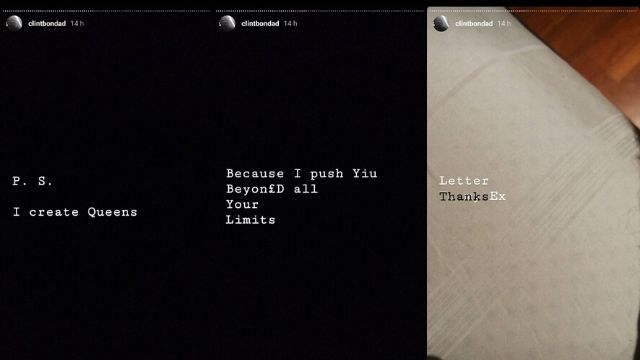 He also repeatedly posted "re.pent.ance #666communitydays4sam.
On July 16, he posted more stories that seemed to refer to Catriona.
"I have Zero Allergies Accept Cats…Irony" he said in one story.
He also referred to himself again as "the ex" – which he did on his stories the day before.
"Cat's friends used ti [sic] call me walking Google," he said.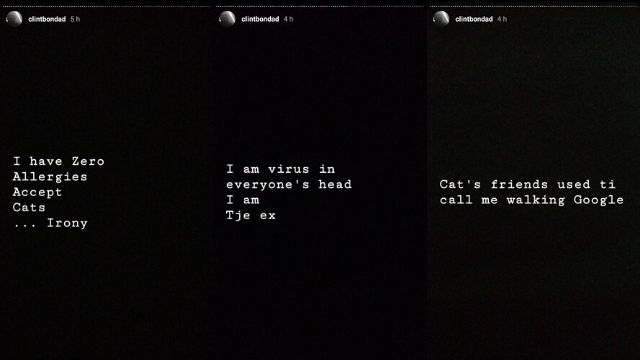 Aside from decoding the references to Catriona and Sam, Clint's followers have also noticed details they thought were disturbing – such as writings on the wall in a photo Clint took of himself from the mirror.
"Call me Heisenberg," he wrote in the caption, an apparent reference to Bryan Cranston's drug lord persona in the series Breaking Bad.
Perhaps even more disturbing were his claims that he almost died in a car crash in the previous month, and that he was driving.
He also said "When ever I get angry it storms," while taking a video of rain pouring outside a window. In the following story he said "It's vgoing [sic] to rain Philippines."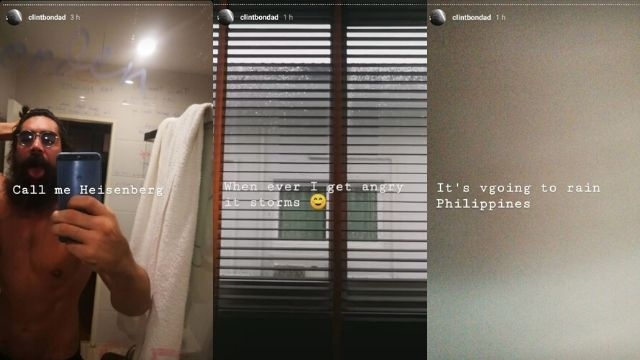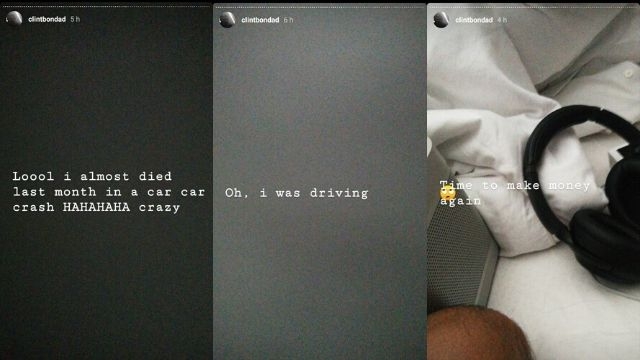 His last Instagram story as of this writing was an apparent screenshot of a woman on Tinder, on which he wrote "Tits."
The series of stories put "Clint" to the top of Twitter trends as some people attempted to decode what he meant in his posts, while others worried about his mental state.
"CLEARLY, SOMEONE NEEDS SOME SERIOUS CLINICAL INTERVENTION…THOSE IG STORIES DIDN'T COME OUT FOR NOTHING. THOSE ARE SIGNS," said Twitter user @flameyyohotman.
"Someone close to Clint Bondad please cut off his internet access and get him some help because this isn't normal behavior," said another Twitter user, @lakwatsarah.
As of this writing, neither Catriona nor Sam have addressed Clint's stories publicly – Rappler.com