Megan Young, Catriona Gray, and Pia Wurtzbach hail Hidilyn, who's bringing home the country's first Olympic gold medal
Filipino beauty queens and local pageant organizations took to social media to congratulate Hidilyn Diaz on her historic win in the 55kg event of the weightlifting competition of the Tokyo 2020 Olympics on Monday, July 26.
Diaz's win brought home the Philippines' first ever Olympic gold medal. The 30-year-old weightlifter also recorded a 97kg in the snatch and an Olympic record 127 kg in the clean and jerk for a total of 224kg, also an Olympic record. 
Binibining Pilipinas Charities, Inc., the group that mounts the Binibining Pilipinas pageant, wrote, "The power of a Filipina! Thank you for raising our flag, Hidilyn Diaz. Proud to say that #IamAFilipina." 
The Miss Universe Philippines organization also called Diaz's feat an "inspiring historic first win." "A phenomenal Filipina is our very first Olympic gold medalist! Congratulations, Hidilyn. We're proud of you!"
"Proudly Filipina," Miss Philippines Earth said on Facebook.
On their Instagram stories, several Filipino beauty queens also expressed how emotional they got over Diaz' win. 
"Nakakaiyak, (I'm about to cry)," Miss World 2013 Megan Young wrote.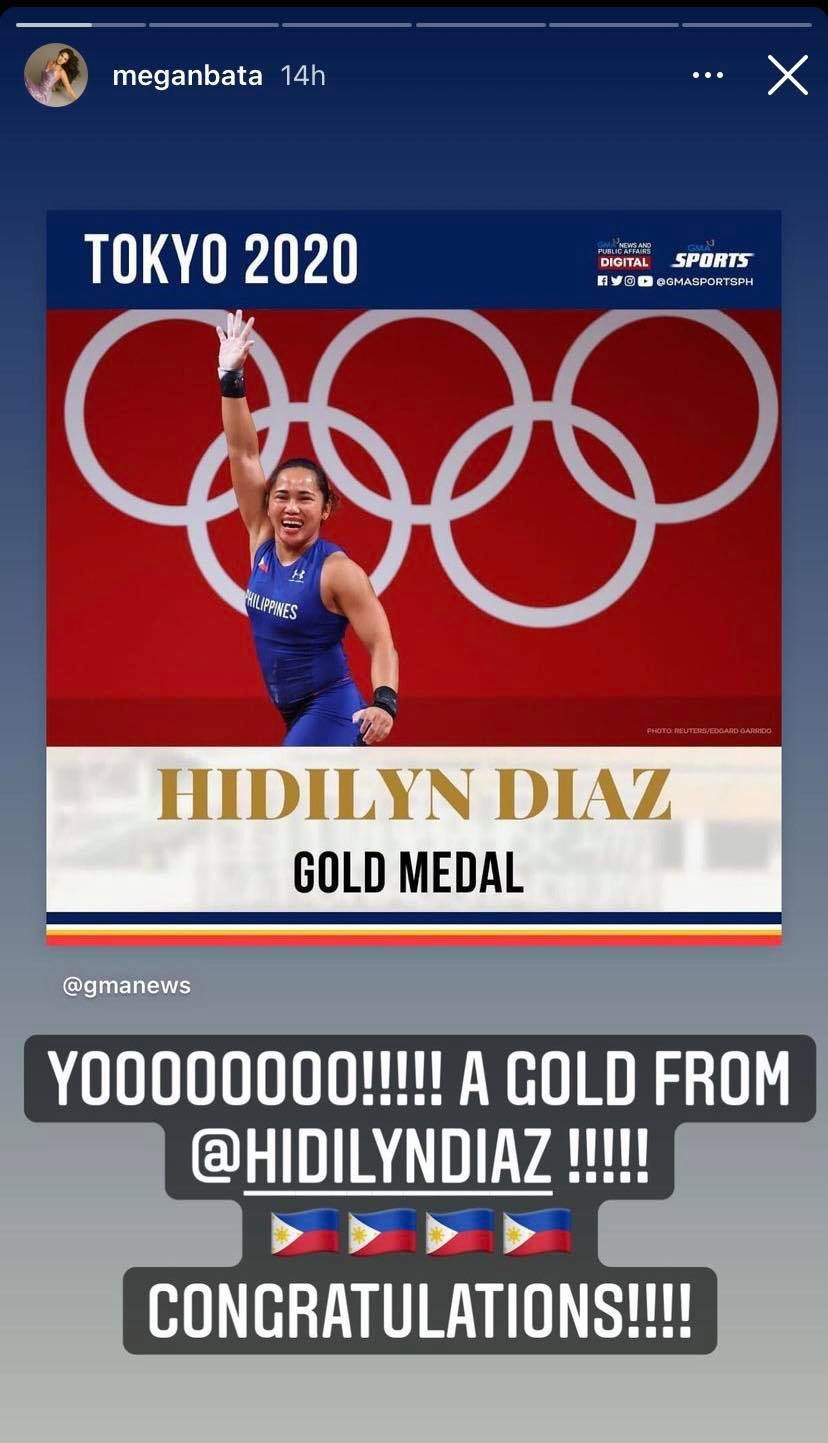 Miss Universe 2018 Catriona Gray also praised Diaz.
Miss Universe 2015 Pia Wurtzbach expressed pride over the fact that a Filipino woman won the country's first Olympics gold. "Such a proud moment. Our first ever gold olympic medal brought home by a strong and amazing woman," she said.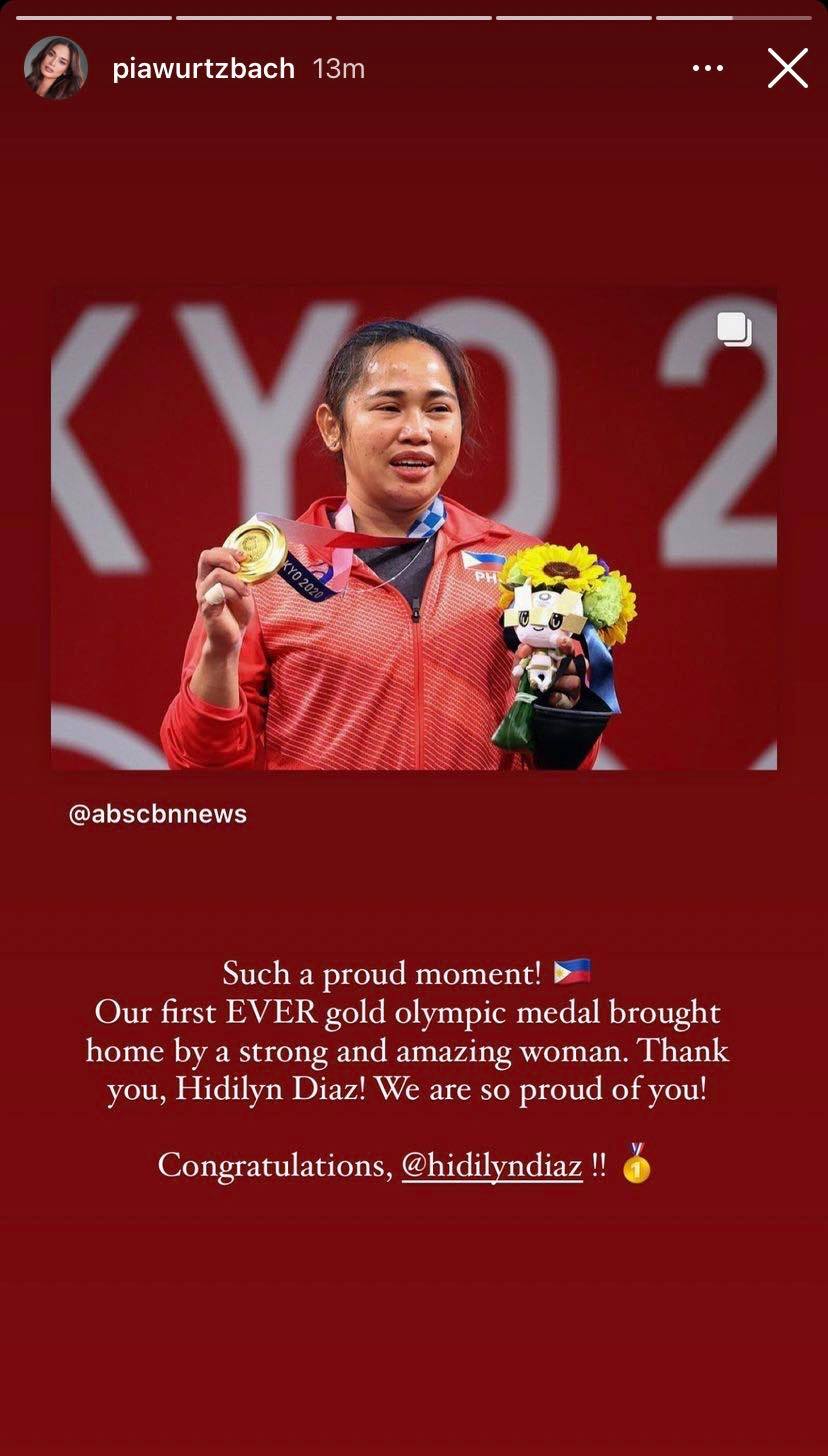 Miss World Philippines 2018 Katarina Rodriguez also wrote, "Today marks history for the Philippines. Thank you to Hidilyn Diaz for making us all proud and getting gold."
Miss Universe Philippines 2017 Rachel Peters said, "Girl power to a whole nother level."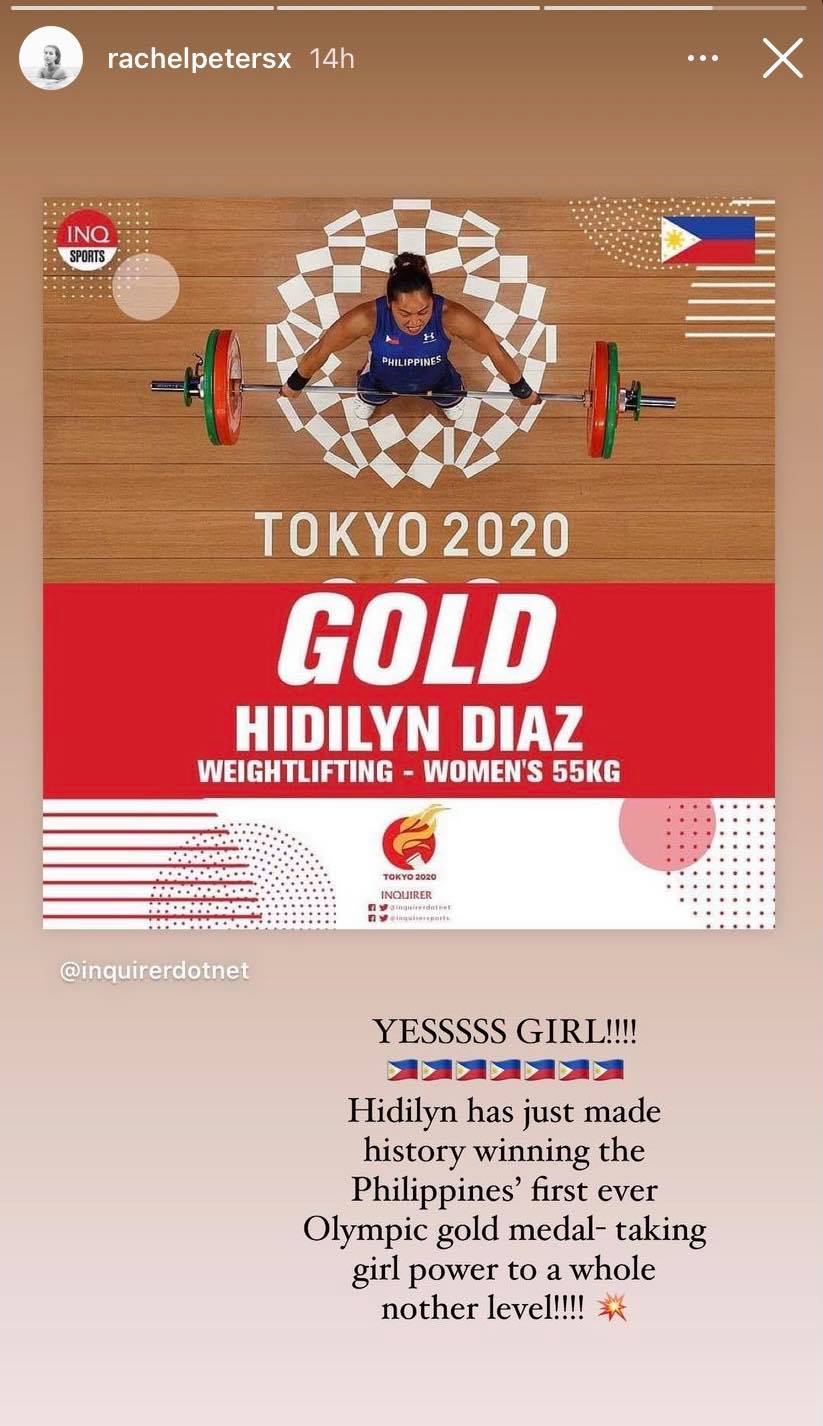 Binibining Pilipinas International 2021 Hannah Arnold reposted an old Instagram post of Diaz with the caption, "You did it."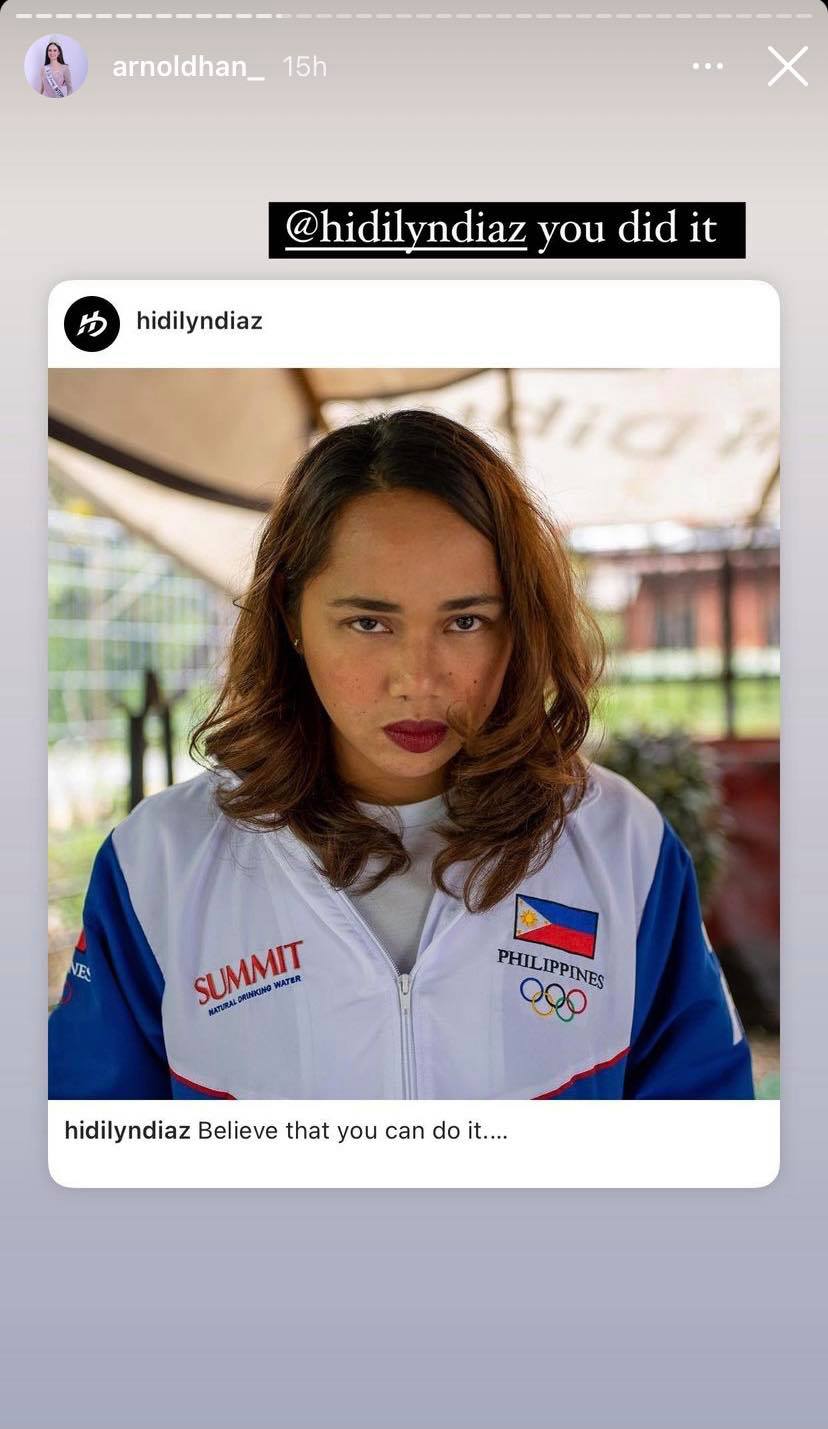 Miss Grand Philippines 2020 1st runner-up Samantha Bernardo called Diaz "a champion." "Para sa Pilipinas, taas noo! Tayo ay Pilipino. (For the Philippines, we are proud! We are Filipinos.)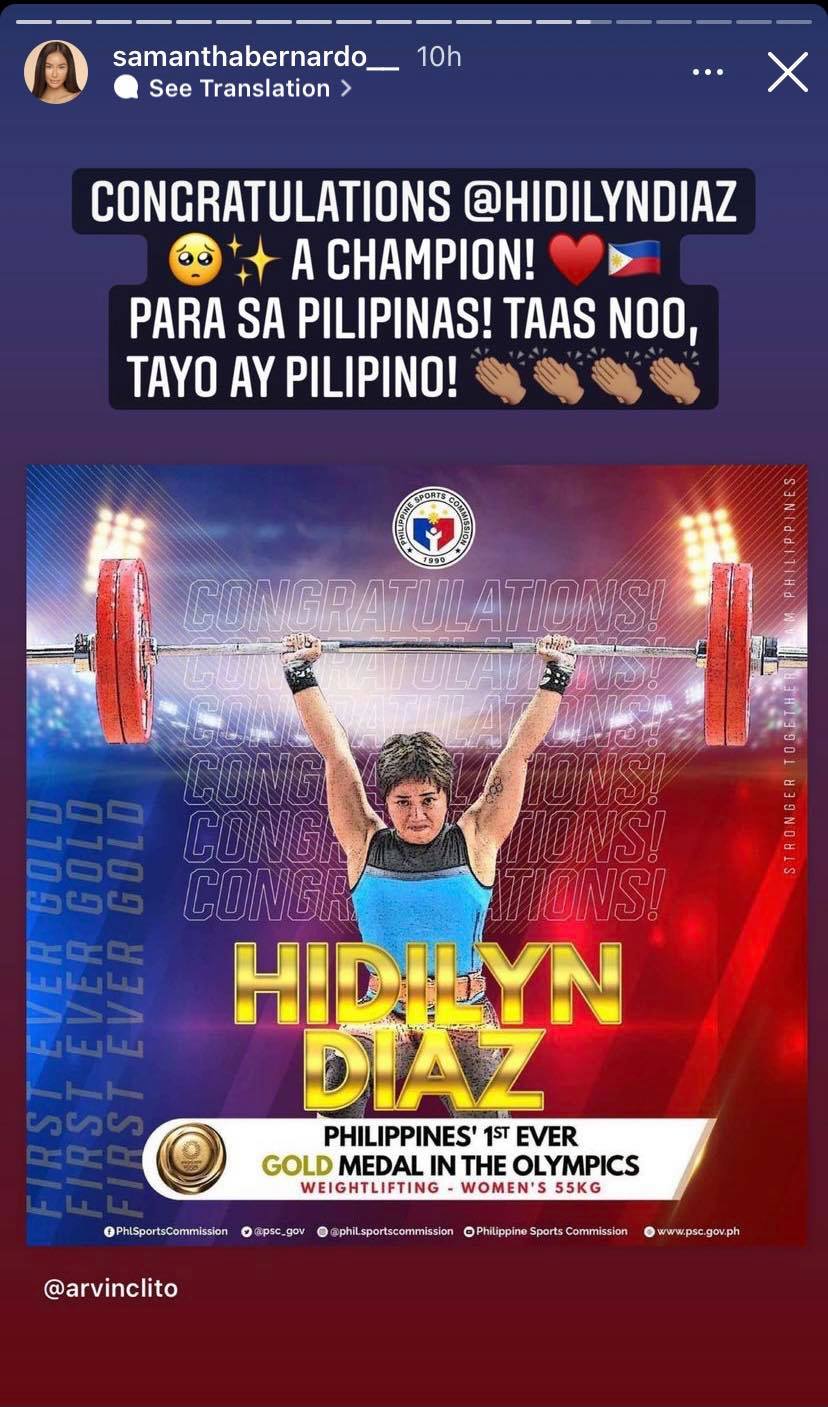 In a separate post, Bernardo also shared Diaz' previous post, in which the athlete asked for financial support prior to the Tokyo 2020 Olympics. Bernardo said she empathized with Diaz' perseverance and hardwork.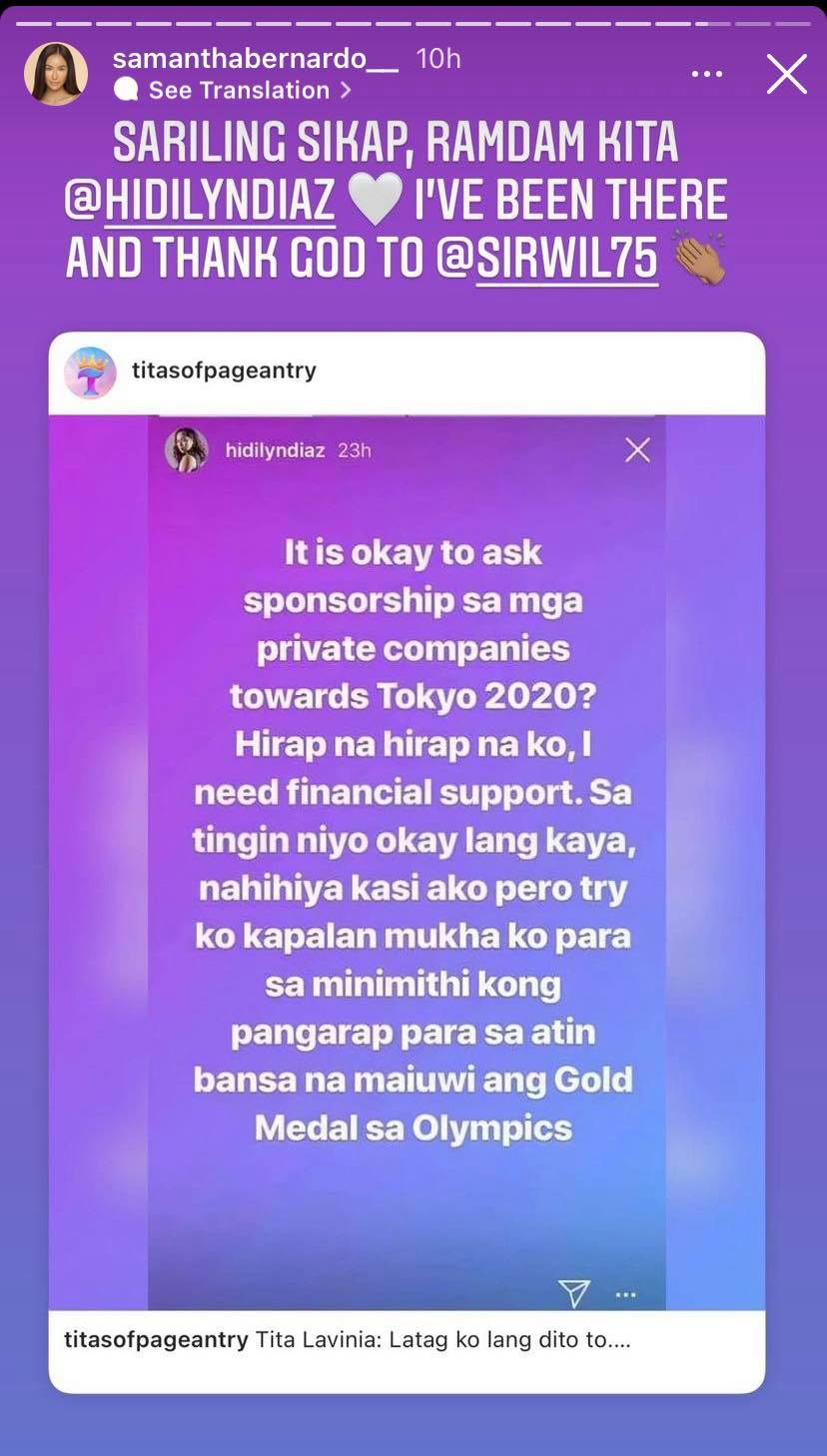 Aside from beauty queens, celebrities and politicians also congratulated Diaz for her win. Filipinos online also urged the country to support more athletes in the future. 
Diaz is also the first Filipina athlete to win double Olympic medals after her 2016 Rio Olympic silver medal conquest.
The Tokyo Games is Diaz's fourth straight Olympics – she went empty-handed in the 2008 Beijing and 2012 London Olympics before her breakthrough performance in the 2016 Games. – Rappler.com