'I'm just furious how people think na need mo magkaanak para maging masaya,' says Heart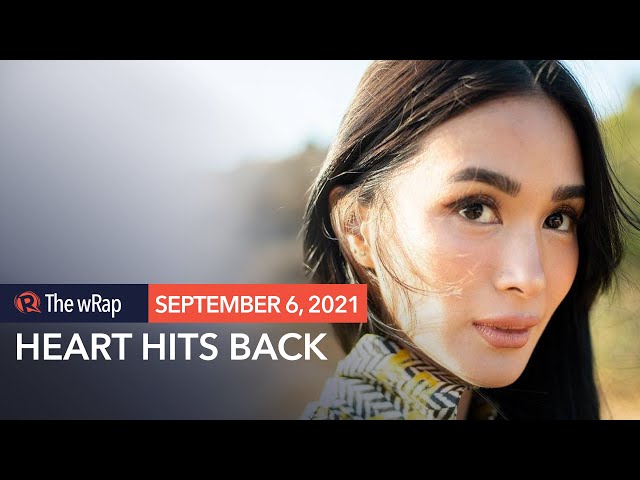 Heart Evangelista has had enough of unsolicited comments urging her to get pregnant. In a series of tweets, the actress and endorser reminded followers that "nobody knows the real struggle" of conceiving.
On Monday, September 6, Heart responded to a compilation of screenshots that showed several TikTok users' comments about her body. "Sayang lang ang ganda ng katawan, hindi mabuntis ng asawa (Her good physique is such a waste since her husband can't even get her pregnant)," one comment read.
The actress retorted, "Stop telling me to get pregnant unless you really want to hurt me. Nobody knows the real struggle."
She added that she's happy and content with her life and that getting pregnant would just be a "bonus." "People I love are fine and everything else in between is okay, so bonus nalang if I do conceive. Again, it's my body."
In a separate tweet, Heart also said that having a child is not a requirement for a woman to feel happy and complete. "I'm just furious how people think na need mo magkaanak para maging masaya (that you need a child to be happy). I am already a happy person and grateful."
She ended her post by asking her followers to stop putting pressure on women and to inspire each other instead.
This is not the first time for Heart to call out people who've been pressuring or shaming her into getting pregnant.
In November 2020, she responded to a netizen who told her that she "badly" needs to have a baby, saying that the comment was "inappropriate." Heart has previously tweeted that pregnancy is a "sensitive topic" for her.
The actress then recalled her miscarriage, saying it was the "most traumatizing feeling."
"Now me trying after a year or so is my choice but me not having a baby as of the moment is God's choice and I wouldn't want to question that.. To even ask or shove it down my throat is unthinkable or doesn't say much about you as a woman," she said then.
Heart added, "Baby or not, I am very happy with my life. I have a loving family, a home, and a solid relationship with God. Contentment is what I have and that my dear is hard to achieve."
In May 2018, Heart announced that she was expecting her first child with husband Francis Escudero, whom she married in 2015. However, in June 2018, she said that she lost her twins.
In a Pep report published on December 2018, Heart opened up about how unsolicited comments after her miscarriage affected her. "Being in showbiz didn't make it easy for me… Every single word that was said against my baby and against me really hit me. It really did. My heart was bleeding every time they said something bad, and it was really hurtful." – Rappler.com