Both actresses share their symptoms on social media, citing difficulty breathing, brain fog, and loss of taste and smell
Former Lizzie McGuire star Hilary Duff and former Clarissa star Melissa Joan Hart both revealed on social media that they had tested positive for COVID-19. Both were breakthrough COVID-19 cases, meaning that they are fully vaccinated against the coronavirus.
Hilary took to her Instagram Stories on Friday, August 20, to post a photo of her in bed, sharing that her symptoms included a bad headache, loss of taste and smell, sinus pressure, and brain fog.
"That delta…she's a little bitch," the 33-year-old actress wrote. She also wrote, "Happy to be vaxxed." Hilary's diagnosis came a few days after production for the upcoming How I Met Your Mother sequel series began.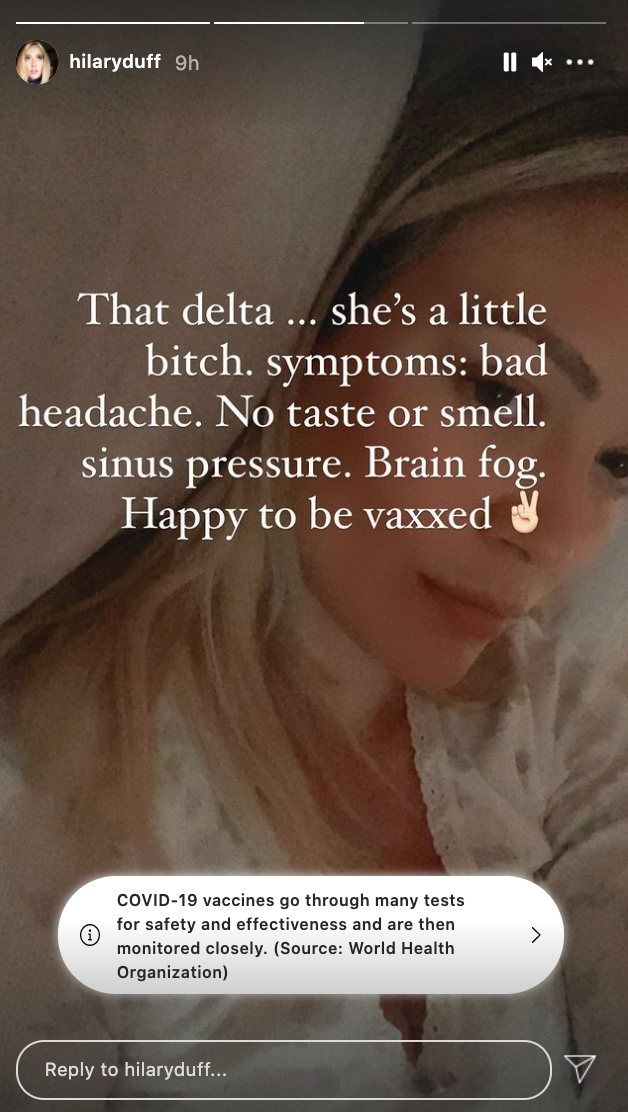 On Thursday, August 19, Melissa shared in an Instagram video that she had also tested positive for the virus after being vaccinated, and that her case "was bad." She cited difficulty breathing as her main symptom, saying that it was "weighing on [her] chest and it's hard to breathe."
"One of my kids, I think, has it so far. I'm praying that the other ones are okay. I think as a country we got a little lazy and I'm really mad that my kids didn't have to wear a mask at school. I'm pretty sure where this came from," the former Sabrina The Teenage Witch star added, admitting that her family had taken precautions during the pandemic, but "got a little lazy" as restrictions eased.
"I'm just scared and sad, and disappointed in myself and some of our leaders. I just wish I'd done better, so I'm asking you guys to do better. Protect your families. Protect your kids. It's not over yet. I hoped it was, but it's not, so stay vigilant and stay safe," she said.
"I'm not posting this to be political or gain pity, I just want to share my journey. This isn't up for debate, it's just how I feel today on my page," the 45-year-old actress wrote in her caption.
Scientists and health professionals all over the world consider vaccines the best weapon currently available against the coronavirus disease. While the vaccines offer protection against COVID-19, none of them prevents contracting the illness 100% of the time. Vaccinated people are still expected to observe necessary health protocols and safety measures.
Fully vaccinated individuals who still contracted the novel coronavirus are referred to as "breakthrough infections" – rare, but possible. Cases of breakthrough infections can either be asymptomatic or symptomatic, but vaccination can make the symptoms for symptomatic cases less severe and reduce the likelihood of hospitalizations and/or death. – Rappler.com