This is AI generated summarization, which may have errors. For context, always refer to the full article.
Moira Dela Torre's estranged husband clarifies that the woman featured in his music video is not his girlfriend
MANILA, Philippines – Singer Jason Marvin Hernandez is trying to put an end to speculations surrounding his personal life, denying rumors of a new romance and addressing the current status of his annulment with estranged wife, singer Moira Dela Torre.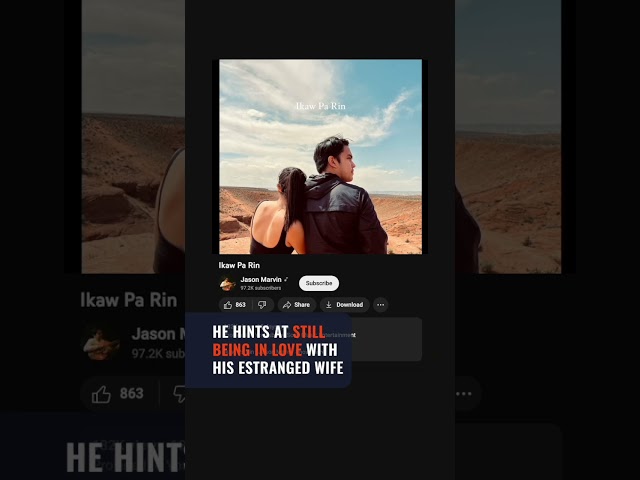 Hernandez first made headlines after sharing photos of himself with a woman on social media with cryptic captions, with the same woman being featured in his "Ikaw Pa Rin" music video. Said music video also drew flak for including videos from his 2019 wedding with Dela Torre.
However, in an Instagram story released on Saturday, June 3, Hernandez made it clear that he does not have a girlfriend.
"Hi, for some people this has been clarified already, but I want it to also come from me: the girl in the music video is not my girlfriend," Hernandez wrote.
Identifying the woman in question as Sumaya McEvoy, a friend from El Nido, Hernandez emphasized that McEvoy was merely an actress featured in the music video, and that they are not romantically involved.
Hernandez also took the opportunity to address his marital status, sharing that his annulment with Dela Torre has not yet been finalized.
"I don't have a girlfriend because I am technically still married, and of course I won't have one while my annulment has not been finalized yet," Hernandez explained.
In the song "Ikaw Pa Rin," he hints at still being in love with his estranged wife and wanting to rekindle their relationship. This had sparked an exchange between Hernandez and Dela Torre's sister J'mee.
In response to a deleted tweet from J'mee, Hernandez expressed his desire to reconcile with his estranged wife, acknowledging his past mistakes and hoping to make amends.
"You call me desperate, yes, I am desperate to have her back. I made mistakes but I wanna be able to say that I did everything to make up, and learn from it. I've been good to you and to your family and I'm sorry if you were fed false/exaggerated/filtered details, but I gave my all to try to get her back," he said in a now-deleted post.
Dela Torre and Hernandez confirmed their separation in May 2022, with Hernandez admitting to being "unfaithful" during their three-year marriage.
Meanwhile, Dela Torre has slammed cheating allegations, saying: "It is unfair that I find myself in a position where I have to defend my name and even explain why I did not deserve to be cheated on." – with additional reports from Jacob Maquiling/Rappler.com
Jacob Maquiling is a Rappler intern.