The father and daughter talk about their difficult past and how they've managed to make their relationship work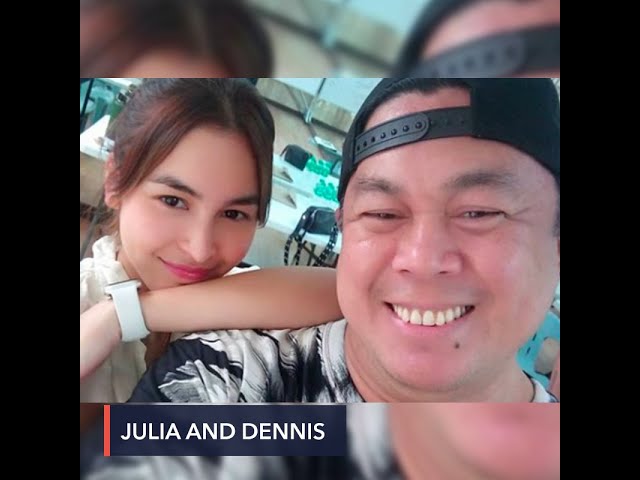 Julia Barretto opened up about how she fought to maintain a good relationship with her father Dennis Padilla in a vlog released on May 1, Saturday.
In the 28-minute video titled "Questions I've Never Asked My Dad," Julia talked to Dennis about his work, past and present relationships, and his relationship with his children.
Julia started the vlog by asking her dad about his greatest takeaway from his separation from Julia's mom, Marjorie.
"It became rocky because of my attitude, my temper. Ang dami kong pinagdaaanan kaya ako naging ganoon. Ang mommy mo, ang dami ring pinagdaanan na pagsubok dahil sa ugali ko." (I went through a lot, that's why I acted that way. Your mom also suffered a lot because of my attitude.)
The comedian also added that he realized all his shortcomings after his recent battle with COVID-19.
"I saw all my mistakes. It was like a dream… Noong akala ko wala na ako, siguro mga 10 frames per second. Na-summarize ko 'yung buong buhay ko nang wala pa sa dalawang oras. (I saw my life pass by me, 10 frames per second. I summarized my life in less than two hours)," he said.
"Actually, I am the one to be blamed. Walang kasalanan ang nanay mo. Kasalanan ko 'yun (It's not your mother's fault. It's mine)," he continued.
Julia's relationship with dad Dennis
Aside from her parents' relationship, Julia also asked Dennis about the greatest lesson he's learned from their past misunderstandings.
"I should have listened first. 'Dennis, huwag ka muna makialam, alamin mo muna 'yung puno't dulo. Bakit hindi mo muna tanungin si Julia.' Gusto ko naman na ganun ang mangyari dati kaya lang, hindi ako makapag-communicate sa inyo," he said. (Dennis, you should not meddle, know the real story first. Ask Julia first. That's what I wanted to happen but I just couldn't contact any of you.)
Dennis then recalled how hurt he was when Julia wanted to drop her dad's surname, Baldivia, in 2014: "That was a dagger, it's not the pangalan (name). That's my blood. Barretto na nga lang ang dala mo sa screen name mo tapos tatanggalin mo pa 'yung Baldivia?"
(You were already using Barretto as your screen name and then you wanted to remove Baldivia as your legal name?)
He also added that he felt frustrated because he wasn't able to ask his daughter her reasons for the name change.
"I was frustrated. No one wants to talk about it. Walang gustong makausap sa akin. Hindi ko maintindihan ano ang dahilan kung bakit kailangan ipatanggal? Baldivia ka naman talaga kasi ako 'yung tatay mo. Makakabawas ba 'yun sa pagkatao mo? No. Makakabawas ba sa popularity mo? No," he said.
(No one wanted to talk to me. I didn't understand why there was a need to remove my surname. You're a Baldivia because I'm your dad. Will it affect your personality? No. Will it affect your popularity? No.)
Julia explained to Dennis they wanted to drop the Baldivia surname because they were "trying to correct your mistake" and that she was also "too pained" to even communicate with her dad.
"You question why you feel like nobody's responding, not knowing how much pain and hurt you've caused us before trying to talk to us. That's why you couldn't hear from us. We were already too pained, too scared of you," she said.
"I wish you would also recognize and acknowledge the fact that maybe 'I have done something to scare my kids off.' Before, when we would speak over the phone, you wouldn't always have the best tone and the best choice of words. That scarred me, that traumatized me, that scared me," Julia continued.
The actress also said that despite their painful history, she still "fought hard to keep a certain relationship" with Dennis. "I didn't ever give up in our relationship. If I had given up, we wouldn't be talking right now. I kept trying and that was painful for me. I was fighting so hard for our relationship despite all the words thrown at me by my own dad," she added.
A change of heart
After looking back at their past misunderstandings, Julia revealed that "all is well and forgiven" now. The actress added that she appreciated how her dad admitted his own shortcomings.
"One of the most important things in life and with people you love is being able to forgive each other," she said. Julia also shared how happy she is that her dad Dennis has a good relationship with her and her siblings. "I'm so proud of you. I saw the change after your journey with COVID. I appreciate all our conversations now. Everybody is so much more humble, understanding, and forgiving. I saw your change of heart," she said.
Dennis echoed the sentiment, saying that he wants to maintain his good relationship with his children. "Sana mabigyan ako ng chance na makabawi sayo, hindi lang naman sa iyo ako may atraso, sa marami din. Hindi ko alam kung makakabawi pa ako, pero kung saan ako aabutin," he said. (I wish I'd be given the chance to make things right. I didn't only hurt you, I hurt other people too. I don't know if I could still make things better but I'll do my best).
The actor also took the chance to share how proud he is of Julia for being a good actress. "Yung pagiging maganda at pagiging pogi, may limit 'yun. Pero 'yung pagiging magaling, limitless 'yun. (Good looks have limits. But if you're a talented actor, that's limitless)," he said. – Rappler.com