While her lawyer questions the legality of the statement from Mario's camp, they say Kakai will 'totally dissociate herself' from the Thai actor
Kakai Bautista's camp on Tuesday, March 30 denied allegations made by the supposed management of Thai actor Mario Maurer against the actress-comedienne. 
In a statement furnished to Pep, Kakai's lawyer Jude Marfil questioned the validity of the March 22 letter supposedly from Mario's camp as it was only "forwarded through email, does not bear any letterhead, mailing address, and contact number."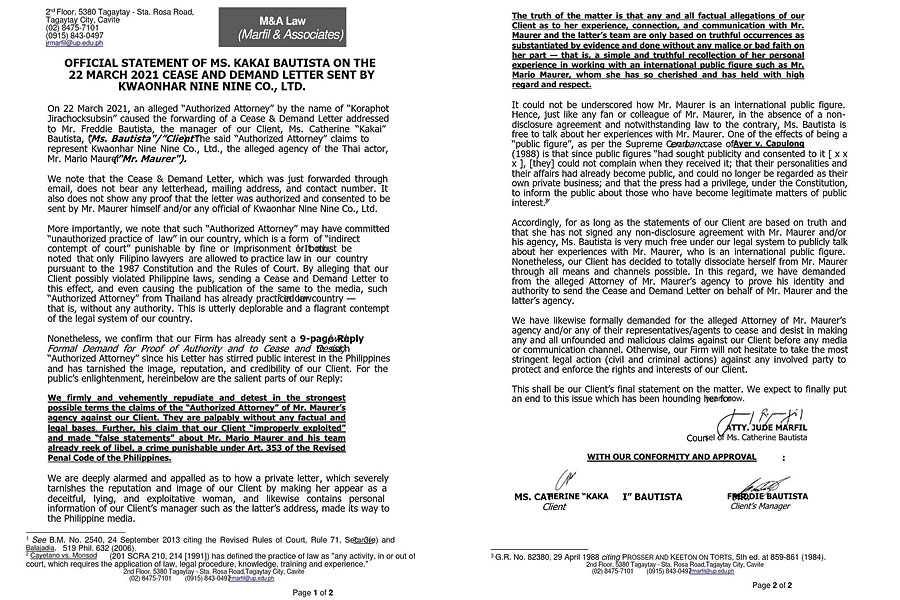 Marfil pointed out that the cease & desist letter "does not show any proof that the letter was authorized and consented to be sent by Mr. Maurer himself and/or any official of Kwaonhar Nine Nine Co., Ltd."
Still, Marfil said that their firm has already sent a nine-page reply addressed to Mario's "authorized attorney" Koraphot Jirachocksubin.
Kakai's lawyer said Jirachocksubin's claim that she "'improperly exploited' and made 'false statements' about Mr. Mario Maurer and his team already reek of libel." In the Philippines, libel is a criminal act.
Marfil said that they are "deeply alarmed and appalled" because the private letter, which had been released to the media, supposedly tarnished Kakai's reputation and made her appear as a "deceitful, lying, and exploitative woman." 
Kakai's legal counsel also insisted that the actress' statements regarding her "experience, connection and communication with Mr. Maurer" are all based on truth and were done without any malice.
"Nonetheless, our Client has decided to totally dissociate herself from Mr. Maurer through all means and channels possible," Marfil wrote. 
Marfil countered Mario's camp's demands, and "formally demanded for the alleged Attorney of Mr. Maurer's agency and/or any of their representatives/agents to cease and desist in making any and all unfounded and malicious claims against our Client."
Earlier this week, Kakai's management received a letter from the Thai actor's agency, demanding her to refrain from "any further use of the name of Mario Maurer or any reference to him, directly or indirectly."
Kakai and Mario worked together in the 2012 movie Suddenly, It's Magic. – Rappler.com