Tag your friend who's as ecstatic over birthdays as Karen Davila
Broadcaster Karen Davila became the talk of the online world on Monday, August 16, following the release of a video feature on Lyca Gairanod, the very first winner of The Voice Kids Philippines.
But it wasn't the feature itself that first grabbed the attention of the Twittersphere – it was a clip from the 25-minute video, where Karen is shocked to find out that she shares the same birthdate with Lyca.
Twitter user @ShyGuyyyyyy's excerpt of the YouTube video (which, true to form, was posted past 2 am) was one of the first that went viral. In the clip, Karen finds out – to her absolute surprise – that Lyca was also born on November 21.
"Liar! Birthday ko 'yun (That's my birthday)," said Karen, as Lyca looked confused over Karen's reaction.
"Hindi ko alam 'yun. Magka-birthday kami, Scorpio! That means magka-ugali tayo. We're meant to meet! How many people ang makakatsamba mo, ini-interview ka, ka-birthday mo," Karen told the camera and the team shooting their interview.
(I didn't know that. We have the same birthday, we're Scorpios! That means we have the same temperament. We're meant to meet! How many people do you interview and happen to share a birthday with?)
Lyca, who is turning 17 on November 21, then quipped, "Dahil birthday 'nyo po no'n, kayo maghahanda sa akin." (Since it's your birthday then too, you should throw a party for me.)
"Dear, set in stone! 'Pag mag-birthday tayong dalawa, ako magpapa-party!" a still surprised Karen replied. (Dear, set in stone! For our birthday, I'll throw a party!)
The viral clip can be found at the end of the video, as part of the episode's outtakes.
Life after 'The Voice Kids'
In the episode, Karen visits Lyca's two homes in Tanza, Cavite – the seaside shanty she grew up in, and the house she bought after winning The Voice Kids Philippines at only nine years old.
In interviews with Karen, Lyca opened up about her life after winning the contest, helping her family and her community, and her gratitude for everything that's happened in her life, despite challenges that still come her way.
"Kung ano man 'yung blessing na natanggap natin, puwede tayong mag-share. Nangyari na sa akin 'yun eh, na naghihintay ako na may tumulong sa akin," said Lyca, whose father was a fisherman and whose mother scavenged used bottles and old newspapers to make ends meet.
(Whatever blessings we get, we should share what we can. That's happened to me before, just waiting for someone to help.)
A meme is born
While Lyca's story was meant to be an inspiration for her subscribers, the clip alone has been giving the internet a reason to smile.
Even Karen herself could not help but join in the fun.
You can watch the episode – and the viral outtake – here: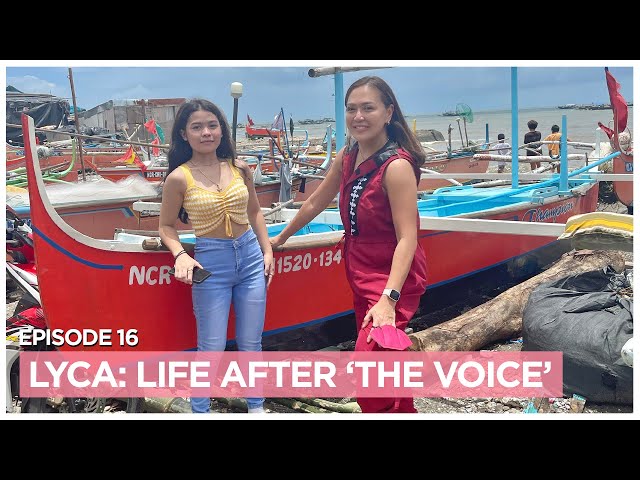 – Rappler.com