'Mission accomplished,' says Kris, as she pays tribute and bids farewell to her only kuya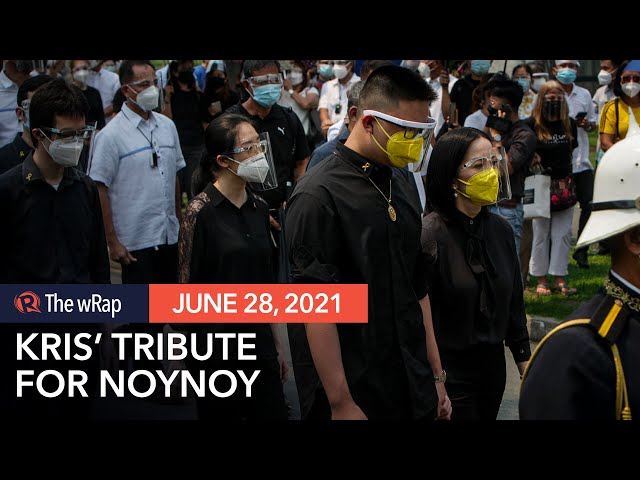 TV personality Kris Aquino paid tribute to her kuya, the late former president Noynoy Aquino, in a video posted a day after he was laid to rest at the Manila Memorial park.
The video, which was posted on Sunday, June 27, includes video clips taken from when the Aquino family, led by Kris' older sister Pinky, announced their brother's passing due to renal disease secondary to diabetes.
"We love you and we are so blessed to have had the privilege to have had you as our brother. We'll miss you forever," read Kris' caption for the video.
Kris, the youngest of the Aquino siblings, also shared footage from inside Heritage Park, where family, friends, and former colleagues gathered before Noynoy was cremated.
Set to Moira dela Torre's rewritten version of "Paubaya," the video showed those closest to Noynoy – his longtime household help Ate Yolly and longtime driver Kuya Nory – pay their final respects to the former president.
The video also included photos of the Aquino family during Noynoy's presidency, as well as intimate photos of Noynoy and Kris' two sons, Josh and Bimby.
Kris and Noynoy didn't always have the easiest of relationships, with Kris openly admitting to the public in 2018 that their relationship was strained. They'd soon make amends for the sake of Josh, whom the former president was close to. Kris told media that she and her brother were able to make their peace before he died on June 24 after over a year of battling several health conditions.
Noynoy, 61, was the only son of democracy icons former senator Ninoy and former president Cory Aquino. The only Aquino sibling to join politics was a district representative and senator before he was swept to the presidency in 2010 after the death of Cory.
He leaves behind his four sisters, Ballsy, Pinky, Viel, and Kris, as well as several nephews and nieces. He was the 15th president of the Philippines. – Rappler.com