Elizabeth Tulloch plays Lois Lane in the TV series 'Superman & Lois'
"I am married to both Batman and Superman," quipped Elizabeth Tulloch, who plays the titular half in the TV series, Superman & Lois.
And in a reel and real sense, in a way, it's true. The latest actress to play Lois Lane explained: "My husband David Giuntoli, and this is very strange, voiced Batman in a D.C. animated movie (Batman: Soul of the Dragon)."
And David tried out for the red and blue costumed superhero role that went to Henry Cavill. "Yeah, that's true, he auditioned for Man of Steel," Elizabeth confirmed in our video conversation.
Before Elizabeth took on the iconic part of comic books' most beloved journalist, she won many fans as Juliette Silverton, the veterinarian girlfriend of her then real-life boyfriend David (detective Nick Burkhardt) in NBC's long-running crime-drama-fantasy series, Grimm.
"Grimm was such a huge success internationally because it was one of these stories and tales that just communicated well," Elizabeth looked back at the series, which ran from 2011 to 2017 and earned rabid followers.
"You take the lore of a fairytale, make it modern and add monsters. It was just such a pleasure to do that show and the writing was so great."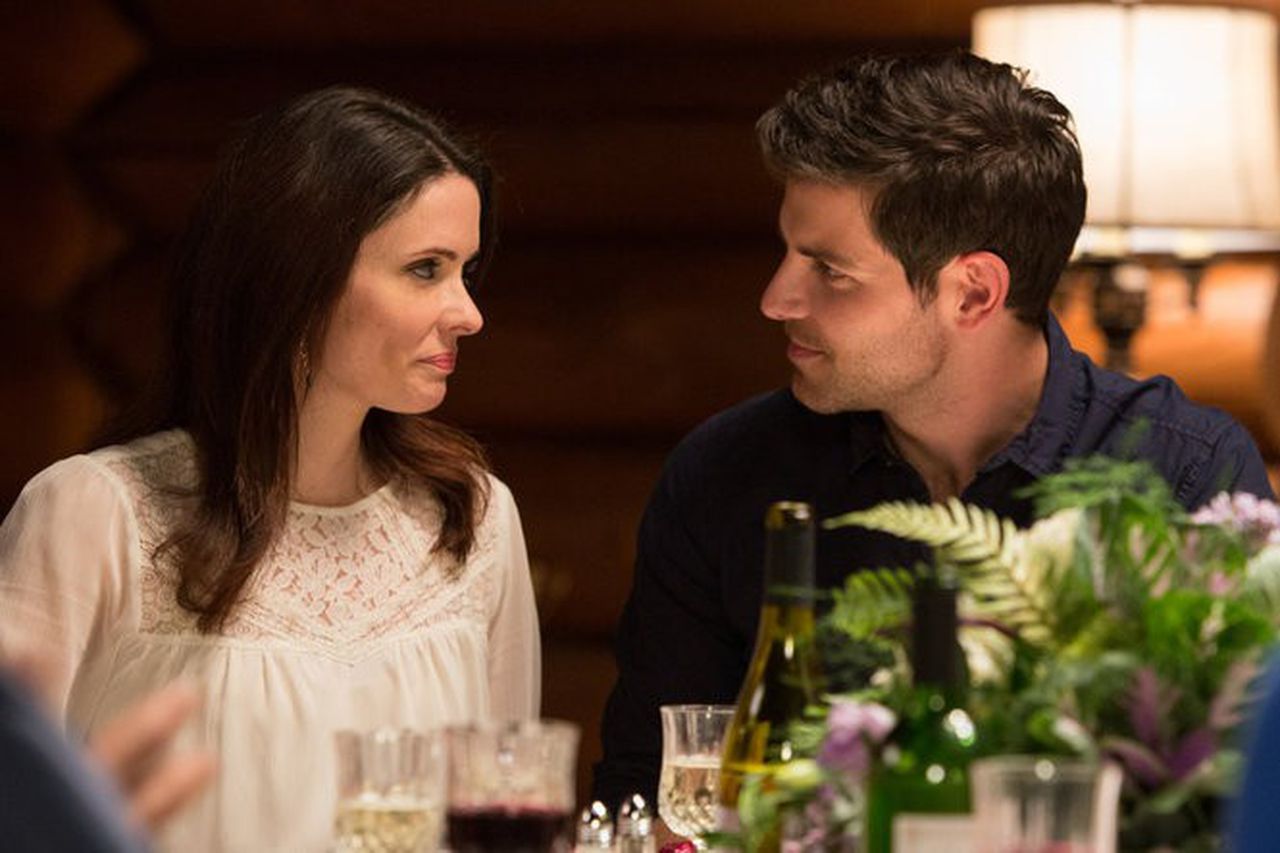 Grimm also starred Filipino-American actor Reggie Lee (as Sgt. Wu), who suggested an "aswang" (a Philippine mythological monster) episode that marked the first time a Filipino storyline was shown on American prime time mainstream television.
The actress, whose former screen name was Bitsie Tulloch, added about Grimm: "Part of the reason I really love TV is that with the cast and crew, you are doing it for so long that you really become a family."
"I probably got 10 to 12 text messages from either the Grimm cast or some of the Grimm crew – everyone watched this show's premiere and was still being very supportive."
Elizabeth said about Reggie, who is himself now starring in another series, All Rise, "I think Reggie told you this. I learned a little bit of Tagalog because he speaks Tagalog. He and I call each other 'lub' (love). He is a very close friend of mine and I adore him."
Asked about her great chemistry with Tyler Hoechlin, who plays the Man of Steel in The CW's series and how it plays in the Giuntoli-Tulloch household, Elizabeth answered, "We're so used to it. We're both actors. I never get jealous. I tease David. A little joke I have on Instagram is him because he has a couple of girlfriends or he had an affair on his show (A Million Little Things)."
"But it's not strange. We have a lot of respect for each other in our careers. Part of why this show really works is, I got very lucky with Tyler. We adore each other."
"When Tyler and I look at our schedules, our shooting days and our – we call it day-out days – we get bummed out if it looks like we're not shooting together. Because we have so much fun together."
"I don't know if other people really feel that way about their co-stars. If Tyler and I are shooting without each other, we're FaceTiming each other at least once or twice a day to check in or calling, how's it going?"
"And the chemistry is great. I've never laughed this much with a co-star in my life. I don't take it for granted because that feels like a very rare and special thing we have going on."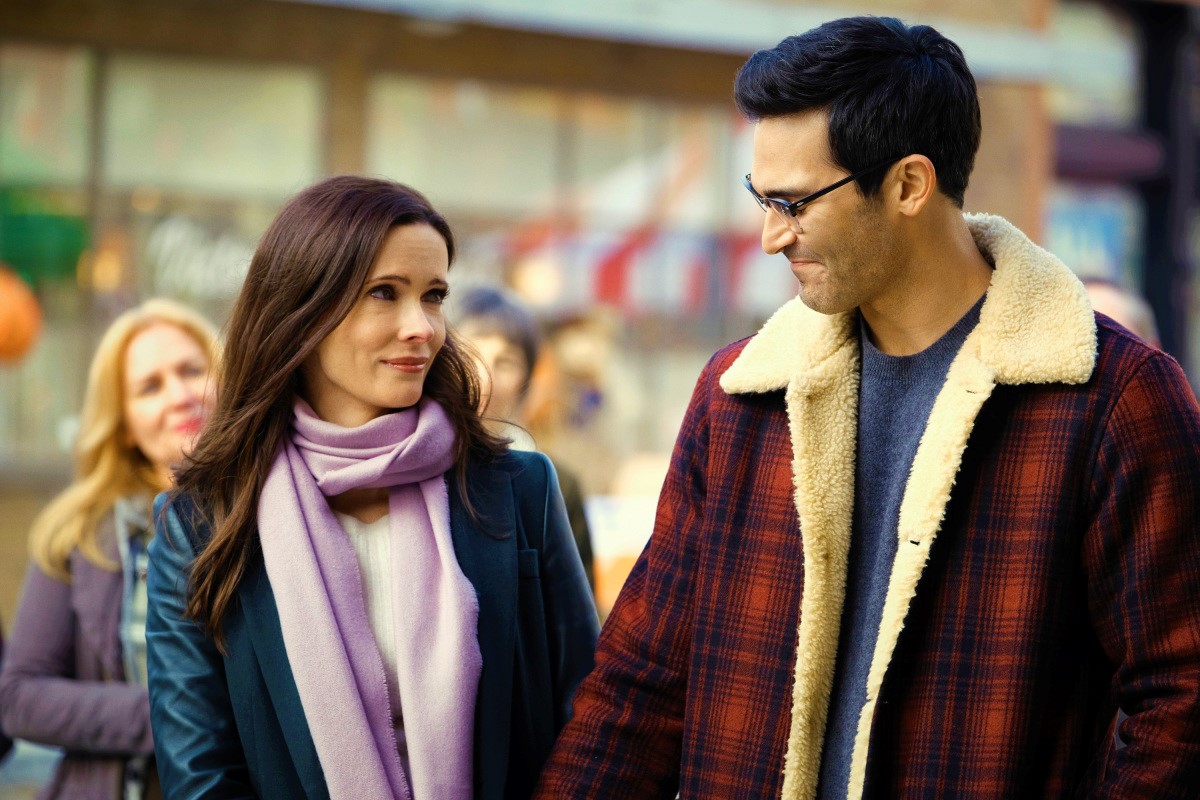 Superman & Lois, a hit with viewers who fell for the series concept, developed by Todd Helbing and Greg Berlanti, depicting the superhero and journalist as parents with two sons in Smallville. The CW already ordered a second season, with the season one finale airing this August.
"Part of the reason I said yes was because it was so different," explained Elizabeth, who played Lois earlier in the TV shows, Supergirl, Batwoman, The Flash, DC's Legends of Tomorrow, and Arrow.
"We haven't seen this iteration or any iteration of Lois and Clark as parents. In the comic books, they have one son who is younger."
"When Todd Helbing sat down with Tyler Hoechlin and me and was talking about his vision for the show, he had sold it to us as a bit like Friday Night Lights with a dash of Superman and Lois Lane and of course, these big set pieces. But at its core, it's a family drama."
"I was really sold when Todd said the boys (played by Jordan Elsass and Alexander Garfin) would be older, would be teenagers because teenagers are so complex. They are both really impressionable but really trying to discover themselves and their sense of self and identity."
"They are on the verge of adulthood so the idea of having teenage boys was really appealing to me because I felt like wow, this story has so many places to go if the sons are teenagers. But ultimately, what sets us apart is the fact that Lois and Clark have been together for a long time."
"It's not really Clark's origin story. They have been married for a while and they have kids. So it's them as parents. To me anyway, it feels very grounded and relatable."
In real life, Elizabeth and David, who were married in 2017, have a daughter, Vivian, born in 2019. So Elizabeth said being a mom to a toddler daughter does not resonate with her current role as the mother of two teen sons.
"I would say no," she said. "I am a mom, I have a two-year-old so it's a very different stage in her life. But I treat her with a lot of respect. I don't really baby her particularly. I have high expectations for her."
"David and I expect that from her. We are really on her case about being kind, generous and polite. And so when I did start interacting with the boys (in Superman and Lois), I realized like Lois treats them with a lot of respect and she takes it very seriously."
"And Clark, raising young men who are going to contribute to the world in a positive way. So it wasn't like I really had to do any research. It was more like, I am going to treat you with respect and I am going to treat you with equal footing."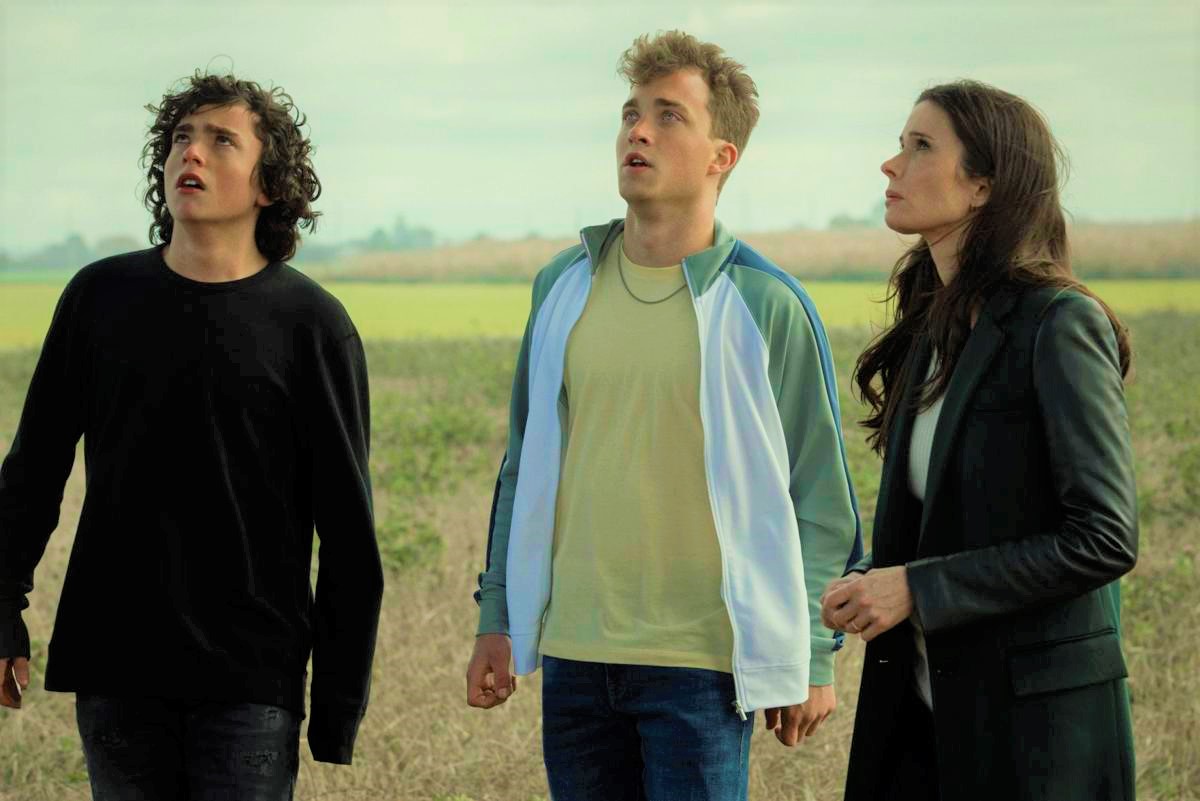 Elizabeth, who recently tweeted that they wrapped up season one, touted that the show is appealing to various ages. The cast includes Dylan Walsh, Emmanuelle Chriqui, Erik Valdez, Inde Navarrette, Wole Parks, and Sofia Hasmik who was recently promoted as a series regular.
She said, "The fact that Tyler and I are a slightly older Lois and Clark – part of what is relatable for an older audience about our show is that you are seeing them with really modern and timely struggles, whether it's lost jobs or one of our teenagers has an anxiety disorder, or like the struggles of the modern world that we are all dealing with, like addiction to social media."
"One of our teenagers [in the show] plays video games all the time. It's hard to shake him into reality. I wouldn't say the show is more geared for grownups, especially with the teenagers on our show and they are freshmen in high school."
"That's a huge storyline and that will be an interesting love story line too, just watching them develop and navigate this massive secret that they are going to have to keep a secret. So I feel like there's a little bit of something for everyone."
The 40-year-old is grateful to have another successful series amid the coronavirus pandemic and to have a shot at tackling a plum part played by several actresses, including Margot Kidder, Amy Adams, Kate Bosworth, and Teri Hatcher.
"It can be really tough shooting right now with all these very stringent COVID protocols. But it's mostly that I am so grateful not only to be working but also to be in such an iconic role."
"The only thing that can sometimes be difficult is because the scope of our show is so big, there will sometimes be days in a row when I don't see my daughter. I go to work before she wakes up and I come home after she's gone to sleep."
"I am FaceTiming with her during the day. Because of COVID, she can't visit me at work. If we weren't dealing with COVID, she could come see me on set all the time. But we can't do that."
"So that's the only time I am like wow, I am struggling right now because I want to smell her, I want to hold her. And she's still so young.  But mostly it's doable and I spend the weekends with her. It's been really a blessing overall."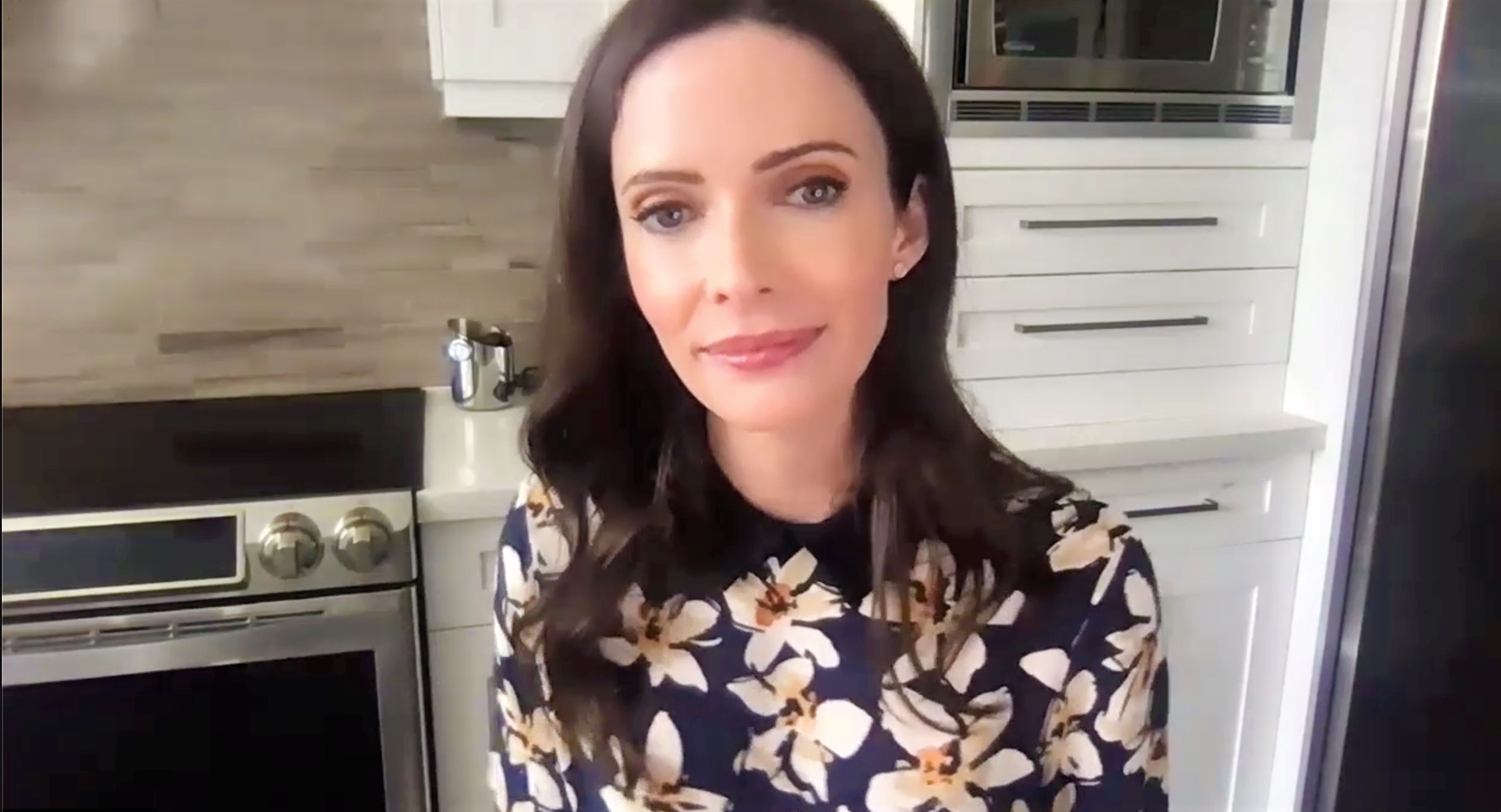 For Elizabeth, whose Lois quit The Daily Planet and is now writing for Smallville Gazette, the supermen du jour are journalists. 
"I am not just saying this because I am playing a journalist," she stressed. "But journalists right now. Especially over the last few years, journalists have been under siege by people I won't mention."
"The media has been under siege. It's like they can't win. So I have a lot of respect and admiration for people who are out there and publishing stories. That can be scary, because they are getting attacked. And then of course, coming off a year of ongoing COVID, the first responders and the frontline workers."
On the enduring legacy of Lois, Elizabeth shared, "She's been around since 1938, yes. One of the reasons why she's been so compelling for decades is that she is very determined, uncompromising and she is really committed to truth and justice above all else."
"When she was introduced in 1938, that was the moment in history when women were typically portrayed as demure, meek or subservient to the men, almost secondary in a storyline. And Lois was never like that."
"So it was very modern back then to have this career woman and that she was so dogged about pursuing her career and putting herself in harm's way. That has never really changed over decades."
"Lois has her own arch nemesis, Superman has his. Lois is dealing with this Morgan Edge character (Adam Rayner), who is this very corrupt billionaire corporate figure doing his best to destroy journalism."
"Lois really embodies the change you wish to see in the world. She is a sort of superhero in her own right. She's just fighting for truth with words instead of super speed, flight or super strength."
Elizabeth said that if she were a journalist in real life, she "would probably want to interview some of the people that have been so important in the last year, like a Doctor Anthony Fauci figure."
Complimented that she resembles actress Geraldine Chaplin in her heyday, Elizabeth replied, "I have [been told that]. I've actually gotten Margot Kidder a bit, especially when I was younger. And I get Katharine Hepburn sometimes. I was in The Artist and part of the reason they cast me [as Katharine Hepburn] was, they were like, she looks kind of more of that period."
As a kid, Elizabeth lived in Spain and South America. Spanish was her first language.
"This is interesting," Elizabeth remarked as she talked about her roots. "My mom's family is Spanish. They came over generations ago and they helped settle San Diego, California. My mom was born in San Diego but they didn't really inter-marry that much. It was very much a Spanish family."
"Then she married my dad who was also from San Diego. My dad is retired now. He was in international investment banking with a focus on Latin American emerging markets."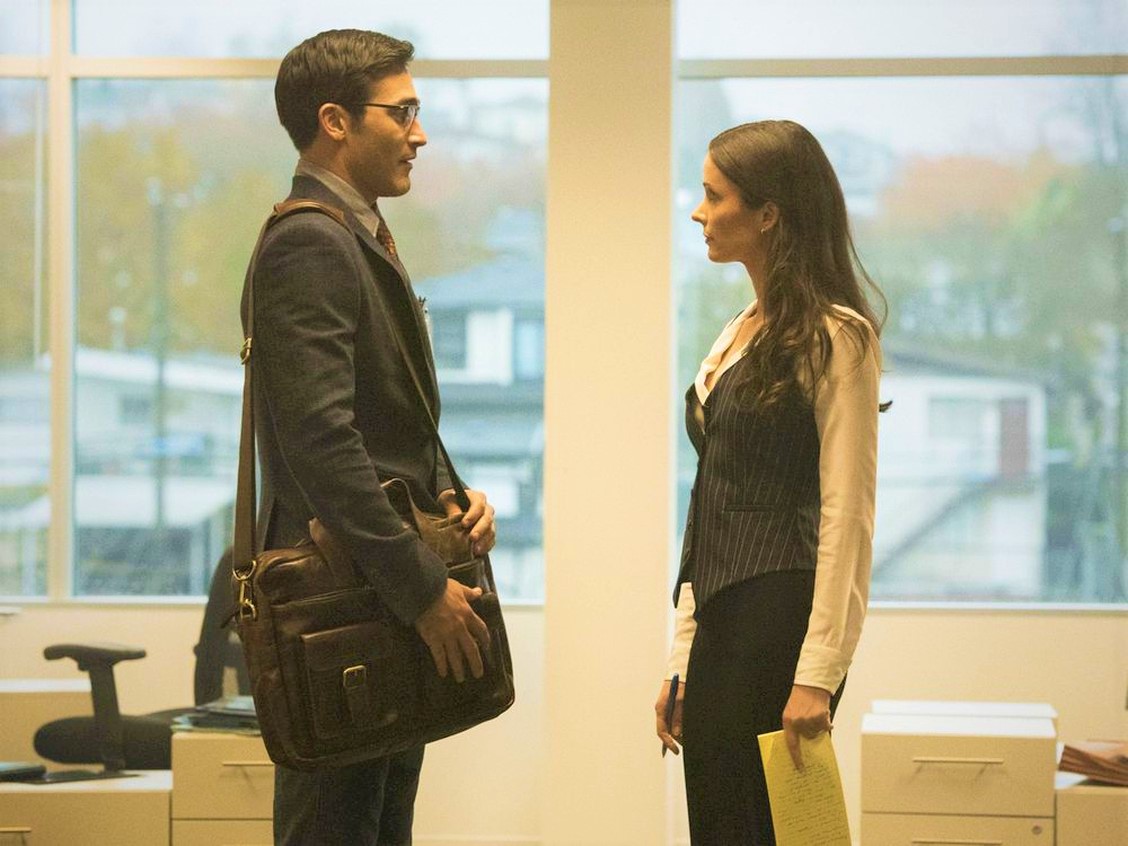 So the work of her dad, who is of Scottish ancestry, took the family to Guatemala, Spain, Uruguay and Argentina, among other countries.
Although she was born in San Diego, Elizabeth said, "When I was a couple of weeks old, we were back to Spain. We were in Spain for a few years and then my dad was working with Bank of America at the time when we moved to Uruguay and then to Buenos Aires."
"By the time I was 10, we were back in the States. Then I went to middle school and high school in Northern Westchester, New York."
Back in the States, Elizabeth excelled in her studies and landed at Harvard where she graduated with a double major. "She's inquisitive and loves to learn," Reggie told me about her friend and former co-star.
"I was extremely academic in high school and in college," Elizabeth recalled. "I double majored in English and American literature and language and visual and environmental studies. My intention at that point was to go get my MFA and to do something with art, like open an art gallery or be a gallerist."
"What happened was, in my senior year doing two theses, it was a lot of work and I was burned out. So my intention at that point was to take a year off before I went to continue graduate school. I had a bunch of friends in LA."
"People get a little confused because Yale's acting program is so renowned. But Harvard doesn't have a theater program. We don't have a theater major. There's a graduate school that's associated with Harvard, for graduate students but undergraduate, there wasn't anything like that."
"So I never acted. I feel like a lot of people I meet, they popped out of the womb doing jazz hands, acted in community theater and all throughout high school and I never did. I wasn't interested in it; it didn't appeal to me."
"So I started late in the grand scheme of things. I took a year off before graduate school and I moved to Los Angeles. I had some friends out there and there must have been a little bit of a seed of curiosity in my head."
"But what really happened is that a girlfriend of mine was auditioning, testing, trying out a bunch of acting classes and she didn't want to go alone. She said, 'Do you want to go with me?' And we went to a few and I found them very boring and the material was just silly."
"Then I landed in the hands of a teacher who probably saw how academic and heady I was. She gave me something really tough to do. It was a Clifford Odets play called Golden Boy. And it was really difficult."
"It was so different from academia, which was something that was easier for me than just that challenge. I was so nervous. In a weird way, it was a really intoxicating feeling like, I don't know how to do this. I don't think I can do this. I probably suck."
"I studied theater for a couple of years in LA. So I told the graduate school I wasn't going to go. I studied theater with this teacher for probably a year and a half."
"Then almost right off the bat, when I started auditioning, I booked the series lead for Ed Zwick and Marshall Herskovitz who have been Academy Award and Emmy Award winning producers."
The two producers behind My So Called Life, Once and Again and Thirtysomething, gave the Harvard alumna her first big break.
"They pulled me out of oblivion and gave me this wonderful role in a show called Quarterlife that was short-lived. The rest is history. But it is an unusual story to really have started acting professionally closer to my mid-twenties."
Elizabeth smiled when she pointed out, "My dad still teases me because Harvard was so expensive. He's like, 'Remind me again why I spent that much money on your education for you to end up in Hollywood acting.' But he is very proud of me." – Rappler.com