'Ang dami kong iniyak sa journey na 'to pero I won't give up ever,' says Nadine Samonte
Nadine Samonte has opened up about her struggles related to her third pregnancy, including nearly losing her baby due to pregnancy complications.
On Instagram, the actress shared a photo showing bruises on her baby bump. "This journey is particularly different from my two kids. We almost lost our baby during my first trimester but with God's grace and guidance, hindi Niya kami pinabayaan (He didn't abandon us)," she said. 
Nadine added that while things are hard, she's still grateful nonetheless. "Every day is a struggle but it's more of a blessing. Feeling my tummy grow every day is what I'm thankful for." 
The 33-year-old expectant mother revealed that she still has polycystic ovary syndrome (PCOS) and antiphospholipid antibody syndrome (APAS).
According to the Healthline website, PCOS is a "syndrome, or group of symptoms that affects the ovaries and ovulation." Women diagnosed with PCOS can have fertility problems and higher risk for pregnancy complications. 
APAS, as defined by MedicineNet, is a "disorder of the immune system that is characterized by excessive clotting of blood and/or certain complications of pregnancy and the presence of antiphospholipid antibodies in the blood."
Despite her condition, Nadine vowed to stay strong for her baby.  "Not complaining but hey, I can say I'm one strong momma here fighting for my babies. Ang dami kong iniyak sa journey na 'to pero I won't give up ever (I shed so much tears in this journey but I won't give up). I'll fight and stay strong for them," she said. 
Nadine also encouraged other moms with the same condition to continue fighting. "Go APAS and PCOS mommas out there. Kaya natin 'to (We can do this)! Hello to our rainbow baby soon," she wrote. 
Several celebrities like Chynna Ortaleza, Lovely Abella, and Chariz Solomon offered messages of support in their comments on Nadine's post.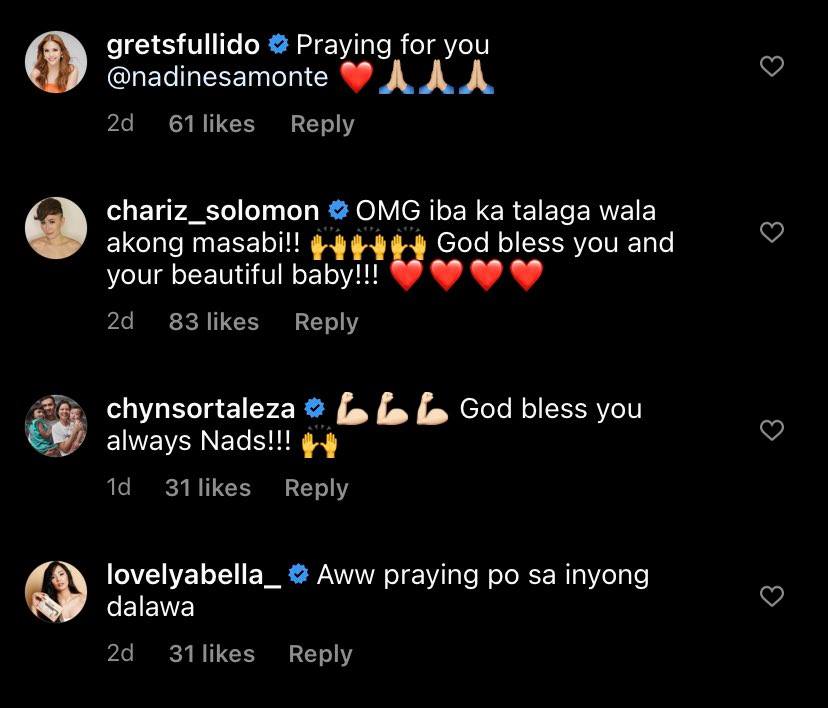 Nadine and husband Richard Chua announced in June 2021 that they were expecting their third baby. 
Nadine and Richard wed in October 2013. They welcomed their daughter Heather Sloane in August 2016 and son Augustus Titus in April 2019.
Nadine entered showbiz through GMA's StarStruck in 2003. She starred in teleseryes Ikaw sa Puso Ko, SuperTwins, and MariMar. – Rappler.com