Rappler's Hollywood correspondent Ruben Nepales shares his first-hand experience at the recent Golden Globes – and more!
LOS ANGELES, USA – I was returning to my table in the International Ballroom of The Beverly Hilton when Lisa Marie Presley and Priscilla Presley arrived from the red carpet media line of the Golden Globe Awards last January 10.
Even in a ballroom packed with A-listers, the two Presley women stopped traffic as they paused at the top of the stairs leading to what they call the pit, the level nearest the stage and where the two ladies sat in a table with Elvis star Austin Butler and director Baz Luhrmann.
When Austin won best actor – motion picture – drama for playing the rock and roll legend who died at 42, he thanked the two Presleys, who were misty-eyed.
Lisa Marie put both of her hands on her face as Austin, eerily still speaking in the voice and accent of the King, said, "I also want to thank our incredible producers and Warner Brothers and the Presley family. Thank you, guys. Thank you for opening your hearts, your memories, your home to me."
"Lisa Marie, Priscilla, I love you forever. You could at least play 'Suspicious Minds' or something…. And lastly, Elvis Presley himself. You were an icon and a rebel, and I love you so much. Thank you. You are all remembered, and I will never forget."
Backstage with the press, Austin, asked what advice he got from the Presleys when he was preparing for the role, answered, "It was less advice and more a feeling of blessing, which meant so much to me."
Imagine my shock when I read online that the only daughter of Elvis and Priscilla died of cardiac arrest just two days after attending the Globes. Lisa Marie, who had her own career as a singer-songwriter, was only 54.
News stories reported that Lisa Marie appeared frail when she was being interviewed by Extra host Billy Bush on the carpet and that at one point, she told Jerry Schilling, her friend and manager, "I'm going to grab your arm."
Riley Keough, Lisa Marie's daughter with ex-husband Danny Keough, and the eldest grandchild of Elvis and Priscilla, is a 2017 Golden Globe best actress – limited series, anthology series, or television motion picture nominee for The Girlfriend Experience. Riley's feature directing debut with Gina Gammell, War Pony, won the 2022 Cannes Film Festival Golden Camera prize.
The New York Times wrote that just four days before she passed away, Lisa Marie went to Graceland, Elvis' famed mansion which she inherited, to commemorate what would have been her dad's 88th birthday.
A representative said that Lisa Marie will be buried alongside her son, Benjamin, who died in 2020, on the grounds of Graceland, where Elvis and other family members are also buried.
Lisa Marie's passing is a sad coda to my notes on the 80th Golden Globes, which marked the return, after two years, of the in-person ceremonies of the awards presented by the Hollywood Foreign Press Association or HFPA to honor excellence in film and television.
Notes from the Globes
The following are my rambling notes of the sidelights and highlights from the red carpet, during the show inside the ballroom and the after-party.
Despite predictions of rain, which was pelting California for a few days, the skies cleared last January 10, as if on a film director's cue, just as the red carpet – well, actually gray in keeping with the pastel motif that the show's producers picked – was about to open.
Dolly de Leon made her entrance on the carpet as the first Filipino best supporting actress nominee (for Triangle of Sadness) in the Globes' 80-year history, not from a limo but at the end of the carpet line since she was staying at the Hilton. So she entered the gray carpet from the other side, the lobby.
After interviews with Janet Nepales (GMA 7) and Yong Chavez (ABS-CBN) and posing for photos with Filipino guests, designer David Tupaz, Geoffrey Jimenez, Desiree Baker, and Benjamin Manansala Cabrera, the actress made her way to the front of the carpet line.
Despite the carpet media line frenzy, Dolly and many of her fellow nominees, stars, and talents somehow got to pose for Hunter Abrams in stunning portraits taken in a room with orange-peach plush drapes and walls.
Dolly was in good company. Among those who had portraits taken were Eddie Redmayne and wife Hannah Bagshawe, Anya Taylor-Joy, Viola Davis, Jamie Lee Curtis, Quinta Brunson, Michelle Yeoh, Matt Bomer, Michelle Williams, Jenna Ortega, and MJ Rodriguez, and filmmakers Tim Burton, Ryan Coogler, and James Cameron.
Walking the carpet again brought back the reporters' occupational hazard – stepping onto the long trains of the talents. This year, among the stars whose voluminous skirts made me extra careful lest I step on their trains included Billy Porter, Lily James, and Jenna Ortega.
James Cameron and Steven Spielberg, chatting and posing for photos, were among the talents who walked the long tented carpet line.
In previous years, I rushed from the red carpet a few minutes before the show began, so by the time I got to sit down at my table, all the dinner plates had been cleared away to make the ballroom ready for the telecast on NBC (Peacock also streamed the Globes this year). In some years, if I was lucky, the dessert plate was still there.
But usually, chocolates are all that's left on the table so I wolfed those down hurriedly before the show began.
This year, I somehow finally had the luxury of sitting down to enjoy the full menu prepared by Matthew Morgan, The Bev Hilton's executive chef. In a first, I got to savor the first course, a grapefruit salad, followed by Icelandic salmon (the vegan alternative was butternut squash) and a limoncello dome for dessert.
On the table were magnum bottles of Moet & Chandon 2012 Grand Vintage and Moet Rosé, plus bottles of red and white wine. Stars usually arrive just in time for the show, so oftentimes, it's just chocolates and champagne for them.
I know that we became aware of the guest stars getting hungry, since their dinner plates had been cleared away, so sandwiches or sushi platters were put on tables.
Winner, winner
The show, hosted by Jerrod Carmichael, started on a moving, emotional note when presenter Jennifer Hudson called Ke Huy Quan as the first winner – best supporting actor – motion picture for Everything Everywhere All at Once.
The first-time Globe winner got many in the ballroom and folks watching at home misty-eyed as he choked up delivering his acceptance speech. Looking also moved was Steven Spielberg who gave Ke, then 12, his big break as a child actor with the Harrison Ford sidekick role, Short Round, in Indiana Jones and the Temple of Doom.
"I was raised to never forget where I came from, and to always remember who gave me my first opportunity. I am so happy to see Steven Spielberg here tonight," Ke said. "When I started my career as a child actor in Indiana Jones and the Temple of Doom, I felt so very lucky to have been chosen."
"As I grew older, I started to wonder if that was it, if that was just luck. For so many years, I was afraid I had nothing more to offer. No matter what I did, I would never surpass what I achieved as a kid. Thankfully, more than 30 years later, two guys thought of me. They remembered that kid, and they gave me an opportunity to try again."
"Everything that has happened since has been unbelievable. [Everything Everywhere… directors] Dan Kwan, Daniel Scheinert, thank you so, so much for helping me find my answer. You have given me more than I could have ever hoped."
According to reader Victor Bowman, Ke is the first Vietnam native to win in the category.
Dolly lost to Angela Bassett (Black Panther: Wakanda Forever), but to hear the Filipina actress' name mentioned in the same breath as Jamie Lee Curtis, Carey Mulligan, Angela, and Kerry Condon was a thrill by itself.
Michelle Yeoh, who became the first Malaysian to win a Globe award – best actress – motion picture – musical/comedy for Everything Everywhere… was just as stirring in her speech.
She said, "Forty years – I'm not letting go of this. It's been an amazing journey and an incredible fight to be here today but I think it's been worth it. I remember when I first came to Hollywood, it was a dream come true…until I got here because look at this face! I came here and was told, 'You're a minority,' and I was like, 'No that's not possible.'"
"Then someone said to me, 'You speak English?' I told them, 'The flight here was about 13 hours long, so I learned.'"
"As time went by – I turned 60 last year, and I think all of you women understand this. As the days, the years, and the numbers get bigger, it seems like opportunities start to get smaller as well."
"Then came the best gift: Everything Everywhere All at Once." But as piano music started being played to remind her to wrap up her speech, she quipped, 'Shut up, I can beat you up! And I'm serious.'"
"This woman resonated so deeply with me and with so many people because whatever universe she was in, she was fighting for the love of her family…. This is for all the shoulders that I stand on and all the people coming with me on this journey going forward."
NBC News cited Michele's "shut up" quip as having a "deeper meaning" for "Asian women, who contend with historical pressures from within the community and beyond to make themselves small."
The news story quoted Catherine Ceniza Choy, author of Asian American Histories of the United States, as saying, "We saw Michelle Yeoh take up space and insist on using her voice. We have to live with these stereotypes and expectations of being demure and diminutive on the daily. So to witness that on such a big stage of something like the Golden Globes was profound."
With M.M. Keeravani and Chandrabose winning the best song award for "Naatu Naatu" from RRR, beating heavyweights Taylor Swift, Rihanna, Lady Gaga, and Alexandre Desplat, it was a big night for Asian representation.
Steven Spielberg, who won his third Globe best director – motion picture trophy for The Fabelmans, which also won best motion picture – drama, was touching as well in his remarks.
He said about The Fabelmans, which was inspired by his growing up years as a budding filmmaker, "I put a lot of things in my way of this story. I told this story in parts and parcels all through my career. And my wife Kate [Capshaw] was always saying, 'You have to tell this.' During COVID, I didn't know if any of us were going to have the chance to tell any of our stories again."
"Everything I've done up to this point has made me ready to finally be honest about the fact that it's not easy to be a kid. Everybody sees me as a success story…. But nobody really knows who we are until we're courageous enough to tell everyone."
"I spent a lot of time trying to figure out when I could tell that story, and I figured out when I turned 74 years old. I said, 'You better do it now.' And I'm really, really happy I did."
I have never tired of watching the interactions during the commercial breaks when the stars and power brokers rise from their chairs and schmooze. When the show resumes, the talents quickly take their seats, and the room is back to normal, like magic.
Cited as the most affecting encounter during a commercial break was when Ke and Steven Spielberg, who ended up being both winners, embraced tightly. The veteran filmmaker reportedly told Ke, "I'm so proud of you!"
Although Brad Pitt, nominated for Damien Chazelle's Babylon, lost to Ke, he was the man du jour on the pit. Just the sight of the handsome actor, who was seated beside his Babylon costar and fellow nominee Margot Robbie, stopped the winners and presenters midway into their acceptance speeches:
Quinta Brunson: "Comedy is so important to me. Comedy brings people together. Comedy gives us all the same laugh…. Hey, Brad Pitt."
"He's right there!" she told her Abbott Elementary team on stage.
Regina Hall: "Hi everyone. Sorry about this. Um, I think they got my name wrong. Yeah, it's Mrs. Pitt. Brad is right here, so I'm so sorry, honey."
Austin Butler to his Once Upon a Time in Hollywood costar: "Brad, I love you."
Harvey Guillen, the voice of Perrito in Puss in Boots: The Last Wish, paused in his presenter spiel to wave at Brad.
The dashing object of all this unexpected attention from the stage simply laughed each time.
Easily one of the most uproarious quips onstage was by Cecil B. DeMille awardee Eddie Murphy, who shared his blueprint for success: "It's very simple, just do these three things: pay your taxes, mind your business – and keep Will Smith's wife's name out your f***ing mouth!"
That had the whole ballroom erupting in laughter as Eddie left the stage.
Backstage in the photographers' room, one of their favorite moments was when Paul Walter Hauser lay down, like a Botero reclining figure, on the platform with his best supporting actor – television limited series/motion picture trophy (for Black Bird).
Earlier, on the carpet, he surprised folks on the bleachers when he suddenly appeared with them.
When the show ended, guests trekked one floor down to the poolside for the after-party presented with Billboard. As in previous years, a temporary floor covered the pool to create the perfect outdoors bash setting.
If Brad was the prom king inside the ballroom, Jennifer Coolidge was the prom queen at the after-party. Holding her best supporting actress – television limited series/motion picture (for The White Lotus) trophy above her head, she was surrounded by many guests who wanted to congratulate her.
Just how fun and joyous was the affair? As Janet and I were talking to HFPA's interim CEO, Todd Boehly, a friend took our photo. We were not aware that there were two photobombing dudes beside us.
When we looked at the snapshots the following day, the photobombers turned out to be Top Gun: Maverick actors Glen Powell and Lewis Pullman.
No doubt the after-party's great mood was because Billboard knows its music. Deejays, singers, and even a man playing the saxophone as he walked around got the guests in a dancing mood.
Also a draw for the newly minted Globe winners like Ke, The White Lotus' Jennifer, and Mike White was the trophy engraving station.
Among the partygoers were Jenna Ortega, Salma Hayek, Evan Peters, Jeremy Allen White, Donald Glover, Tyler James Williams, Seth Rogen (who rocked throughout the night in a powder pink suit by Dior), and Seth's wife Lauren Miller.
Reunited with Christian
To cap my coverage of the 80th Globes, the return of the live show meant I got to see Christian Moralde again, having the coolest job of the night – getting the stars to the stage.
The Filipino American actor, who also works as a talent flow coordinator, passed by my table several times, with stars, including Hilary Swank (pregnant with twins with her husband, Philip Schneider) and Ana de Armas, following behind him to take their turns as presenters onstage.
The Arizona-raised Christian, dapper in a jacket by Crown Chic Vintage Clothing, said about working on the first awards show of the year and of the awards season – in person again after the pandemic era when most of the shows were virtual or hybrid virtual and partially in person: "It was great to be back – kind of like coming home to normalcy and familiarity."
Christian, who works in most of the top awards and live shows in Hollywood, enthused about the Globes, which is often described as Hollywood's party of the year.
"I've always loved the Globes," he stressed. "What people see during the broadcast, the party-like atmosphere, is actually how it feels in the ballroom. It feels more celebration than a ceremony. The Globes have an infectious energy that is all-inclusive and exclusive."
Also an event host and a philanthropist, Christian said about the hurdles of working in the top shows: "It's all the challenges that come with a live show. We have to be on top of every detail to ensure every target in terms of time is met, and there's no room for error."
"Every person, be it presenter or nominee, has to be exactly where they need to be when they're needed. But to my previous point, to do it in such a way as not to disrupt the levity or atmosphere of the event."
I asked how he manages to keep smiling and relaxed when I see him working in these fast-paced, pressure-packed live shows: "That is a thoughtful sentiment, thank you. I feel that it has always been a privilege to be at the show. The fact that I am there versus countless others who want to be is an honor that is never lost on me."
Christian, who wears many hats, revealed some of the stars and talents he enjoys working with. "There are so many – Jessica Chastain, Henry Winkler, and Hilary Swank are always great."
"Jennifer Coolidge is another one. I've known her for quite some time – we met in 2006. I had a one-on-one interview with her for her film For Your Consideration for a network I was doing on-camera work for at the time."
On three of his most memorable work experiences, Christian answered, "There are truly so many. One memorable experience occurred years ago when I played double duty at the Emmy Awards. I started off interviewing nominees and presenters for the pre-show and jumped right into my talent position for the actual show."
"Other unforgettable experiences include watching the monitor at the 2017 Oscars with Jamie Dornan with complete disbelief in the La La Land and Moonlight mix-up. I had the same sort of disbelief at last year's Oscars with 'the slap.'"
An evening of gladness
As if the Globes night was not heady enough, the following evening, January 11, Filipino and Asian creatives attended an "Evening of Gladness" for Dolly.
In the pool area of the beautiful home of multiple Emmy Award-winning producers Peter Brennan and Lisa Manibog Lew Brennan (former Miss Philippines International), actor CJ Uy led a serenade of "Hello Dolly" to a beaming Dolly. Vincent Nebrida cleverly tweaked the classic song's lyrics to salute the honoree.
Janet and I had the honor of introducing Dolly whom we first met at last year's Cannes Film Festival, where it all began for her.
Organized in just a short time by Lisa and Cindy Sison, LA-based head of international sales and acquisitions of TBA Studios (which released Triangle of Sadness in the Philippines), the bash celebrating the trailblazing Filipina actress drew a great mix of talents and executives, including Reggie Lee, the Basco brothers (Dante, Dion, and Darion), Kamran Lucas (Cindy's talented actor son), Bryan Geli, Marie Jamora, Quark Henares (who told us he was on the same LA-bound flight with Dolly), Ben Bulatao, David Tupaz, and Joey Galon.
Other guests who toasted Dolly included: Amazon Originals' Erika North and Raphael Phang, dick clark productions' Melissa Bella Montemagni (yes, we need more Filipino Americans in key positions in Hollywood), Winston Emano, Redband Media's Mark Bella, Yong Chavez, Dino Thee Ray Ramos, Inside Edition's Fil-Am correspondent Victoria Recaño, Netflix's David Ninh, Michele Josue, Faith Santilla, Anna Liza Recto, Jennifer Peat, and Extra TV's Theresa Coffino.
More Hollywood figures graced the occasion: Andy Cheng, James Lew, Philip Rhee, Sean Rhee, and Peter Kwong. Our daughter, Lionsgate's Bianca Nicole Nepales Gervacio, came with her cousin and Janet's nephew, actor John Medina.
The sprawling home above Sunset Boulevard, formerly owned by Guns N' Roses guitarist Slash, pulsated with music by DJ Don Requejo, and offered delicious food whipped up by chef Victor Cardet with Daniel Dickerman and Gabriel Avenna, and featured a bar manned by Brandon Polley. An entire table groaned with sweets by Philip DeBevoise's Dolci Fine Desserts, including a photo cake bearing Dolly's face.
As a result, Dolly, Adam Kersh, and Jennifer Beaton (her manager and agent, respectively), stayed much longer even though they had another event to grace.
Dolly capped her busy week in LA with two more events, both on one day, Saturday, January 14. The first stop was the Four Seasons Hotel tea party by the British Academy Film Awards (BAFTA), which included Dolly in its longlist for best supporting actress (the nominations will be announced on January 19).
Among the guests were Till actress Danielle Deadwyler (both she and Dolly, buzzed for Oscar nominations, posed for a photo), Michelle Yeoh, Janelle Monae, Angela Bassett, Ke Huy Quan, and Guillermo del Toro.
Dolly, who gets many Hollywood talents excited when they see her (that's the power of her performance in Ruben Ostlund's film), proceeded next to the Los Angeles Film Critics Association (LAFCA) Awards which previously announced her and Ke as best supporting performance winners.
In her acceptance speech at the ceremonies held at The Biltmore Hotel, Dolly said, "I've been acting for 33 years and often played nameless characters, and sometimes lineless characters. I've thought of quitting so many times. But that's changed, thanks to you, LAFCA."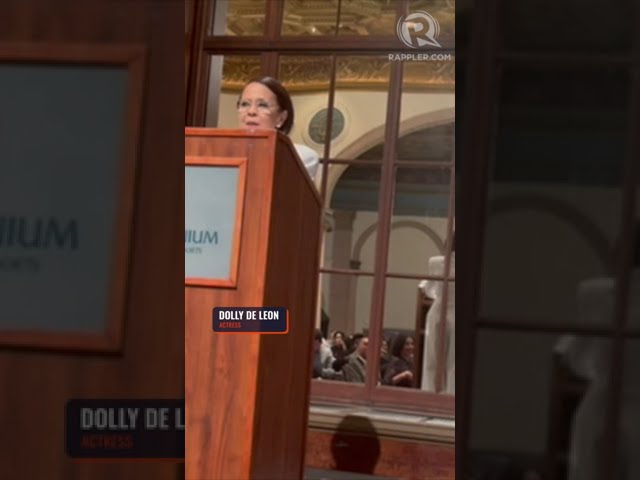 Dolly's photo with Cate Blanchett (another actress garnering Academy frontrunner buzz), who received the best lead performance certificate for Tar, is everything. In their first meeting, the two actresses amusingly posed beside an "out of order" sign in the ladies' room.
Dolly has more busy weeks ahead. In March, she will play Jason Schwartzman's not-so-nice stepmom in a comedy by director Nathan Silver. I heard other exciting details about this project and others but for now, my lips are sealed.
At the rate things are shaping up, it will be a year of gladness for Dolly. – Rappler.com