This is AI generated summarization, which may have errors. For context, always refer to the full article.
'Being in a Marvel movie was one of those things that I wrote in a notebook when I first moved to Los Angeles, and never in a million years did I think that dream is going to come true,' the Fil-Am actor says
LOS ANGELES, USA – From a TV sitcom to the Marvel Cinematic Universe is quite a jump for Nico Santos.
"I never, in a million years…. Just growing up in the Philippines watching movies like this (Guardians of the Galaxy Vol. 3) at Greenbelt (Makati)," Nico said in our recent Zoom interview.
Landing a role in an MCU movie is especially sweet – and very well-deserved – for an actor like Nico, who in our earlier interview, recounted his tough times trying to make it. He was flat broke, crashing on a friend's couch.
A big break on NBC's Superstore and a well-received role in Crazy Rich Asians helped pave the way for Nico to land Guardians of the Galaxy Vol. 3 and several coming projects.
The following are excerpts from our video interview.
Can you talk about now being part of the Marvel Cinematic Universe, a remarkable step in your journey as a Filipino actor in Hollywood, who began, as you told me in our earlier interview, as flat broke, deep in debt, and sleeping on a friend's couch that turned out to be infested with bedbugs?
Bedbugs. Yes. Oh my God. So, I am pinching myself every day that this is what my life is right now. Being in a Marvel movie was one of those things that I wrote in a notebook when I first moved to Los Angeles, and never in a million years did I think that dream is going to come true.
I've felt very lucky in my life and my career that I've been able to be part of such amazing projects, like being in a Marvel movie seemed like one of those things that I was like, well, I don't know it's going to happen.
But it has and it's incredible. I never, in a million years…. Just growing up in the Philippines watching movies like this at Greenbelt (Makati). We grew up watching these Hollywood movies and it seemed like such a faraway thing to be able to be a part of.
And the fact that I am here in the US now, being in a Marvel movie, being part of projects like this, I'm very grateful. I don't take it lightly and I'm just really thankful for the opportunity.
What can you tell us about your character, Recorder Theel, in the context of the Marvel Cinematic Universe and Guardians of the Galaxy world? And he is a mad scientist, as some have described him.
Yes. So, I play a character named Recorder Theel who is sort of one of the High Evolutionary's henchmen. The High Evolutionary is the big villain in the third Guardians of the Galaxy movie.
And yes, so I play this evil henchman, an evil scientist that does his bidding. It's a really different character for me to play. I play a very evil person.
I've been getting a lot of messages from strangers, friends, and family who are like, "I hate you so much." Because they've never seen me be so evil. But I guess if they hated me that much, that means I did my job well.
Did Chris Pratt offer any tips or advice about working with harnesses and wires?
Oh yeah. Everybody, not just Chris but the entire stunt team – they were really instrumental in making sure that I was comfortable. When you wear that harness, it goes on your legs and it's like wearing…it just impedes on all your parts, if you know what I'm saying.
So, the stunt team and Chris were really good about, "If you just put your weight on this side, it's not going to hurt…" I'm like, okay, I got it. Thank you for that tip because I was losing oxygen there.
Can you talk about working with Dave Bautista, Miriam Shor, and Chukwudi Iwuji?
Dave and I really only had that one scene, not to give any spoilers. But we did get to chat a little bit more at a cast dinner after we wrapped. And it was really nice to have a fellow Filipino on a project of this size.
And also, just to meet him, this huge Filipino American star who's done so well for himself. So obviously we have that Filipino pride when we meet another who's really out here making it. So that was a really fun experience.
But working with Miriam and Chuk was incredible. They were my main scene partners in this movie, and I think, especially for me, I had a set notion of what I wanted to do for my character.
It wasn't until I was on set and acting alongside Chuk and Miriam that some of the pieces fell together because Chuk just gives an incredible performance. There were multiple times when I had to snap out of it and remind myself that I was in the scene with Chuk and Miriam because they were both just really such incredible actors.
And yeah, I really just had to be like, you're working right now, make sure you're paying attention because they were just so great. So for me, probably one of my highlights was just being able to work with the two of them.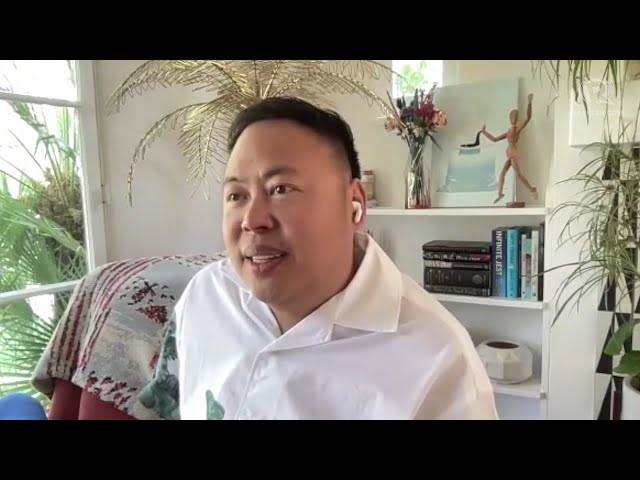 Let's talk about your costume and then hair and makeup. Let's tackle the costume first. How much fun did you have wearing that white costume? And describe your collaboration with the costume designer, Judianna Makovsky.
The costumes were amazing. I have a background in costume design for theater so it's part of the process that I enjoy and look forward to whenever I step into a new production. So, during my first fitting, I was speaking with a costume designer and she was like, "Have you seen renderings of what you're going to look like?"
And I was like, I had no idea. All I knew was the name of my character and that he was sort of a bad guy. And then all this stuff. And at that first fitting when she showed me the rendering, I really was like, oh my God. Everything started to click for me, how I wanted the character to be portrayed.
Costumes and makeup just inform so much about how you're going to portray your characters. So, I really enjoy that process. And with the makeup, prosthetics, and stuff like that, that was this whole other amazing process as well because they have to put you in a cast.
So you're put in this sort of really claustrophobic goo and then you have to sit there for an hour just to make it so that they have a cast and then they build it around you. But the whole process of getting into the prosthetic and the makeup probably took about two to two and a half hours every day.
And it was a really wonderful way to get into character because usually when you're portraying people, you really have to work from the inside out to bring the character to life. But with this character, they're putting it on you piece by piece and then at the end of that two hours, all of a sudden you look like a completely different person.
So, I know this is really quick to be able to transform into that character because immediately, you're like, oh, well, that doesn't look like me. I am a completely different person.
How long did it take for the hair and makeup? What time did you start? And how did you deal with all that time sitting or lying down?
There's not much you can do while you're being made up. Because you have to sit a certain way, make sure that your eyes are in a certain spot, you have to follow the cues of the incredible visual effects makeup artists who work on you and just follow their lead of like, "All right, hold your breath. We're going to start painting you here and we're going to start putting this on."
In the beginning, you're figuring each other out and figuring the process out. So, it took a little bit longer, but by the end of the shoot, we shaved it down from two and a half hours, two hours and 45, to two hours because we were already in sync with each other.
But yeah, there's really nothing much you can do but just sit there and go through the process. You can't really be on your phone that much.
Without giving away spoilers, can you talk about working with Chris Pratt? Let's just say, how was it like hanging on wires with Chris Pratt?
That day on set was a lot of fun. I knew the scene was coming but I honestly didn't know how we were going to film the scene, or I think I had naively assumed that it was all going to be stunt people doing the scene.
So when I walked into set, they were like, "All right, we're going to put you in wires and here's the harness." I was like, "I'm going to be on the wires and I have to put the…? Oh, okay." So, it took me a second to be like, all right, here we go.
But I love experiencing new things and being in this environment and having to tackle the scene was…I don't know, it was a lot of fun because it's just so different from what I usually do. So yeah, I mean I know I keep saying it was fun but there's really no other way to describe it.
I felt like I was watching myself from the outside of just, I can't believe I'm getting paid to be on wires with Chris Pratt right now. It's like insane.
What was your experience like working with director James Gunn?
It was incredible. James is such a collaborative and welcoming director. You can really tell that he is a fan of this genre, that he's very passionate about this story that he's trying to tell and everybody just made us feel welcome on set.
It's hard to step into these productions, this franchise – they've all been working together for close to 10 years. They all have shorthand with each other. And so, walking into a set like that can be very intimidating but everybody made us feel welcome.
James Gunn especially made us feel like no question was too stupid. There were no stupid questions. Whatever we needed for us to be able to achieve the scene more easily or portray the character more easily was given to us.
It was like being welcomed into somebody's home. It really was such a collaborative and fun process to do.
How much do you miss Superstore? And do you miss your character, Mateo Liwanag?
I miss Superstore so much. Oh my gosh, Superstore will always hold a very special place in my heart. It was my big break. The cast and crew – we are like family. I love those people so much.
If that show went on for a hundred seasons, I really would have loved to just be around my friends. That is the thing I miss the most – being able to work with your friends. It was such a wonderful experience.
Can you give us an update on being gay, Asian, and Filipino in Hollywood? Have things improved as far as roles and opportunities are concerned?
The fight for visibility and diversity isn't a one-shot thing. Just because we were able to make Crazy Rich Asians doesn't mean that we've solved the problem of Asian representation in Hollywood. Just because there are movies like Bros does not mean we've solved a problem with representation in Hollywood.
It's always going to be two steps forward, one step back. And I really, truly believe that the real way to create maybe a more permanent change is, once there is diversity behind the camera with the executives who have the power to greenlight the projects, once that structure is more diverse, I think that's when we're going to see real change.
Because even now, seeing all these projects that are diverse and all that, it's still a struggle to get them made. People are still questioning you. People who are not of your experience – white, straight old men who are the gatekeepers of this industry are still questioning, "Why this story? Why do you have to tell the story?"
And until those people are replaced by people who look like us, sound like us, have gone through our experiences, that's when the real change is going to happen.
Any word on your participation in Crazy Rich Asians 2 which may or may not be filmed in the Philippines? What have you heard? Can you also give an update on what else is next for you, including the films Happiness for Beginners and The Re-Education of Molly Singer?
I don't know anything about Crazy Rich Asians 2. We are all waiting with bated breath about when we're going to start that. I know the cast and the crew are just really eager to work together again.
And Jon (M. Chu) as well – he also wants to make sure that the script is correct before they move forward with the sequel. But I haven't heard anything about it filming in the Philippines. I hope it does.
I would love to go back to the Philippines and work in the Philippines. That would be amazing.
As far as my two other projects, I have a Netflix movie coming out called Happiness for Beginners. That's with Ellie Kemper and Luke Grimes. And it's a fun outdoorsy movie about Ellie Kemper whose character was recently divorced and she's attempting to reset her life.
I play one of the people in the hiking group that has to hike the Appalachian Trail with her. My character maybe isn't the best at hiking.
And The Re-Education of Molly Singer is this indie comedy that I filmed with Britt Robertson and Wendie Malick and a slew of other amazing people. There was an '80s movie called Back to School with Rodney Dangerfield.
It's along the lines of that story but with a female protagonist. But that was also a lot of fun to make. We just got to improvise a lot in that movie and it was a blast. – Rappler.com