'I don't want it to look like I'm hiding or I don't want it to look like I'm not happy because I am'
TV host Raymond Gutierrez revealed on Sunday, August 1, that he is gay.
In an exclusive interview with Mega Magazine, Raymond opened up about the struggles he faced coming to terms with his sexuality and why he decided to come out publicly.
"Growing up, it was hard for me to even acknowledge who I am. Like, what is this? I had my brother who was so similar to me but so different in so many ways. But he never had to explain his sexuality, so why should I? And that was my thinking growing up," he said.
Raymond, the twin brother of actor Richard Gutierrez and son of celebrity couple Eddie Gutierrez and Anabelle Rama, added that he had to consider how his sexuality would affect his family's image. "Being part of a family that is in the public space – we're all entertainers for many generations already – I wasn't deciding on things just on my own. Things that I do will not only affect me, but will also affect my family. So, that was kind of like the burden that I was carrying."
He also recalled that he was even bullied when he was starting in the TV industry. "Being gay now is not the same as being gay back then. Ten years ago, it was totally different. You feel like a mutant. You walk in to backstage and people will say, 'Ah, diba 'yun 'yung baklang kapatid ni Richard (Isn't that Richard's gay brother)' Like I can literally hear them."
"I was still going through so many emotions at that time that I had no idea. Like, 'Can I go through this first before you label me anything?'"
But Raymond realized that he owed it to himself, his family, and his friends to be true to himself. "As I grew older and as I matured, I realized that the best thing that you can really offer your family is to be yourself. So drop the cloak, drop the act; just be yourself."
"I'm lucky because my family wants nothing but the best for me. They always just want me to be happy…. I had friends that are like family to me. My chosen family who made it much easier to kind of realize that it's never too late to love yourself, it's never too late to acknowledge those feelings, and face your fears."
He added, "I am out to a lot of my close friends and I'm lucky that I have that support system around me to give me the confidence to really accept who I am and to love myself."
While he's already open with his sexuality to his family and friends, Raymond said that he has also decided to come out publicly. "I don't want it to look like I'm hiding or I don't want it to look like I'm not happy because I am."
"I'm here to formally say that I am a proud member of the LGBTQ community. And it feels great saying that publicly because I am," Raymond said.
He also hoped that his story would inspire others to not rush with defining what they feel. "I want to be an example to the next generation who are struggling, who are feeling suppressed to take time in finding themselves and being happy with themselves. For me, it's—sexuality is just one aspect of who you are. It doesn't define who you are."
Several celebrities and industry friends wrote messages of support on Raymond's post. Anne Curtis wrote, "I'm so proud of you," while Bubbles Paraiso said, "Always supporting you, and this will empower more people to come out in the open, to talk about who they really are."
Richard, Sarah Lahbati, and Lorin Gutierrez also shared their love for Raymond.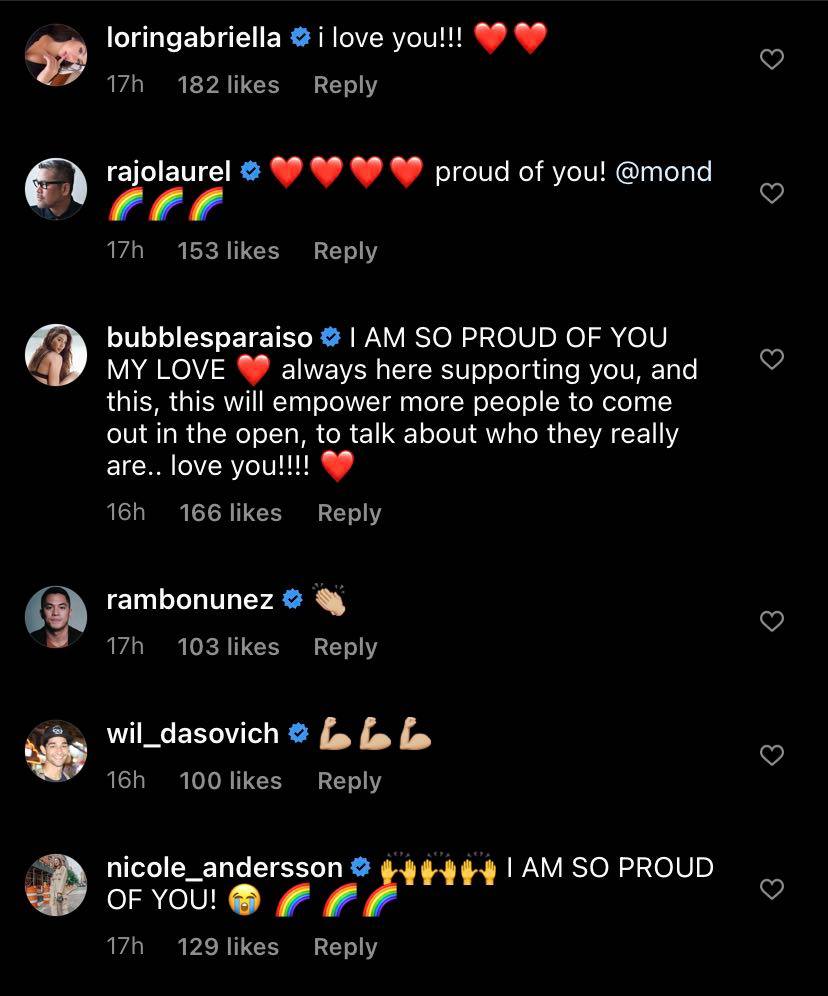 Raymond Gutierrez, 37, is a host, endorser, columnist, and entrepreneur. He starred in the reality TV series It Takes Gutz to be a Gutierrez. He also hosted GMA's Starstruck, Pinoy Idol, Showbiz Central, and TV5's Showbiz Police. – Rappler.com