(1st UPDATE) Kiko has been married to Sharon since 1996, while Tito is married to the actress' aunt Helen Gamboa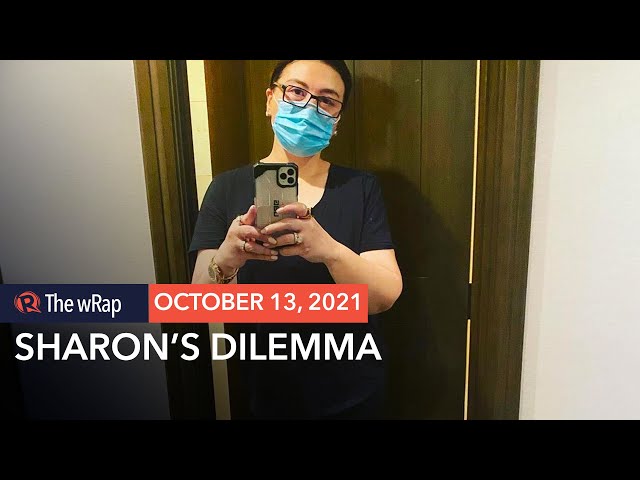 Sharon Cuneta finds herself "in the midst of two rocks" as her husband, Senator Francis "Kiko" Pangilinan, and uncle-in-law Senate President Vicente "Tito" Sotto III run against each other for vice president in the 2022 elections.
"I come home with a happy, but heavy heart. Two men I greatly love – one whom I have known since birth, and the other, one I exchanged solemn vows with twenty-five years ago, are about to vie for the second highest position in the country," she wrote on Instagram on Tuesday, October 12, posting after returning home from the United States, where she was visiting her daughter Kakie.
"Once again, I do not know what I could have done so wrong to find myself in the midst of two rocks. What could I, can I do?" she said.
"I pray that after this game called politics is over, that wounds are healed, loved ones do not doubt your love for them, and I and my sisters, especially, the only family I have left besides my own, find our way back to one another's arms, unscathed and free of the pain our battlescars have brought us. It is most difficult for us in the periphery, who never imagined we would be in this position," she continued.
She ended her post with a prayer: "May God bless us all. May God help me through this trying period…Please pray for all of us…"
Kiko has been married to Sharon since 1996, while Tito is married to Cuneta's aunt, Helen Gamboa.
Kiko is seeking the vice presidency as the running mate of Vice President Leni Robredo, while Tito is the running mate of Senator Panfilo Lacson.
Sharon previously showed her support for Leni, posting several campaign images on Instagram, with the hashtag #LabanLeni2022. She also posted a photo of her in a pink shirt – pink is Leni and Kiko's campaign color – on the day that her husband filed his certificate of candidacy.
Kiko himself said it was a tough decision to make since he was considering his family. But he said his wife knew what had to be done.
"Siguro dahil mahal na mahal ni Sharon si Ma'am Leni…nakita niya 'yung kahalagahan na tulungan at magtulungan para nga mahanapan ng solusyon 'yung problema ng bansa," said Pangilinan.
(Maybe because Sharon really loves Ma'am Leni, she saw how crucial it was for us to work together and look for solutions to address the problems of the country.)
This is not the first time Sharon has felt conflicted because of her husband and uncle-in-law's political differences. In 2010, for instance, when both men were in the Senate, she said in an interview that she was hurt that Tito did not support Kiko's bid for the Senate presidency. Juan Ponce Enrile was eventually chosen for the seat. – with reports from Mara Cepeda/Rappler.com