This is AI generated summarization, which may have errors. For context, always refer to the full article.
'I was so delighted to talk about the diversity of content which also includes Filipinos and Filipino Americans. So whether it's food or it's music, film, TV, that was my goal,' says Milken Institute Asia chair Curtis Chin
This story is published in partnership with SoJannelleTV, a magazine show about Filipinos in North America
Curtis Chin had a message at this year's Milken Institute Global Conference, and it was one held by everyone else on his panel, titled "From Asian Excellence to Creative Excellence" – the message that, not only is Asian representation in media and film a positive from a cultural stance, it's also good for business.
"I was so delighted to talk about the diversity of content which also includes Filipinos and Filipino Americans. So whether it's food or it's music, film, TV, that was my goal. It shows the diversity of stories of Asian Americans but how do we get the financing of that?" said Chin in an interview for a segment on So Jannelle TV, which airs US-wide on cable channels The Filipino Channel (TFC) and ANC; as well as on local Southern CA digital channel KNET 25.1; and also available on social media platforms.
Chin knows the Philippines well, having lived there for four years while serving as the 15th United States Ambassador to the Asian Development Bank. Now he serves as Chair of the Milken Institute's Asia operations and is based in Singapore. For the global conference that took place from April 30 to May 3 at the Beverly Hilton in Beverly Hills, California, he assembled a strong panel of representatives from different mediums to discuss the importance and viability of Asian representation, including Padma Lakshmi, Eric Nam, Janet Yang, and Daniel Dae Kim.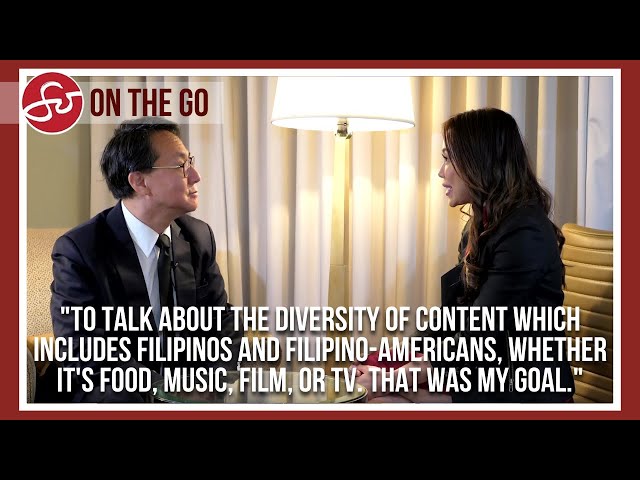 Kim, whose credits include major roles in the TV shows Lost and Hawaii Five-0, says the public can help influence what projects continue to get made.
"If this is the beginning of a movement and not a moment, there needs to be people to take up the mantle. You may not be in the entertainment industry but we all have spheres of influence. We all have wallets, we all have bank accounts where we can support content that you feel strongly about. It's important that we speak up to the things that are important to us, especially as Asian Americans because for so long in this country we've been considered invisible," said Kim.
Yang, the President of the Academy of Motion Picture Arts and Sciences, cited the success of Everything Everywhere All at Once, the Asian-led film which grossed over $140 million at the box office while including Mandarin and Cantonese in the script.
"This is a symbol for sure, a historic one, but again there's so much work to be done because there are many other stories of those who have not had that kind of success who in a more equitable world would have," Yang said.
Filipino-American media pioneer Jannelle So-Perkins who attended the panel and covered the conference, agrees that the time has come to see greater Asian representation in pop culture.
"We need to have visibility and representation because we are everywhere. We are in all the different industries," So-Perkins added.
Asian representation will once again be a top of discussion at the tenth Milken Institute Asia Summit, which takes place in Singapore from September 13 to 15.
"My hope again is that it'll be a mix of content from the world but with Filipino representation," said Chin. – Jannelle So Productions | Rappler.com
Rappler is partnering with Jannelle So Productions Inc (JSP), founded by Filipino-American pioneer and Los Angeles-based journalist Jannelle So, to publish video and written stories from SoJannelleTV about the journeys, successes, and challenges of Filipinos living in America.
Check out So Jannelle TV daily for stories that make you pause, reflect, and appreciate who we are and what we are as a people.
Sundays, 4:30pm PT / 7:30pm ET on The Filipino Channel (TFC)
Mondays, 6:00pm on KNET Channel 25.1 Southern California
Replay on Saturdays, 7:30pm PT / 10:30pm ET on ANC North America
Any time on YouTube.com/SoJannelleTV