Movie critic Oggs Cruz gives a rundown of this year's films and documentaries from the festival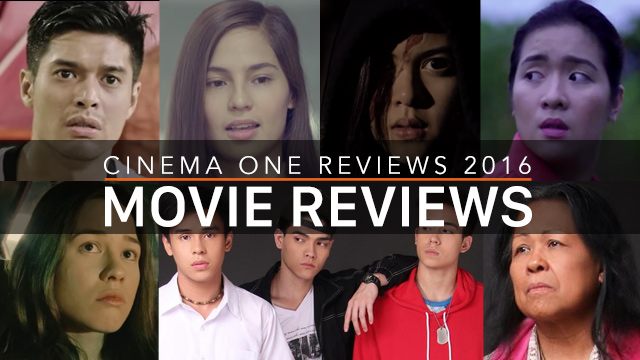 Below, Rappler movie critic Oggs Cruz weighs in on the entries in this year's Cinema One Originals film festival. 
Si Magdalola at ang Mga Gago Review: From forest to city
Jules Katanyag's Si Magdalola at ang Mga Gago is a wild and fun romp that starts in the forest where a grandmother (Peewee O'Hara) lives with her granddaughter (Rhen Escano) who is starting to explore her sexuality. It ends in the city where the same grandmother, who is now accompanied by a vengeful balikbayan (Elora Espano), is wreaking havoc with a gang of drug peddlers. In between is a hodgepodge of all sorts of attempts to marry extremes, resulting in a film that astounds in its brash experimentations on form and narrative. 
While the film is tightly fueled by its very clever concept, it lacks charisma. The film is cheeky. It finds humor in the most unlikely places. However, it is also too impertinent for its own good since it never graduates into anything that is emotionally compelling. It might be because Katanyag's motive is not really connected to emotional heft. Perhaps his goal is to simply weave together all possible tropes to come up with something so unfamiliar that it astounds completely.
Tisay Review: It's a woman's world
Borgy Torre's Tisay has an all too familiar narrative. Tisay (Nathalie Hart), a small-time bookie, becomes romantically involved with an aspiring basketball player (JC De Vera) and her maniacal boss (Joel Torre) who wants her to lure her new beau to fix a match for profit. That is the film in a nutshell. However, Torre's film aspires to more than its simplistic storyline. In between its predictable twists and turns is a portrait of a woman who wears various roles from the whore with the heart of gold to the manipulative schemer – all to play the puppetmaster of the men who fall within her influence.  
Even with its testosterone-laden depiction of a world of low-rent sports, sex-crazed goons, and overprotective patriarchs, the film has women steering the narrative, whether it be Tisay and her unpredictable motives, or the mother whose unfortunate mishap forces her son to become ruthless, or the mayor's wife who is able to tame a monster. 
Lily Review: Men and their urban legends 
Keith Deligero's Lily is a labyrinth of ideas all stemming from a Cebuano urban legend that has been used by parents to scare their children to sleep. The film opens with Manuel Ungo (Rocky Salumbides) in the middle of the forest, out to shoot a sigbin, a mythical creature that is said to grant its hunter unlimited bounty. He fails to shoot the creature as he is blindsided by a pretty lady (Shaina Magdayao). She lures him into a fractured story about men, their inability to commit, and all the women who have been turned to monsters out of abuse.  
Instead of telling the story in a predictable and straightforward way, Deligero creates a mosaic of scenes that center on Manuel's experiences. We see him in Manila wooing a stripper (Natileigh Sitoy) with his manly charms. She eventually falls in love with him, bears him a child, and ends up in a purgatory of tenuous relations. Edited in a way to make it feel like Manuel's irresponsibility is routine and repetitive, the film makes a profound point as to how myths and legends are products of realities made absurd by word of mouth, the passage of time, and man's capacity to cover his faults and imperfections with tall tales and urban legends. Lily bravely exposes the truths simmering beneath the horrors and mysteries.
Malinak Ya Labi Review: Cracks of corruption 
There are profound truths underneath all the cinematic artifice that Jose Abdel Langit drapes Malinak Ya Labi with. At its core, the film is about corruption that exists beneath the cracks that exist in a small rural town. Its conceit of telling a story through the various moral decisions and consequences of its characters is ingenious in that it unravels evil though small steps resulting in grander and more alarming fissures. 
The film unfortunately is rife with needless ornaments, from a frustratingly staggered slow motion sequence that does nothing to explore how interconnected the lives the film attempts to explore to the overused drone shots.
Langit's earnest effort to give his first feature film a certain sheen of sophistication backfires. His screenplay is one that needs a steady hand and a simple vision to work. However, he keeps the film cluttered and busy, ending up with a work that wants to be so many things that it fails to be simply coherent. 
Baka Bukas Review: All dulled up 
Samantha Lee's Baka Bukas centers on Alex (Jasmine Curtis-Smith), a lesbian who is afraid to come out to her best friend Jess (Louise Delos Reyes). Through a series of unfortunately convoluted events, Jess finds out. 
There are films that require roughness to work. Baka Bukas does not even need this, but it could use a subtle edge. Still, the characters remain the bright, bubbly and talkative millennials that they are. The result is a film that has been dulled by its vapid devotion to the pastel-colored romance between its two leads. Lee wastes her intriguing milieu, conveniently latching on to all the tropes and stereotypes instead of adding to it. In the end, the film feels like a non-event, a failed exploration of emotions that are as fleeting as all the words that Lee's characters repetitively deliver. 
2 Cool 2 Be 4Gotten Review: Lessons in history 
Jason Paul Laxamana's screenplay for 2 Cool 2 Be 4Gotten is as intelligent as it is emotionally potent. On its surface, it is a coming-of-age tale of Felix (Khalil Ramos), a high school overachiever whose superiority complex has rendered him friendless. He is forced out of his shell by two newcomers in school, Magnus (Ethan Salvador) and Maximillian (Jameson Blake), half-American siblings with questionable motives. Like most of Laxamana's works, the screenplay borders on darkness. It echoes post-colonial sentiment, reflecting a national attraction for everything and anything foreign notwithstanding moral ambiguities. 
At the hands of first time feature film director Petersen Vargas, Laxamana's screenplay blossoms into a work of gorgeous sentimentality. The tale's darkness is tempered by focusing not on the bizarreness of the tainted innocence the film has in abundance, but on the possibility that whatever attraction and romance that comes out of the characters' explorations are pure.
It helps that Ramos' portrayal of Felix is one that aches with both candor and frailty in the midst of experiences that are brand new to him. 2 Cool 2 Be 4Gotten is a brave debut for Vargas. It is also a testament that prolific Laxamana is one of the most interesting writers working today. 
Every Room is a Planet Review: Love at light speed 
There is no point to trying to decode Malay Javier's Every Room is a Planet. It will only ruin the experience of being inexplicably enchanted by the illogical movement of love and attraction. The film fascinates as a mystery about how love works. Javier offers a view of people falling in love even if they shouldn't. He doesn't offer answers, just vague moods and nebulous interactions that cover his story of a man (Rap Fernandez) who can't help but fall in love with the mentally unstable wife (Valeen Montenegro) of his missing brother (Quark Henares). 
For all its inadequacies as a coherent romance between two unstable lovers, Every Room is a Planet succeeds in capturing the allure of falling in love. Javier dresses the love story in sci-fi trappings, making it feel like the audience is witnessing planets nearly colliding every time the characters attempt to connect at an emotional level. The film's unpredictable temperament is irresistible and engaging. Its stubborn insistence on documenting the enigmatic grooves of forbidden love through telescope lenses is just something to behold, to enjoy.
Forbidden Memory Review: Timely history 
There are stories that deserve to be told. The stories that are Teng Mangansakan's subjects in Forbidden Memory deserve to be told now more than ever. 
In the midst of history being revised for a population whose pastime is to forget, Mangansakan's heartbreaking documentary is one whose importance trumps its many flaws.
The documentary's final few minutes are golden, as they capture the truest of emotions coming from people whose testimonies of pain and torture under Ferdinand Marcos' regime. This documentary proves that history should not only be written by the victors. It should also be written by those in the margins.
Piding Review: Seductive conundrum 
Gym Lumbera and Paolo Picones' Piding is quite a conundrum.
It isn't strictly a documentary considering it follows a fictionalized account of a scientist (Spanky Manikan) who is searching for his first wife. However, it can also be argued that the fictional parts of the film only serve the purpose of enunciating the mysteries of life that Lumbera and Picones attempt to document. They do so through stirring images of arresting landscapes, animals in magical moments, and people acting irrationally.
The film pits science against faith, logic against love, and man-made structures against nature's majesty. Piding is beautifully bewildering. Its obsessions are bewitching. It's almost impossible not to fall for its seductions.   
People Power Bombshell: The Diary of Vietnam Rose Review: Cinema is life
John Torres' People Power Bombshell: The Diary of Vietnam Rose is an immense achievement.
Liz Alindogan only has the deteriorating reels to an unfinished film as memory of the delirious experiences she had under director Celso Ad Castillo. Torres turns those reels into his canvas where he paints Alindogan's story not as a personal tale of strife under the whims of a creative madman, but also as an allegory of a society who has also been taken as hostage by a domineering overlord.
The result is a film of numerous layers, some of which are frivolous, but some immensely profound. People Power Bombshell turns a starlet's many misfortunes in a stalled film set into a start portrait of a nation that is going nowhere at the hands of a self-proclaimed messiah. – Rappler.com
Francis Joseph Cruz litigates for a living and writes about cinema for fun. The first Filipino movie he saw in the theaters was Carlo J. Caparas' 'Tirad Pass.' Since then, he's been on a mission to find better memories with Philippine cinema.