The film festival will run until October 28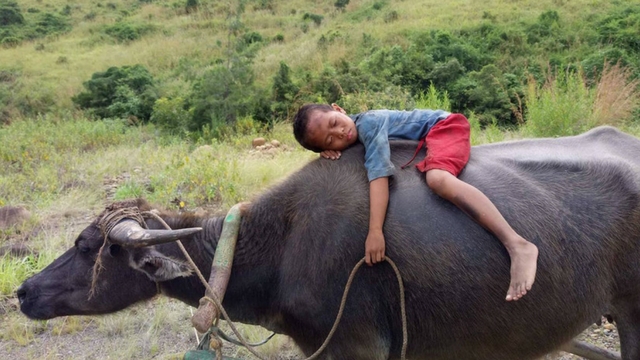 MANILA, Philippines – The QCinema Festival 2017 has had quite the run, and ends on Saturday, October 28. Aside from offering audiences a chance to catch the first fully-painted feature film, Loving Vincent, and a remastered version of the Mike de Leon classic, Batch '81, the festival also included a Circle Competition, which introduced 8 local films to viewers. From marital dramas to Manila noir, the films tell a variety of stories in a variety of ways.
Here are reviews for each film:
Balangiga: The Howling Wilderness: Awe and irreverence
Ever the disruptor, Khavn dela Cruz treats Balangiga: The Howling Wilderness with a judicious mix of awe and irreverence. It is essentially a heartbreakingly tender tale of a boy (Justine Samson) on a journey with his grandpa (Pio del Rio) and the two-year old orphan ward (Warren Tuano) they pick up along the way, 
Deceptively straightforward, Balangiga never loses the urge to stray off the path of least resistance with brutal imagery and vulgar skits if only to portray the inherent madness of war. The effect is tremendous. This is a film that is held together by an unbendable clarity. It can be as clever, impish, and profane as it wants because it knows exactly what it is.
The film has a basis in history. In 1901, after 48 American soldiers were killed by revolutionary guerillas, imperialist America retaliated by massacring most of Balangiga's residents and livestock, and snatching the town's famous church bells along the way. Dela Cruz doesn't strive for utmost realism. In fact, Balangiga is most evocative when it is playful and ponderous, almost imbibing a perspective that avoids or ignores the misery of war to favor the pleasures of ignorance and innocence. This results in something that is both provocative and artful in its harrowing yet oddly elegant depiction of fragile innocence in an age of irrational strife.
Dapol Tan Payawar Na Tayug 1931: An abundance of style
It wouldn't be inaccurate to say that Dapol Tan Payawar Na Tayug 1931, Christopher Gozum's captivated but indulgent take on the life of Pedro Calosa – whose famous uprising is flavored with religious murmurings – is exhausting. Clocking at nearly 3 hours, the film, which is divided into 3 periods set apart by different styles and techniques, eschews ease and comfort to favor its commitment to infuse Gozum's obsession with certain edginess. For sure, it sometimes works. The images that Gozum conjures are rife with motive and intent.
However, after a few cycles of its roundabout procedure of narrating Calosa's life through a reimagined silent flick, then a 60s-era docu-drama, and finally a La Jetee-style narrative photo-montage, artifice quickly overtakes substance. The film lulls and becomes glaringly repetitive and predictable. This isn't to say that Dapol Tan Payawar Na Tayug 1931 is an outright failure. The film has a lot to say and it forgoes subtlety in its many statements. There is definitely power in its unabashed efforts. When it meanders, it becomes meditative, with its impassioned but monotonous recitations of paragraphs from essays and novels turning into mantras that lament how fleeting our collective memories have become.
Dormitoryo: Public private lives
Emerson Reyes' fascination with enclosed living spaces comes full circle in Dormitoryo. MNL 143 (2012) is almost fully set inside a commuter vehicle, with the tragic central love story of a loveless driver drifting alongside punctuated stories of other ordinary lives.
The setting of Reyes' Walang Katapusang Kwarto (2011) is even more limited, with its characters, illicit lovers (Max Celada and Sheenly Gener), engaged in a post-coital discussion about the lives of other people outside their very personal space. Dormitoryo, which expands the concept of Walang Katapusang Kwarto to actually showcase the people the two lovers are so interested in, again, limits itself to events that happen inside the dorm managed by a lonesome grandmother (Ces Quesada).
The conceit is quite clever, especially in the way it utilizes the concept of shelter in the midst of a turbulent outside world. The verbose and sometimes vulgar comedy is but a disguise for Reyes' exploration of how even our private lives have become affected by the violence that pervades almost everywhere. The plot is expectedly disjointed, resulting in a climax that doesn't feel emotionally or narratively justified. Nevertheless, the film's parting shot, which finally gives a glimpse of the world outside the walls of the dormitory, is chilling in the sense that it seems to say that there can never be refuge from both the literal and metaphorical storm.
Kulay Lila ang Gabi na Binudburan Pa Ng Mga Bituin: Lacking a stance
The worst thing about Jobin Ballesteros' Kulay Lila ang Gabi na Binudburan Pa ng Mga Bituin is that it knows too well that its concept of a married couple (Max Eigenmann and Jay Castillo) undergoing marital therapy is not enough to sustain a feature-length film. Its distrust in the material's emotional heft and the need to placate rules of what constitutes a feature ultimately defeats it. The film, in summary, is nothing more than a collection of scenes with both wife and husband either arguing, fighting, or idly chatting. In between those scenes are questionable fillers – lousy spectacles of awful special effects that presumably were meant to add mystique to the material but fail miserably.
It really is very unfortunate. Eigenmann's performance is very strong and Castillo provides ample support, but their characters amount to nothing. The saddest thing about the film is that it never really strives to explore its conceit to the fullest. It ends without any moment. It conveniently leaves the audience to question exactly what film's stance is about genders, their wars, and the relationships that society dictates should exist between them.
Medusae: Pregnant with promise
Pam Miras' Medusae is a film pregnant with promise. A documentary filmmaker (Desiree del Valle) arrives with her albino son (Carl Palaganas) in a remote island with a sordid history of first-borns suddenly disappearing. The film is dullest when it persists as a drama, with all of its faults – from the botched dubbing to the uneven acting from both Del Valle and Palaganas, pulsating from the sometimes wooden dialogue. The film is most enchanting when it breaks free from the limitations of the traditional narrative and becomes this wild and free-spirited foray into the psyche of a pained mother.
Medusae is frustratingly inconsistent. Its visuals are almost always arresting. Its central conceit intrigues. Sadly, the elements take time to gel and fuse. However, when the film enchants, it does so relentlessly. There is a masterpiece swimming underneath the film's unavoidable imperfections and restless plodding. In fact, when the film finally reaches its final 30 minutes, it transforms into something else; something mysterious and spellbinding something that seamlessly echoes both profound truths and personal sentiments using irresistible imagery and sound design that almost magically mixes myth, science, and cinema.
Neomanila: Doomed innocence
Neomanila, Mikhail Red's deliberate exploration of Manila in this time of Duterte, is a fascinating slow burn. It takes the elements of the classic noir and twists them to suit a troubled third world setting. The doomed protagonist here is Toto (Timothy Castillo), a low-rent drug runner who needs bail money for his brother. His femme fatale is Irma (Eula Valdez), an assassin-for-hire old enough to be his mother. What's intriguing here is that while there are instances establishing some form of attraction between Toto and Irma, what binds them together is not plain lust but more a familial longing.
Neomanila isn't always successful in invoking emotional resonance amidst its preoccupation with style and mood. There are times when the film becomes overindulgent, but still, Red always goes back to his commitment to the humanity that has been made obscure by all the vulgarity and violence that has become woefully prevalent. The film makes a stark turn near its end – a gamble for Red given that his film has been so deliberate in its movements. The gamble thankfully pays off because it only enunciates the value of innocence that has been lost in the wretched war the current government has waged. Sadly, the film ends in an unnecessary montage of footage of killings that betrays all of its enduring subtlety. The point's already all over the film, and bludgeoning it with the parting montage only cheapens it.
The Chanters: Portrait mode
The first thing that one will notice about James Mayo's The Chanters is its odd aspect ratio. Sure, there are times when the peculiar framing results in really lovely visuals. Most of the time however, it gets in the way of the endearing simplicity of the tale of a plucky school girl (Jally Gae Gilbaliga) who has to take care of her grandfather (Romulo Caballero), whose knowledge of chanting is being lost to both modernity and his failing memory. There is definitely a point to the film's decision to frame itself like a cellphone videos in portrait mode, perhaps to reinforce the film's theme of the old clashing with the new or to enunciate how it is a portrait of a dying tradition instead of a mere story. However, the technique is more a distraction.
The Chanters is charming enough. The performances are affecting enough. Its themes are clear enough. Its delicate drama that is carefully laced with apt humor is concrete enough. It is the kind of film that works best without too much ornaments and other fireworks. Nevertheless, even with the curious artifice that Mayo employs, the film manages to be lovely in its effort to keep itself within the bounds of a story that champions ordinary everyday life.
The Write Moment: Time to move on
Dominic Lim's The Write Moment is an attempt to reinvigorate the subgenre of romances hinging on heartache with a clever but convoluted conceit. It opens with a breakup between the screenwriter (Jerald Napoles) and his long-time girlfriend (Valeen Montenegro). What goes on after are extended scenes of the screenwriter trying to get through the heartbreak, first by trying to win back his ex, and later by writing a screenplay about his supposedly perfect love story. The fantasy ensues, with the screenwriter suddenly being trapped in the love story he has written wherein he only needs to follow the scenes he has conjured to end up in his version of a happily ever after.
It all sounds good and dandy, except that Lim struggles to realize the conceit. He consumes a lot of time trying to establish the rules of his fantasy, and ultimately betraying the comedy coming from the absurdity of it all. Moreover, while both Napoles and Montenegro deliver fine performances, the writing lacks the necessary background of their relationship to make all the film's abundant pining and whining grounded. The Write Moment, in all its effort to carve something new about the experience of moving on, proves that Philippine cinema, if its only contribution to the subgenre is to shroud it with shallow innovation without the requisite profundity, should start moving on from moving on.
The QCinema Festival 2017 runs until October 28, in several venues across Metro Manila. For more information, visit www.qcinema.ph, the official FDCP page, or e-mail info@fdcp.ph. – Rappler.com

Francis Joseph Cruz litigates for a living and writes about cinema for fun. The first Filipino movie he saw in the theaters was Carlo J. Caparas' 'Tirad Pass.' Since then, he's been on a mission to find better memories with Philippine cinema.