Majority of the jokes in 'Da One That Ghost Away' are just corny and juvenile, more suited for regular television than the big screen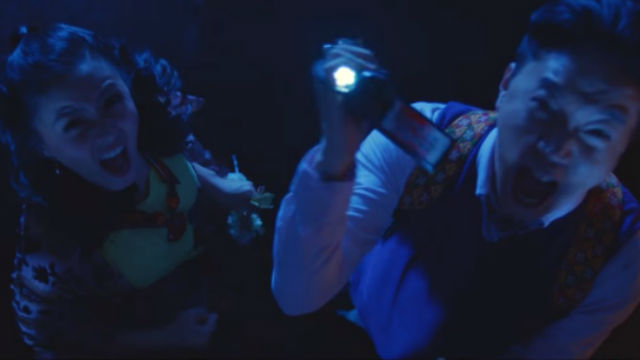 To say that Tony Reyes' DOTGA: Da One That Ghost Away is a lousy film would be a complete understatement. (READ: Kim Chiu, Ryan Bang, MayWard on doing 'DOTGA')
Reveling in lousiness
The film revels in its lousiness.
It celebrates the fact that it is a complete and utter mess, that it is a hodgepodge of spoofs and gags that is linked together by the most arbitrary of ways. It isn't guided by the lofty ambition of breaking rules but by the convenience of absolutely avoiding rules to simply get away with its inane intention of filling itself with as many jokes as possible.
This isn't to say that the film is not funny. It has hilarious moments. It shines when it feels like the characters are improvising instead of following the script, which is more or less more lame than lively. 
However, since the film is brimming with jokes, it is inevitable that there will be attempts for laughter that simply fall short.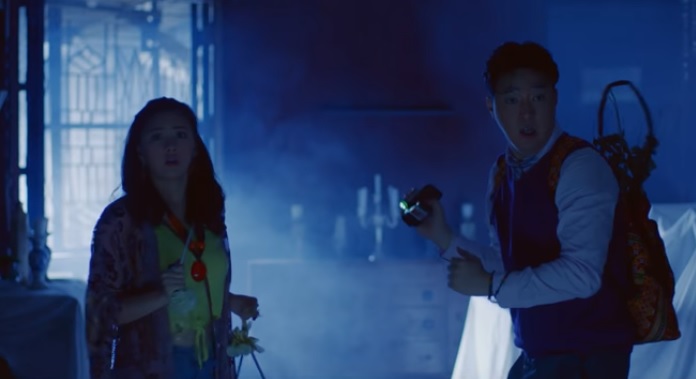 Majority of the jokes in Da One That Ghost Away are just corny and juvenile, more suited for regular television than the big screen. The only difference is that there is a sliver of a plot that unites the film's jokes.
Unfortunately, the plot, about a crew of scammers headed by Carmel (Kim Chiu) and Jeje (Ryan Bang) who earn money by ridding houses of ghosts, doesn't really amount anything other than as an excuse to assemble stars and comedians for a prolonged gag reel.
Lull the laughter
When the film decides to complement its haphazard brand of comedy with tidbits of a romance that feels more suited for another film, it becomes even more confused and disjointed.
It is easy for a film like Da One That Ghost Away to simply be consistent in its endeavors at lowbrow comedy. Perhaps, it would have been a better and more consistent film, one that unapologetically stands by its pursuit of nonsensical entertainment.
Sadly, it insists on wanting to be everything all at once.
It wants to be horror, even if it is clear that its utility of horror icons and clichés are just mere starting points for its barrage of punch lines. It desires to be romantic with its introduction of the blatantly useless characters played by Maymay Entrata and Edward Barber.
Simply put, there are just too many needless diversions that inadvertently lull the laughter.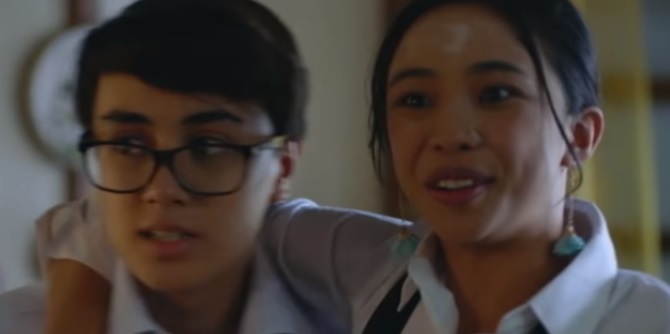 In another life
Allow me to end this review with a spoof of the popular Katy Perry song that may or may not have inspired the title of Reyes' film:
"In another life, DOTGA would be quite good. It would keep all its promises, be fun and against the grain. In another life, it would make you sway, so you won't have to say that the film that just faded away. Da One That Ghost Away."
Fine, that was just corny.
Now, if this admittedly atrocious spoof I just wrote made you chuckle, then maybe, just maybe, you'll find Reyes' film tolerable at the very least. If not, just invest your time and money elsewhere.  – Rappler.com

Francis Joseph Cruz litigates for a living and writes about cinema for fun. The first Filipino movie he saw in the theaters was Carlo J. Caparas' Tirad Pass.
Since then, he's been on a mission to find better memories with Philippine cinema.