'Exes Baggage is a love story that is aware of the attitudes that define the generation of its lovers'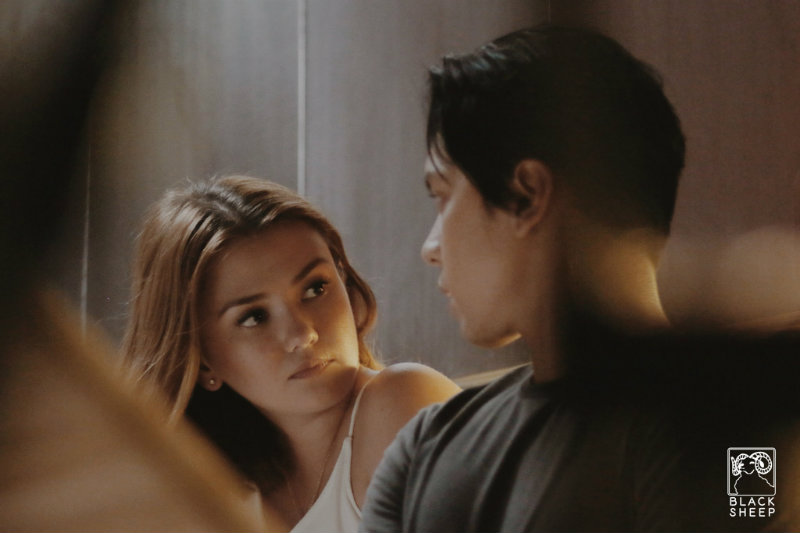 Nix (Carlo Aquino) arrives by himself at the opening of his best friend's bar. After downing an obligatory shot of tequila and exchanging the typical niceties with a frazzled friend who is genuinely happy to see him but has other guests to entertain, he finds himself alone in the noisy crowd, with just a bottle of beer to keep him company. Elsewhere in the bar, Pia (Angelica Panganiban), has already had a few glasses of her preferred alcohol. Nix and Pia were former lovers.
Amidst the noise and bustle, they find each other and lock knowing looks that hint of emotions that are about to be rekindled.
Ex-lovers' reunion
The structure of Dan Villegas' latest film is reminiscent of the first scene of one of Antoinette Jadaone's That Thing Called Tadhana (2014), which also starred Panganiban as a woman reeling from a recent breakup. In that scene, Panganiban, who is stuck in an Italian airport on her trip back to the Philippines, is in a dilemma of unloading items from her luggage that has been deemed overweight by her airliner.
Little by little, she, visibly distraught and stressed from the idea of losing random and not-so-random items, discards items from her haul just to make the airliner's allowable weight. Her savior is a gentleman, played by JM de Guzman, who volunteers his lighter luggage to rid Panganiban of her dilemma with her excess baggage.
The film's title is apt. It starts off with a chance reunion between two ex-lovers that is about to take flight, except that a history of a love that beautifully blossomed only to woefully plateau needs to be unloaded.
Exes Baggage, like Panganiban in Tadhana, diligently unpacks lovely scenes and insightful conversations from the ex-lovers' past relationship, which in turn molds a charming portrait of a typical romance in an age where indecisiveness and insecurities pervade.
It isn't inaccurate to say that Exes Baggage has nothing new to say about love and relationships. Thankfully, Villegas orchestrates the familiar tides and ebbs of an affair that is doomed to fail that is almost impossible not to be moved. The film is not just exquisitely crafted, as can be seen by the consistency of its somber hues and the elegance of its unhurried transitions.
Screenwriter Dwein Baltazar, who has proven herself to be very adept in carving nuances in silence such as in Mamay Umeng (2012) or in the routine of chaos such as in Gusto Kita With All My Hypothalamus (2018), concocts scenes and dialogues that pepper the pleasures of newly blossomed romance with the pain of an eventual breakup and reinforce the staggering aches of a love that's lost with wit and humor.
Modern take
Exes Baggage is also a much more modern take on romance.
Villegas never flinches on treating sex within relationships as matter-of-factly as possible, without need of sensationalizing it. One only needs to look at the love scene in the middle of the film to see how while Villegas ignites the mood with visible glamour, he doesn't simply have Panganiban and Aquino contorting in bed. He cautiously sequences the duo's consummation of their love, one that has been humorously thwarted before by premature slumber, with first, awkward seduction, second, an explosion of restrained craving, third, panties being hurriedly removed, up until the expected culmination.
The film is actually quite bold in that sense, and it must be stated that it isn't boldness for boldness' sake. It is boldness that hinges on Villegas' desire to come up with a film that speaks the language of his target audience.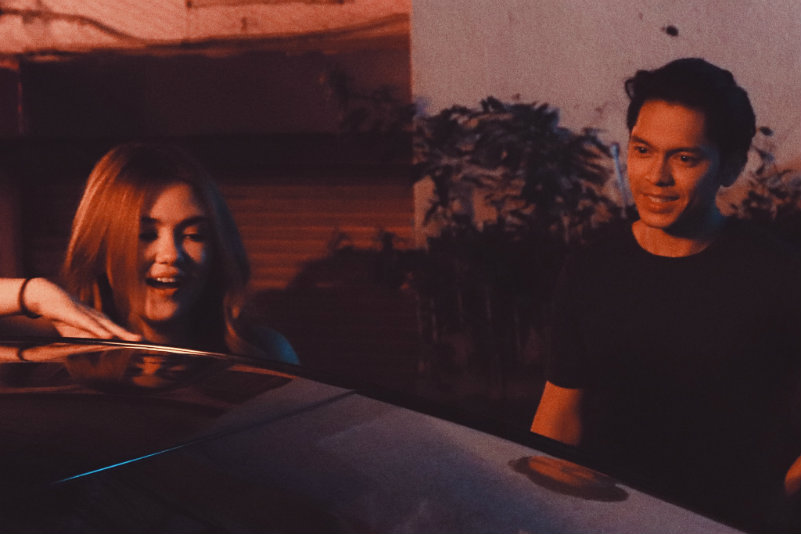 Exes Baggage is a love story that is aware of the attitudes that define the generation of its lovers. It is lax on antiquated moralizing, but it emphasizes on the values and vices that are of grave importance to its protagonists. The film navigates issues of career, individuality and self-doubts within the very strict narrative limitations of a commercial and formula-based rom-com. And while Villegas doesn't dwell on those extraneous issues to the point of needlessly derailing the romance, his insistence that his characters live in the same world as us is definitely felt.
Simply put, Exes Baggage occupies the same territory as films like Jadaone's Never Not Love You (2018) and Irene Villamor's Sid & Aya: Not a Love Story  (2018) that seek to evolve the romantic movie beyond escapist thrills by infusing them not just just pretty aesthetic quirks or current sensibilities but a genuine appreciation of the anxieties and apprehensions of a generation.
Bittersweet levity
There are barely any false notes in Exes Baggage.
Sure, some of the turns in the narrative feel either stifled or too conventional, but either Villegas' direction or Baltazar's engaging scripting salvage the material from tediousness.
Moreover, the casting of Panganiban and Aquino, whose own love story was consumed by the public, is genius. While the two actors could have simply waded through their roles, relying on the novelty of their being together in a fictional love story, they delivered performances that are honest and striking.
The film is easy on the eyes and pleasant to the ears. It gracefully unloads both sweet and hurtful memories of a love that could have lasted longer than it did, earning the bittersweet levity required to make its tensely hopeful ending take off. – Rappler.com