Bring out the popcorn and get ready for the fuzzy feelings and tears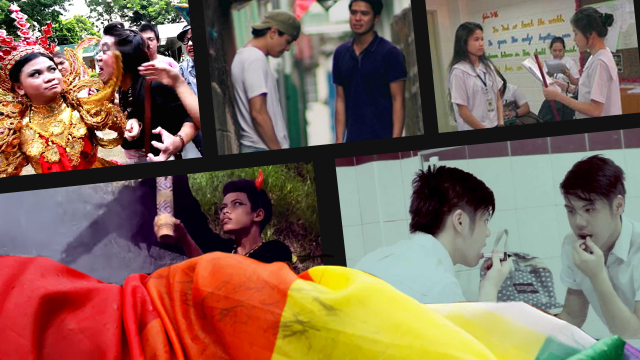 Pinoy Queer Cinema has grown a lot over the years. What started out as a response to the portrayal of the queer community as practically asexual comic relief in mainstream cinema, juxtaposing the naked male form against the backdrop of urban decay, has evolved into a diverse subgenre where any queer story, regardless of circumstance or socio-economic background can be told.
The rise of accessible video platforms like YouTube and Viddsee has only made it easier to share these stories.
As Pride month reaches a close, we've prepared a mini queer film fest guaranteed to incite the spirit of PRIDE in even the most closeted of gays. The following films are all self-contained and under 30 minutes long, making them perfect marathon material.
Some queer films have a habit of reveling in tragic same-sex love, and while there's certainly a time and place for stories like that, we scoured the net to ensure that there are zero downers in this lot.
All these shorts are available for free on YouTube and Viddsee.
Ito ang Huling Araw 
Writer/Director: Petersen Vargas
In a nutshell: A young boy endures constant harassment from a pair of bullies after they find his mother's lipstick in his school bag.
High school was no walk in the park, especially when you're carrying around a huge secret like your sexuality. You're overly cautious, walking on eggshells, always afraid that at any second your secret will come spilling out of your bag like mom's lipstick does in this short. Director Petersen Vargas, who also cameos as one of the bullies, perfectly captures what we were all really afraid of at that time. We weren't afraid of getting beat up. We were afraid of getting branded — our secret laid out for all the world to see, whether we were ready for it to be out there or not. Clocking in at just under 6 minutes, this is the shortest short in this lineup, and Vargas does not waste a single frame in telling this story.
Ing Purmerung Kembut nang Anton 
Writer/Director: Kelvin Aguilar
In a nutshell: Anton, a newly-out teen, enlists the help of his out-and-proud best friend, Chona, to help him find a cure for his effeminacy.
Everyone can relate to the plight of Anton, who despite accepting his sexuality would much rather be discreet about it. However, what's remarkable about this short is the support of Anton's even more effeminate BFF, Chona, who wasn't the slightest bit insulted when Anton wanted to be more masculine, even going so far as to try and cast a spell for it. Now, that's a friend!
Director Kelvin Aguilar cast first-time actors in this short, and it shows, but the film is just so charming you'd be willing to let it slide. Whether it's Chona voguing while listing things, or the dialogue (a delightful mash-up of Kapampangan and Beki-speak), this short will stick with you long after the credits roll.
Ang High School at si Olive
Writer/Director: Keana Trasporte
In a nutshell: Olive, a confused high schooler tries to reconcile her conservative upbringing with her budding feelings for her classmate, Alex.
Growing up in a predominantly Catholic country such as ours, it's almost a rite of passage to have a crisis of faith when it comes to our sexuality. The film poses the question, "what kind of god would accept such a relationship?" Keana Trasporte depicts such an innocent love between Olive and Alex that you find yourself wanting to fire back with, "what kind of god wouldn't?"
Also, plus points for using Florante at Laura, a bit of classic Filipino literature often overlooked in pop culture canon, as a framing device.
Basaan 
Director: Gino Jose
Writer: Luigi Gonzalez
In a nutshell: John, a closeted gay man, rediscovers himself when he returns to his hometown for its annual water fiesta.
Oh, the feels… Oh, that kiss! At the core of this short about old flames, erratic younger sisters and buckets upon buckets of water is a young man too ashamed of himself to truly be himself. John was too busy hiding that he missed out on a great guy like Trey. Unfortunately, self-hatred is something the queer community knows all too well. Gino Jose, with his subtle direction and eye for detail, and Luigi Gonzalez, with his memorable characters and quotable dialogue, really complement each other well. Definitely put this one on your Rewatch Pile.
Director: Chloe Veloso
Writer: Badidi Labra (as J.D.L.)
In a nutshell: After finding out he fathered a child, a hairdresser named Elvira faces the challenges of being a single parent.
The word inatay in Cebuano means damned or cursed, which pretty much sums up Elvira's predicament. It wasn't his choice that a baby suddenly fell on his lap. Just like it wasn't his choice that his kid turned out gay like him. In fact, he went through great lengths to try and keep that from happening. Our sexuality is something we have no control over, and that usually leaves us feeling like our lives have been burdened by some divine punishment.
However, what we do have control over is how much fun we choose to have with the hand we've been dealt. Director Chloe Veloso understood that and loaded this short with so much light and color and energy. Even the melodramatic scenes are teeming with whimsy, making it the perfect short to cap this queer marathon. — Rappler.com